Before we dig into these delicious matcha slice bars, I wanted to share with you, how I was inspired to make them. The first time I saw a matcha dessert, was when I was on vacation in Paris, a few years ago, with my hubby. While exploring the city, a Japanese Patisserie mesmerized me, and knew I had to get a better look. Inside, there were the most exquisite, and unique desserts I had ever seen. But what caught my eye was an opera matcha cake, modelling in the glass vitrine. It looked stunning, almost too good to eat. So, I decided it was about time I created a matcha dessert of my own. I knew I wanted it to be as raw as possible, and instantly thought of my recent slice bar creations. Well, after only 2 attempts, I was blown away by the results. These matcha slice bars are light, not too sweet, and perfectly compliment the raw pistachio date base. Plus, the best part is I didn't have to soak any cashews, to make them. They're gluten free, refined sugar free, and make the ultimate freezer snack! 🙂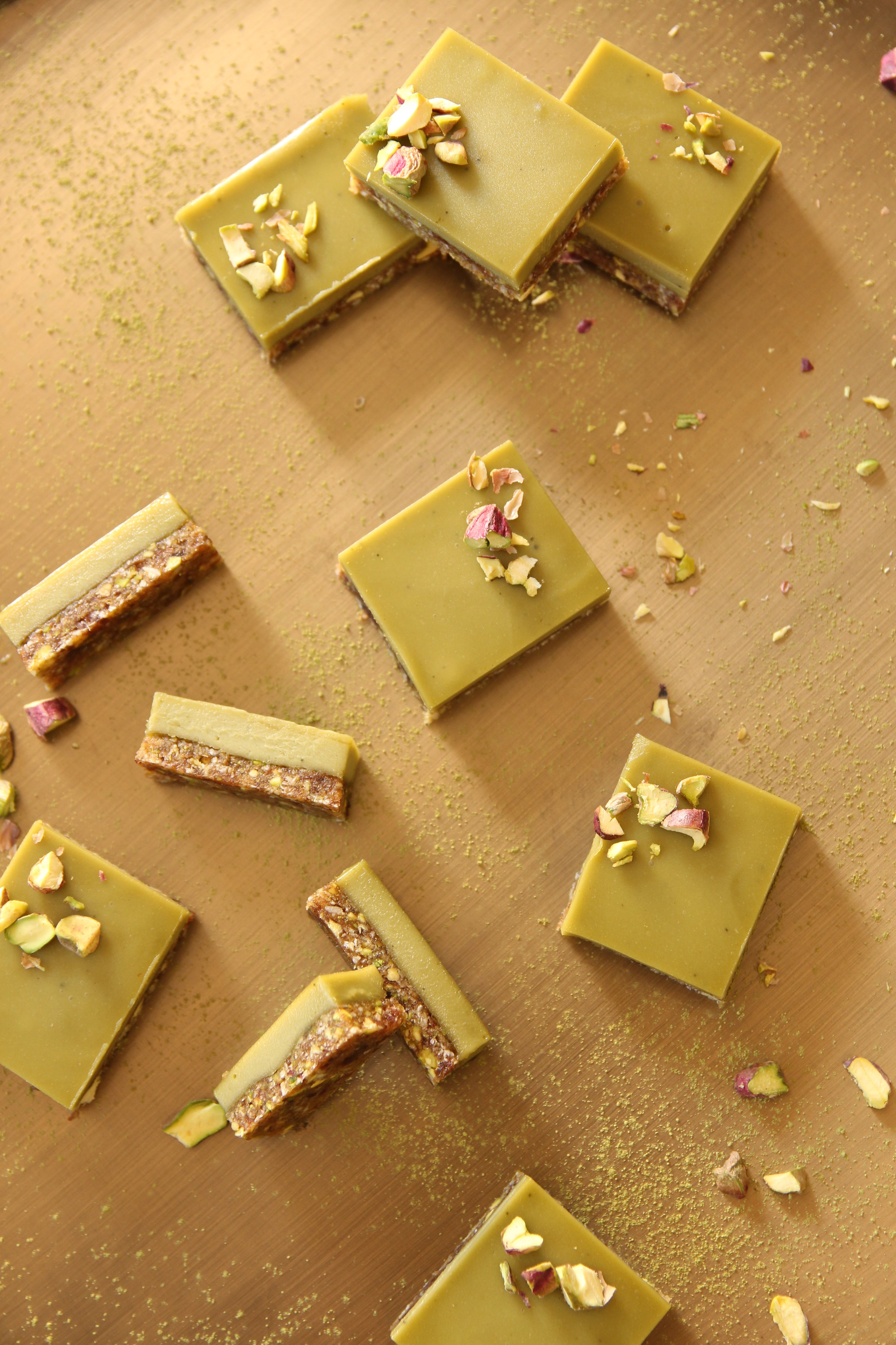 What you'll need
Makes 9 no bake matcha slice bars
For the base
6 Medjool Dates, pits removed 1/3 Cup of Pistachios 1/3 Cup of Shredded Coconut
For the matcha filling
1/8 Cup of Coconut Oil 1/3 Cup of Almond Butter 2 Teaspoons of Vanilla Essence 2 Tablespoons of Maple Syrup 4 Tablespoons of Coconut Cream 2 Tablespoons of Freshly Squeezed Lemon Juice 1 Teaspoon of Matcha Powder
For The No Bake Matcha Slice Bars
Add the medjool dates, pits removed, into a food processor, and blend until it's a paste. Add the pistachios, and shredded coconut, and blend, until combined. Transfer the mixture into an 8 x 4 x 1/2-inch loaf pan (20 x 10 x 6 cm), that's lined with baking paper, and with your fingers, form an even base, then set it aside while we make the filling. For the matcha filling, add an inch (2.5 cm) of water, into a small pot, bring to a boil, then take it off the heat, and place a heat proof, glass bowl, on top. Next, place the coconut oil into the bowl, to gently melt, then add the almond butter, maple syrup, vanilla essence, lemon juice, and coconut cream, and whisk, until combined. Finally, add the matcha powder, and give it a quick whisk. Blend the matcha filling, with a hand blender, to emulsify the mixture, then pour it on top of your pistachio base, and with a spatula, smooth it out. If needed, gently jiggle the tray, and tap it to release any unwanted air bubbles.
Almost Finished
Pop them into the freezer for an hour, or until set. To cut these heavenly delights, dip a chef's knife into a glass of hot water, dry it, and cut into 9 bars, or desired size. Repeat this step with every cut, to ensure a nice, clean finish.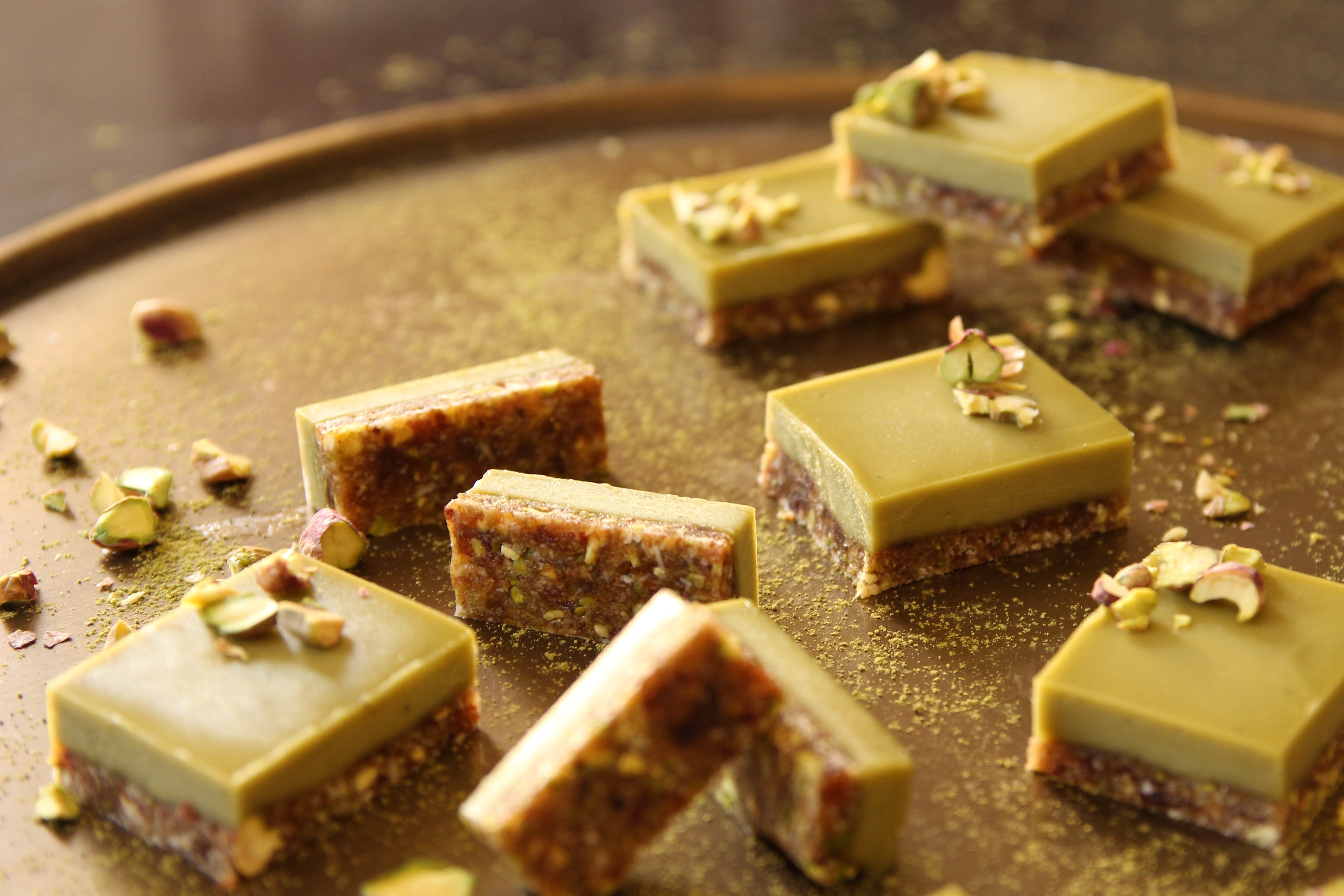 Store them in the freezer, and when you're ready to serve, decorate with chopped pistachios, then let the matcha slice bars thaw for a few minutes, before you
dig in!
🙂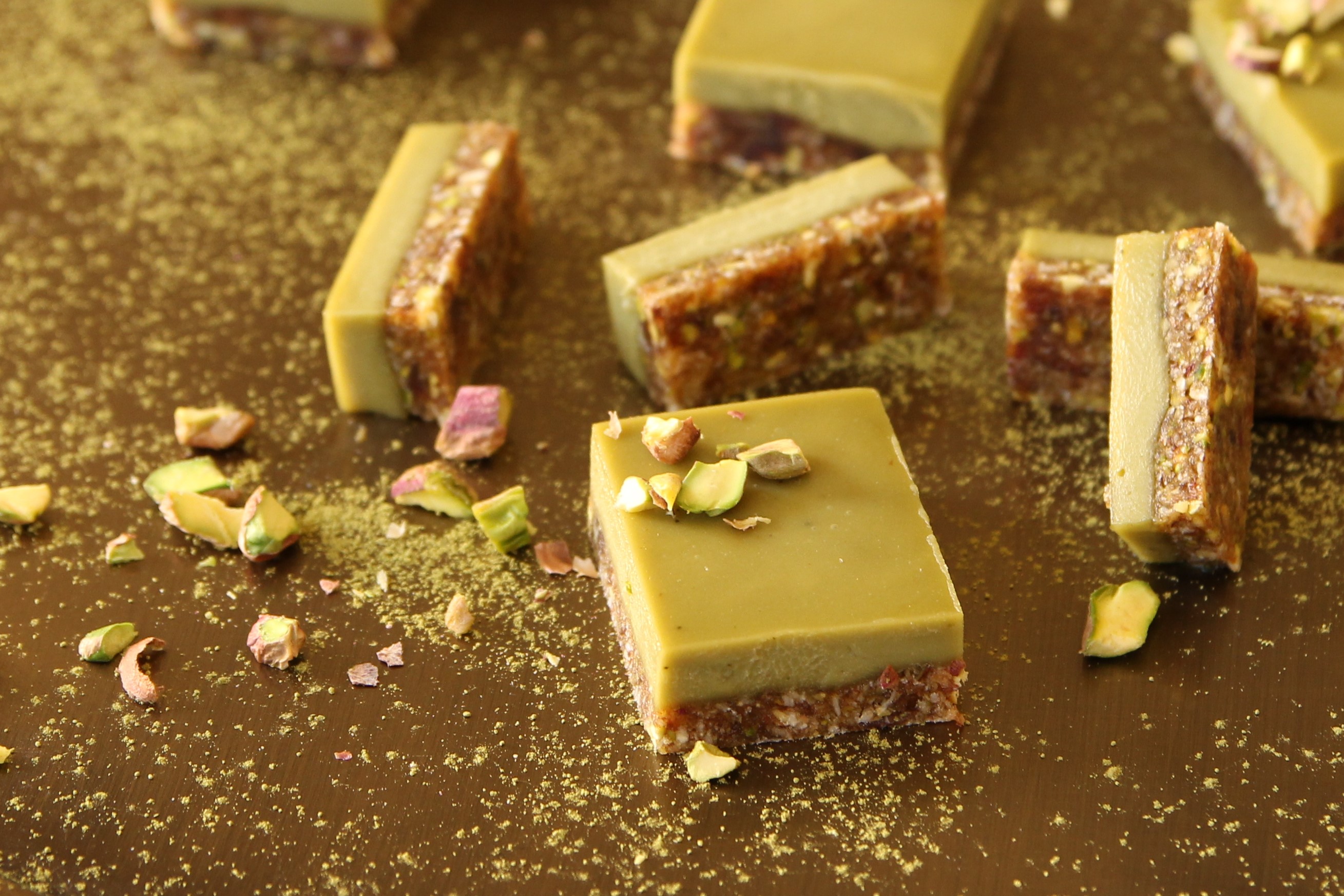 Want another refreshing freezer snack to indulge in? Then you should try my raw
Raspberry Slice bars! 
They're fresh, fruity, a piece of cake to make, and taste exceptional.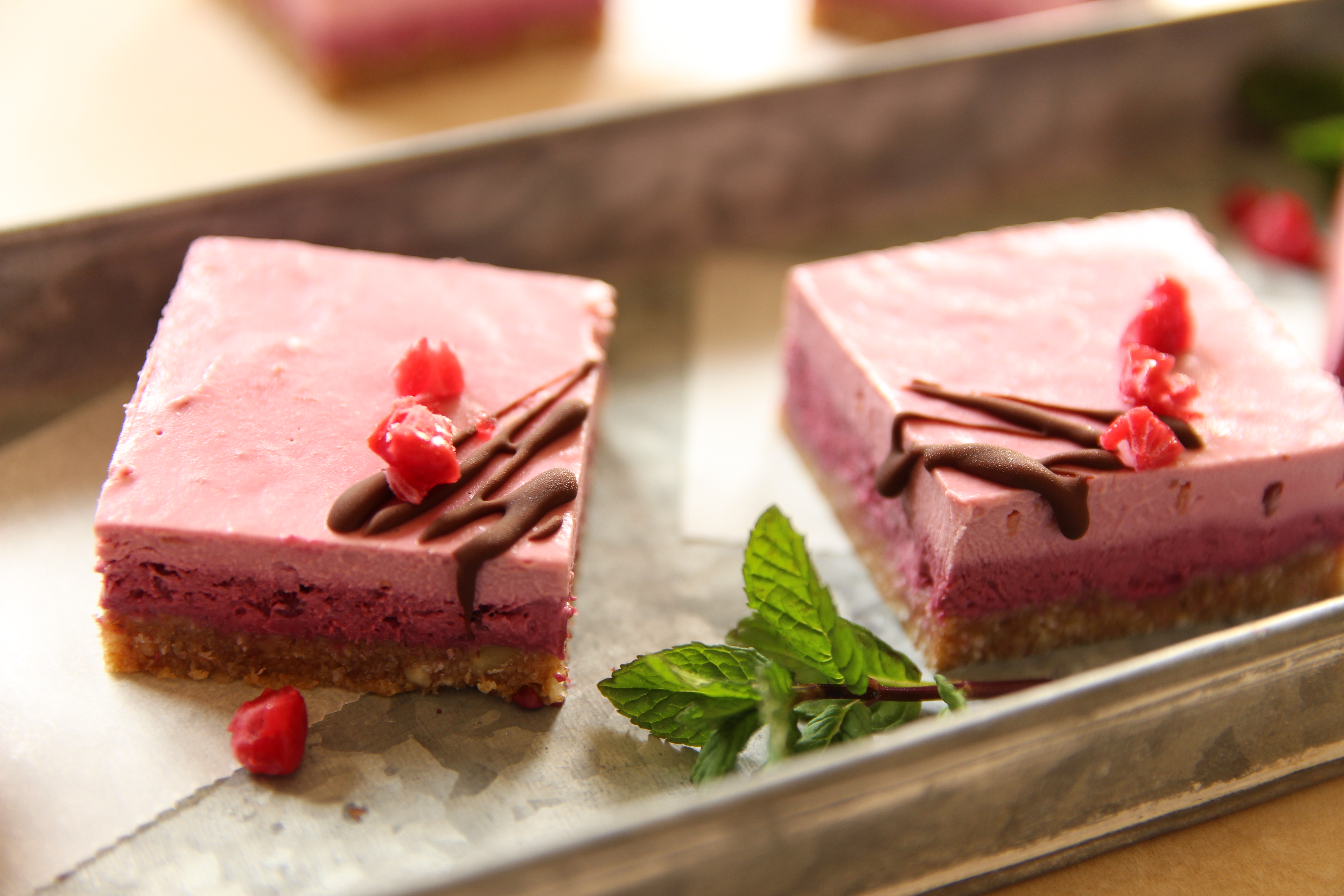 Until next time, Have A Bright Day xx