Looking for a new, and refreshing meal to whip up for lunch or dinner? I've got you covered with this super-duper whoppa veggie bowl! That's right! It has everything you need for a healthy, nourishing meal! It's packed with protein, fiber, color, flavor, and so much more!
This vegan veggie bowl is bursting with probiotics, from my easy homemade sauerkraut, has greens, grains, crunchy beets, and is super filling!
It's fun to assemble, and tastes amazing, but I'll let you be the judge of that. So, whether you decide to eat it on its own, or drizzle some whole grain tahini on top of all that goodness, it's up to you! 🙂
Make sure to tag me on Instagram, @lets_brighten_up, when you get a chance to make this scrumptious veggie bowl. 🙂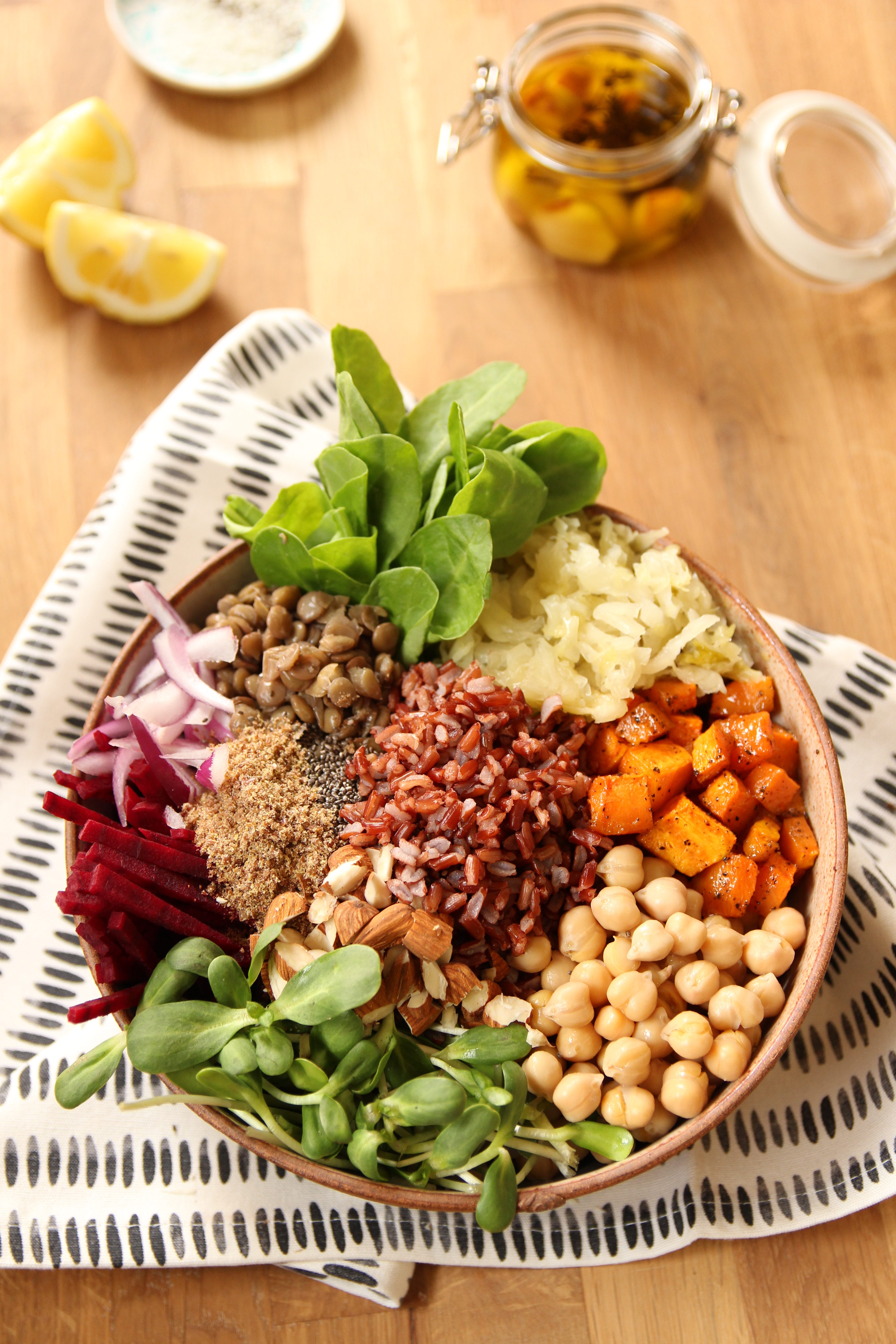 What You'll Need
Makes 1 super-duper whoppa veggie bowl
1 Cup of Diced Pumpkin
Splash of Maple Syrup
Drizzle of Infused Olive Oil
Sea Salt and Black Pepper to taste
1 Cup of Cooked Red Rice
1/3 Cup of Sauerkraut
1/4 Cup of Cooked Green Lentils
1/2 Cup of Cooked Chick Peas
1 Red Onion
1/2 Tablespoon of Chia Seeds
1/2 Teaspoon of Ground Flax Seed
1/4 Cup of Almonds
1/2 Cup of Sliced Beetroot
Handful of Fresh Spinach Leaves
Handful of Fresh Sprouts
1 Lemon
Instructions
1. Preheat the oven to 392 degrees F (200 C).
2. Wash, peel, and dice a cup worth of pumpkin, then transfer onto a baking tray, lined with baking paper. Add a drizzle of infused olive oil, a splash of maple syrup, sea salt and black pepper to taste, mix, and pop it into the oven until nice and soft, around 15 – 20 minutes.
3. In the meantime, cook 1/2 a cup of red rice, with 1 cup of water.
4. Peel, and cut the onion in half, then slice it into long strips. Roughly chop the almonds, and set them both aside. Next, peel, and cut the beetroot into thin slices, and then into long thin strips.
5. When your diced pumpkins are ready, and you've cooked your rice, add all the ingredients into a serving bowl.
6. Finally, add a drizzle of my infused olive oil, sea salt and black pepper to taste, and a good squeeze of one large lemon.
7. Mix well, taste, adjust the dressing if needed, and your super-duper whoppa veggie bowl is ready to be devoured! 🙂
I can't wait to hear how yours turned out! And remember, sharing is caring darlings! 🙂
Still have room for a refreshing sweet treat? Then try my Raw Raspberry Slice Bars! They're gluten free, refined sugar free, super fruity, and vegan of course. You're welcome! 🙂
Until next time,
Have A Bright Day xx