If you haven't already indulged in enough food, or goodies this week, I'm here to seduce you with my apple cinnamon muffins! They're vegan, super easy to whip up, moist, and taste out of this world! Plus, they're perfect for your kids' lunch box, or as a snack, when you're rushing out the door.
This recipe was created, while trying to help someone on Facebook. She only had apples and a few other ingredients, in her pantry, and wanted suggestions for a muffin. So, I headed straight to my kitchen, and started adapting my carrot cake muffin recipe.
I cut the apples into small cubes, to guarantee a juicy apple chunk in every bite, I added extra cinnamon, to enhance the flavors, and played around a bit, with the rest of the ingredients. Darlings, they taste exceptional! And if that isn't enough, they're also perfectly infused with olive oil, and orange juice! That's right.
So, what do you say we whip up a batch real quick? Trust me, you'll thank me later! 🙂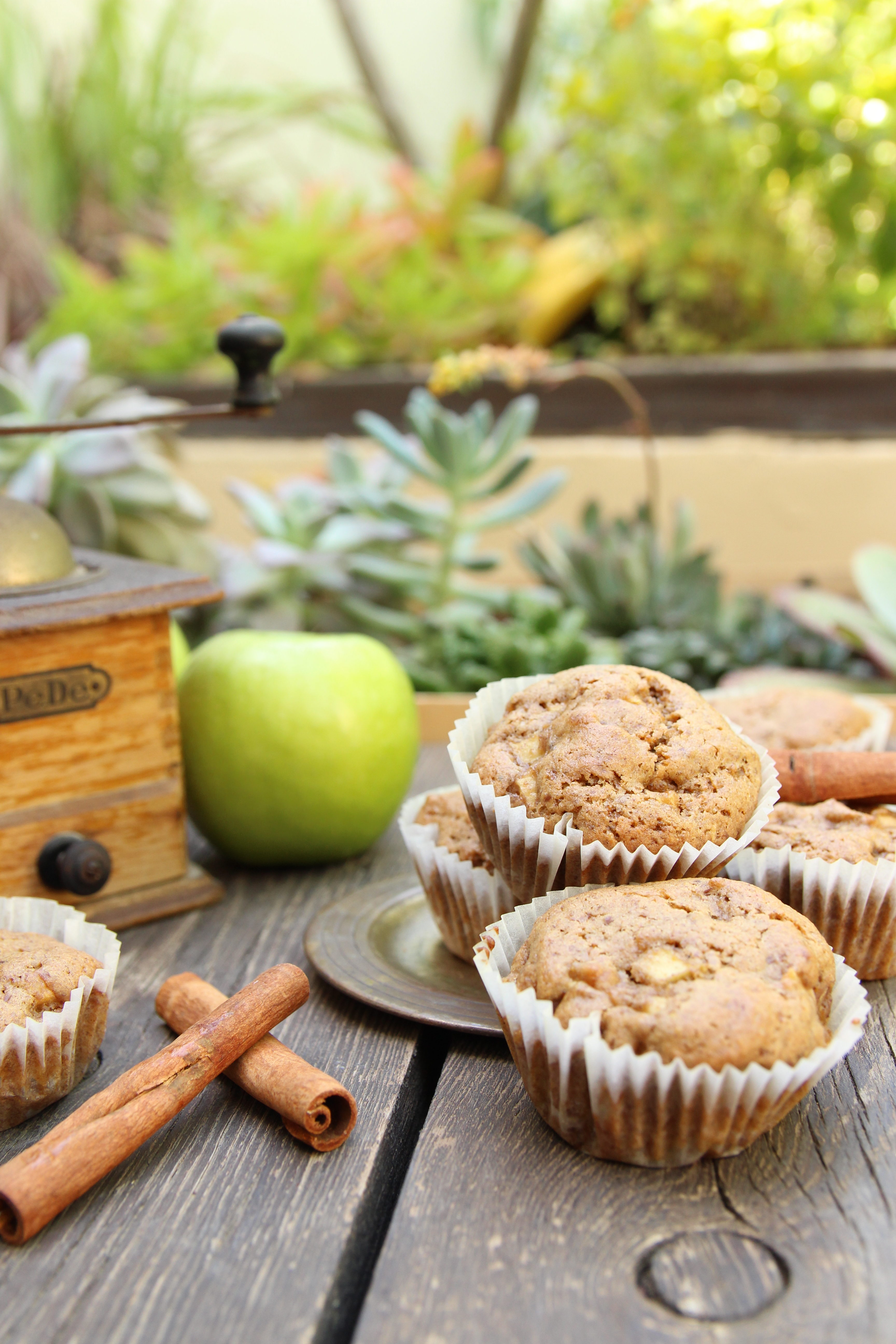 What You'll Need
Makes 6 apple cinnamon muffins
1.5 Tablespoons of Ground Flax Seed
6 Tablespoons of Orange Juice
1/4 Cup + 1 Tablespoon of Coconut Sugar
4.5 Tablespoons of Olive Oil
1/2 Cup of Whole Spelt Flour
1/4 Teaspoon of Baking Soda
1/4 Teaspoon of Baking Powder
1 Green Apple, or 1 Cup Diced
1/2 Teaspoon of Cinnamon Powder
Instructions
1. Preheat the oven to 320 degrees F (160 C).
2. Mix the ground flax seed together with the orange juice, and set aside.
3. Peel, and cut, 1 green apple, into small cubes. Place it into a bowl, along with the cinnamon powder, mix, and set aside.
4. Place the coconut sugar, olive oil, and flax seed mixture, into a bowl, and whisk well, until combined.
5. In a separate bowl, mix together the flour, baking soda, and baking powder, then add it in with the wet ingredients, and with a spatula, mix, until you're left with a smooth batter.
6. Fold the diced apple, into the batter, then evenly scoop, or pipe, your batter into a muffin tray, lined with 6 cup cake liners, and pop them into the oven, until a tooth pick comes out clean, around 10 – 15 minutes, depending on your oven.
7. When ready, take them out to slightly cool, and dig in! 🙂
Can't wait to hear what you think darlings. And remember, sharing is caring darlings!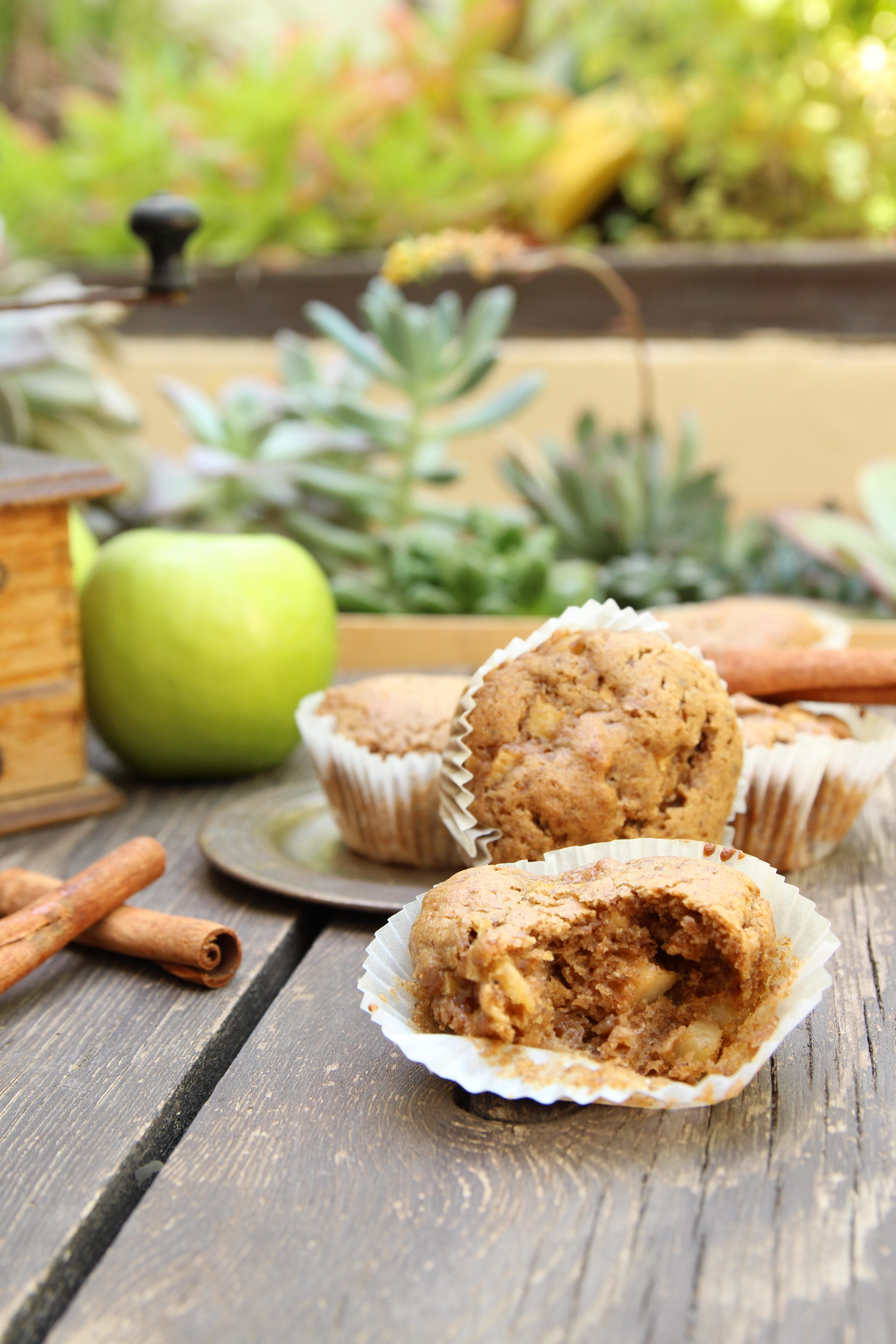 While you're here, have you tried my just as good carrot cake muffins? They're vegan, moist, and take less than 5 minutes to whip up! 🙂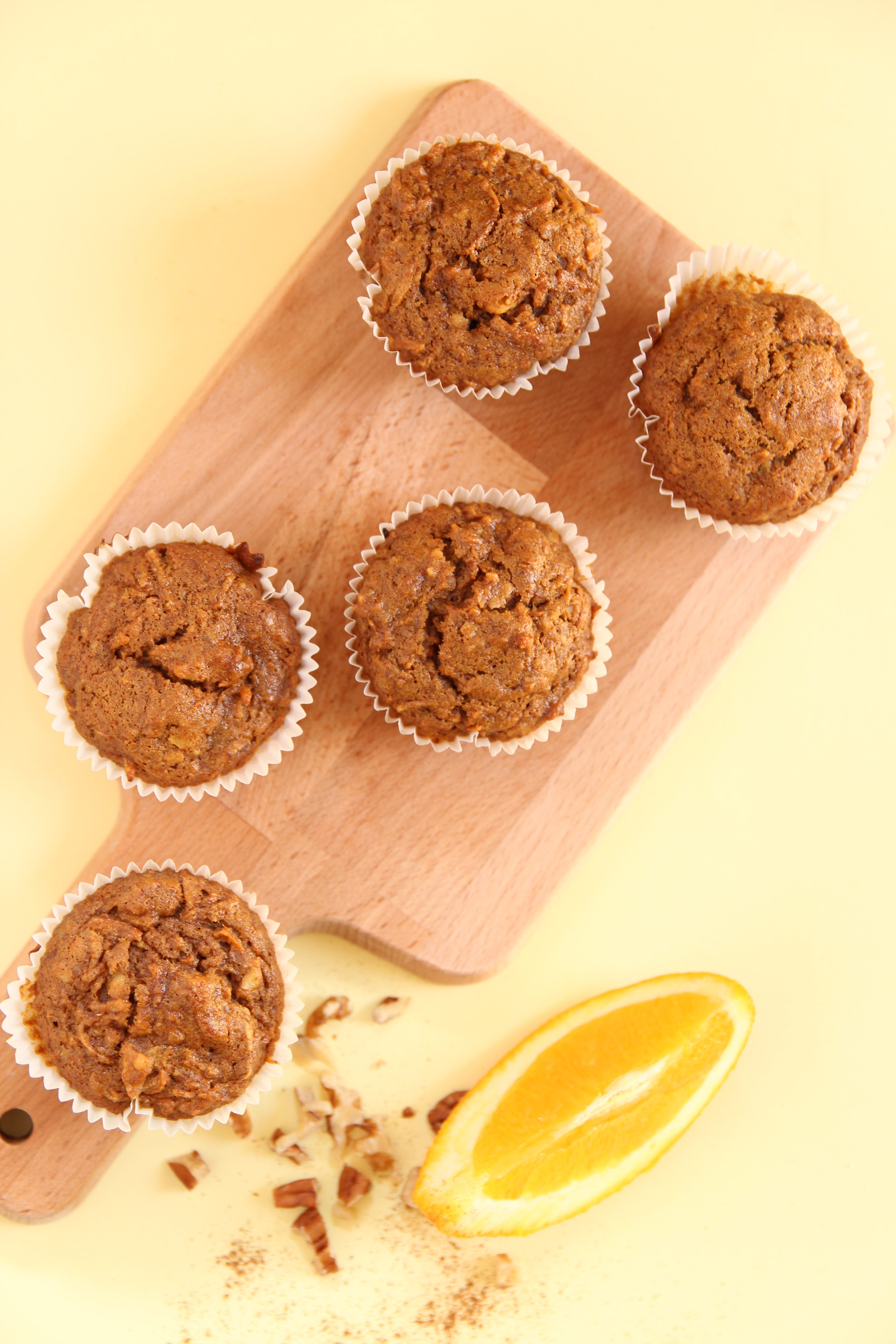 Until next time,
Have A Bright Day xx