My love for super-duper whopper sandwiches started at a very young age. Almost every day, before school, my Father would prepare the most epic sandwiches. They were always packed with layer after layer of goodness, always tasted incredible, and as children, we would simply love his sandwiches. So I thought it was about time I added one to the blog. And today it's this ultimate vegan pulled mushroom burger!

It has all the characteristics that a super-duper whopper sandwich has, the layers, the flavors, plus it's a quick fix, making it perfect for lunch, dinner or any busy day.

This easy, hassle-free vegan burger, which takes just minutes to prepare, is made up of shredded king oyster mushrooms fried with various pastes, spices, herbs and more.

And if you're wondering where I got the genius idea to shred king oyster mushrooms it didn't just miraculously come to me in a dream, it's thanks to a mouthwatering BOSH video I saw a while back. Let's just say from now on, I always make sure to stock up on them when possible.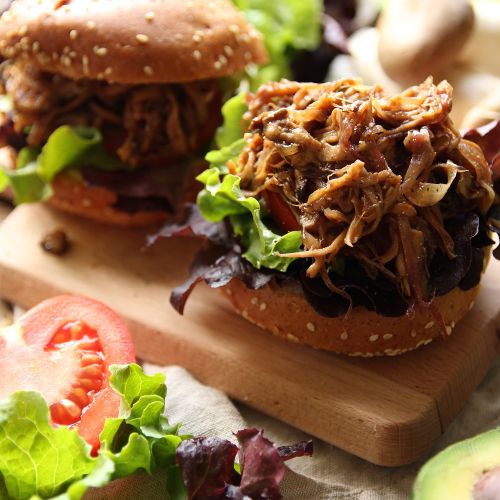 Makes 2 Vegan Pulled Oyster Mushroom Sandwiches
1 Tablespoon (10 gr) of Olive Oil
1 Small Red Onion (96 gr)
3 King Oyster Mushrooms (150 gr)
3 Garlic Cloves (12 gr)
1/2 Teaspoon of Dried Chili Flakes
1 Teaspoon of Tamarind Concentrate
2 Fresh Thyme Sprigs
1/4 Teaspoon of Sesame Seed Oil
1/2 Teaspoon of Aka Miso Paste
With the help of a fork, shred the king oyster mushrooms. You can do this by holding the mushroom in one hand, and shredding the mushroom with your other hand holding the fork. Make sure to always rotate the mushroom to ensure thin shreds.
Finely slice the top of the mushroom and set it aside.  Repeat until you have shredded all the king oyster mushrooms
Peel and slice the red onion in half, then finely slice into thin strips
Heat a saucepan over medium heat. Add olive oil, and red onions and cook until they start to sweat. Add the shredded mushrooms, crush the garlic cloves and add them to the pan along with the dried chilli flakes, tamarind concentrate, fresh thyme sprigs, sesame seed oil, and Aka miso paste
Finally, cook for 5 – 10 minutes, adjust seasoning if needed and take off the heat. Finely slice the top of the mushroom and set it aside.  Repeat until you have shredded all the king oyster mushrooms
Add recommended toppings like dill pickles, lettuce, avocado, sliced tomato, lemon juice, Tabasco, and whatever other toppings you might enjoy.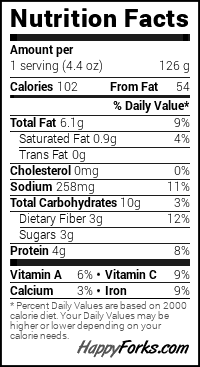 Pin This Pulled Oyster Mushroom Burger For Later!