Topped with toasted pine nuts, and roasted with fresh thyme leaves, olive oil, garlic and more, this simple, effortless, and delicious, vegan roasted eggplant mushroom salad makes the perfect side dish or starter salad for any occasion!
When I'm simply not in the mood to spend time in the kitchen, I'll usually find myself whipping up a bowl of vegan eggplant mushroom salad along with another salad of my choice.
So, preheat your oven, chop those vegetables, drizzle with pure date syrup and olive oil, and pop your tray into the oven to roast.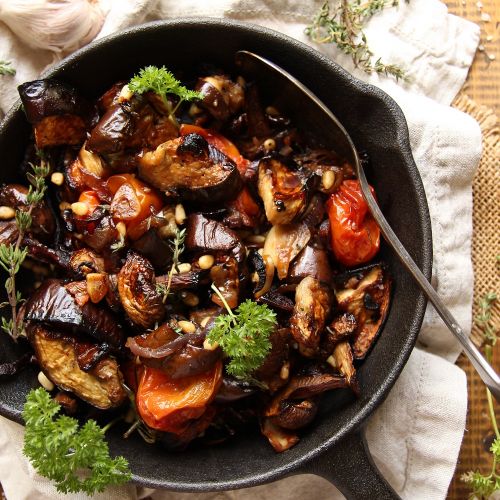 8 Mushrooms (a mix of portobello and champion (160 gr))
1 Eggplant (Aubergine (390 gr))
6 Cherry Tomatoes (180 gr)
1 Red Onion
3 Garlic Cloves (12 gr)
3 Fresh Thyme Sprigs
2 Tablespoons 20 gr of Olive Oil
2 Tablespoons 30 gr of Pure Date Syrup
Sea Salt and Black Pepper to taste
Optional Sprinkle of toasted pine nuts
Wash cherry tomatoes, place on baking tray lined with baking paper.
Slice eggplant, aubergine, in half, then in half again and roughly slice.
Remove any dirt that might be on the mushrooms, then slice in half and add to the tray along with the sliced eggplant.
Peel and cut the red onion in half, then slice into strips. Peel and finely slice the garlic cloves and add both to the tray.
Add the thyme sprigs, olive oil, pure date syrup, and season with sea salt and black pepper to taste.
Mix together and pop into the oven to bake until golden brown.
Heat a saucepan until hot. Add the pine nuts and toss until lightly toasted.
Remove from heat and add to roasted eggplants and mushroom tray.
Garnish with fresh parsley leaves and dig in!
Every oven is different. For some these roasted veggies will be ready in under 30 minutes, whereas for others it might take longer.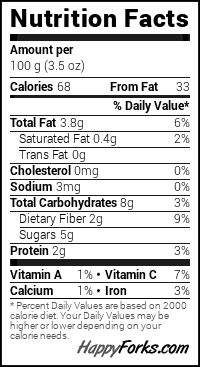 Pin this Roasted Eggplant Mushroom Salad now, and make it later