Who here agrees that eggplants are simply the best veggie? I think it's such a great, versatile veggie, that tastes great any way you bake it, cook it, or ferment it! That's right! Today I thought I'd share this super easy, yet impressive rose shaped baked eggplant. It tastes incredible, and you only need 6 ingredients, that you probably already have in your pantry.
It's perfectly infused with fresh oregano, and my garlic infused olive oil, and goes great with everything. In a super-duper whoppa sandwich, or on its own, or drizzled with some whole grain tahini on top, you can't go wrong with this scrumptious recipe.
Whether you decide to add a little heat to the dish, or leave it as it is, you're in for a treat! So, let's brighten up your next meal, with this gorgeous looking, rose shaped baked eggplant. 🙂
What You'll Need
Makes 1 9 inch (20 cm) skillet pan, or round baking tray
1 Large Eggplant
Garlic Infused Olive Oil
3 Garlic Cloves
Sea Salt and Black Pepper to taste
2 Sprigs of Fresh Oregano
Instructions
1. Preheat the oven to 356 degrees F (180 C).
2. Wash, and slice the eggplant into circles, then cut them in half.
3. Next, brush each eggplant petal with my infused olive oil,  then start arranging the half cut eggplant slices, into a skillet pan, or round baking tray. Start on the outside, and work your way in, overlapping each row, until you're left with a round rose shaped eggplant.
4. Next, peel, and finely slice the garlic cloves, then tuck them in between your eggplant rose petals.
5. Finally, sprinkle with sea salt and black pepper to taste, then cover with aluminium foil, and pop your dish into the oven, until they're nice and soft, around 20 – 40 minutes.
6. When they've softened, remove the foil, and let your dish bake for an extra 5 – 10 minutes, to slightly color.
7. When your baked eggplant is ready, take it out of the oven, sprinkle with some fresh oregano leaves, and dig in! 🙂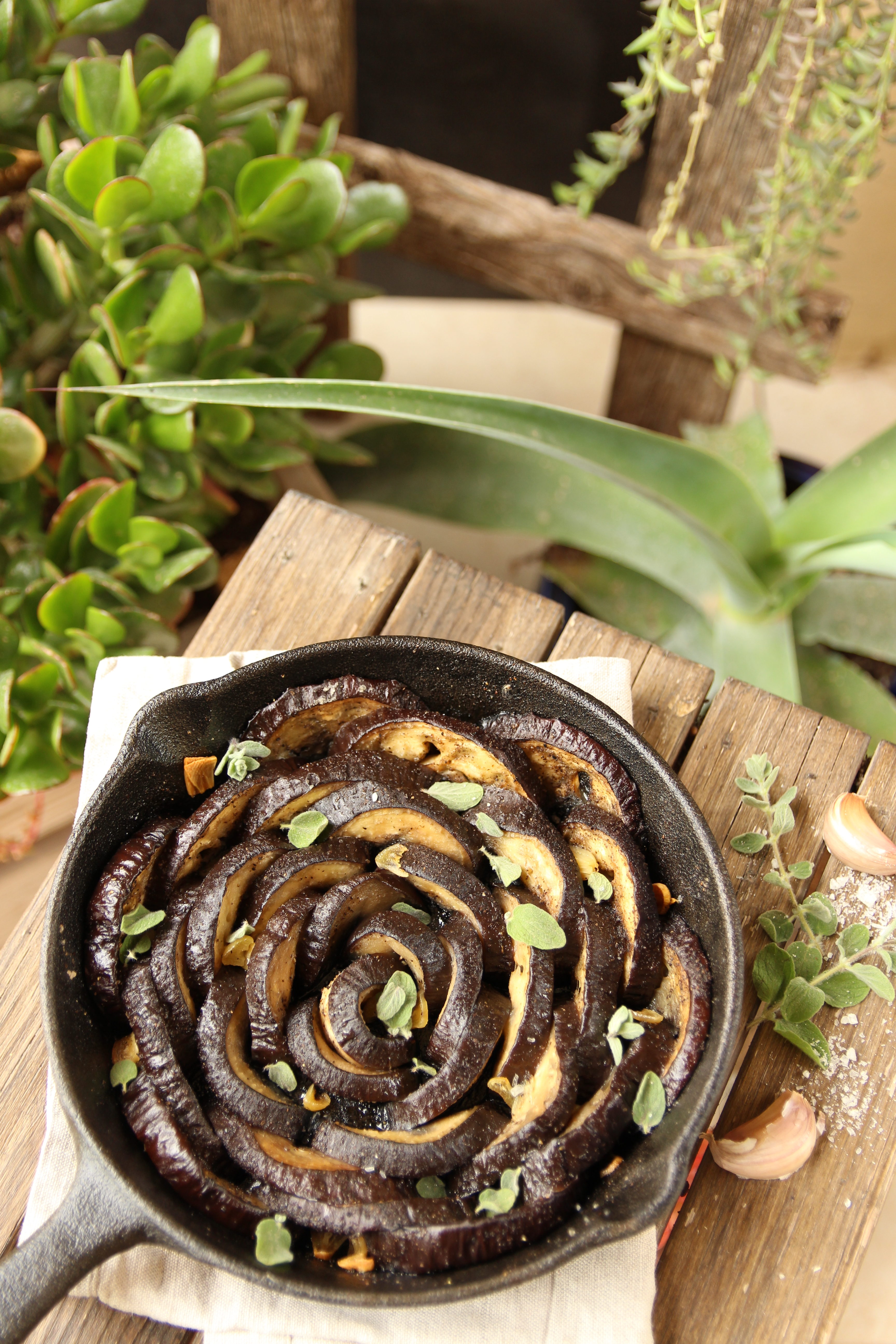 If you make this, be sure to tag me on Instagram, @lets_brighten_up, so I can see how gorgeous your rose shaped eggplants turned out!
Want a few more super easy salads to go with this baked eggplant? Try my raw zucchini salad. It's super refreshing, spicy, minty, and takes less than 5 minutes to make.
or try my red quinoa salad. It's packed with flavor, and goodness, and tastes amazing!
So there you have it darlings. And remember, sharing is caring darlings! 🙂
Until next time,
Have A Bright Day xx