Whatever you're doing right now, stop! You need to hear this! These chocolate bliss balls are for adults only! When your kids are tucked in bed, and you're sipping a glass of wine with your loved one, at the end of the day, I want you to remember these flavorful, toasted almond coated chocolate bliss balls! 🙂
Great, now that I have your attention, that's exactly what we'll be making today. Super easy, quick to make, coffee infused chocolate bliss balls, with lightly roasted almond flakes!
I had to make these scrumptious delights a few times, because everyone gobbled them down before I had the chance to photograph them! They're refined sugar free, oil free, vegan, and will satisfy all your chocolate cravings, the healthier way! 🙂
But be warned, because these bliss balls are addictive. So, let's brighten up our snack time, and whip up a batch! Who's with me?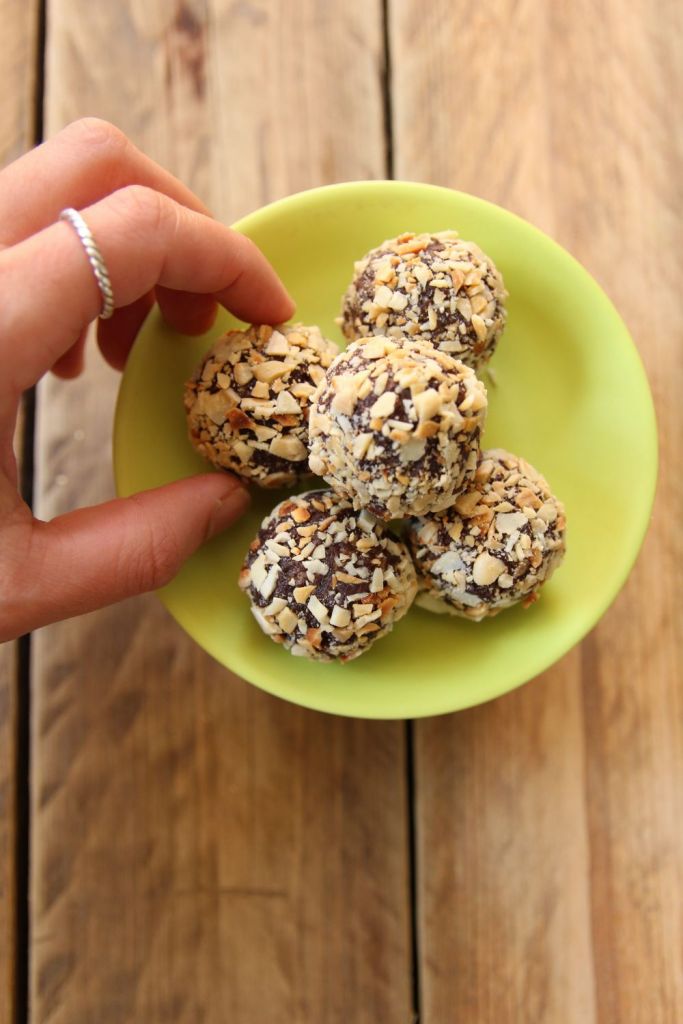 What You'll Need
Makes 12 chocolate bliss balls
8 Medjool Dates, pits removed (200 gr)
1 Cup (100 gr) of Almond Flakes
4 Teaspoons (5 gr) of Unsweetened Cocoa Powder
2 Teaspoons (10 gr) of Almond Butter
Teaspoon (2 gr) of Vanilla Essence
1 Teaspoon (1 gr) of Instant Coffee
2 Teaspoons (7 gr) of Hot Water
Instructions
1. Heat a saucepan, on low heat, then add the almond flakes. Keep an eye out, tossing the pan every few seconds, until they're lightly golden brown, then transfer to a small bowl, and set aside.
2. Place the medjool dates, pits removed, into a food processor, and blend to a paste. Next, add half of the almond flakes, together with the cocoa powder, vanilla, almond butter, and blend, until combined.
3. In a small bowl, melt the instant coffee, with the hot water, mix, then add to the food processor. Give it a few pulses, until combined, then take your mixture out of the food processor, and place in the fridge for 10 – 15 minutes to chill.
4. Next, take your mixture out of the fridge and roll into 12 chocolate bliss balls.
5. Finely chop the remainder of the almond flakes, and place into a small bowl. Next, pop the chocolate balls into the almond bowl, and roll, until all your chocolate bliss balls are covered.
6. Finally, pop them into the fridge for an hour to chill then dig in!
7. Store these chocolate bliss balls in the fridge for up to a week, in an airtight container.
Sharing is caring!
While you're here, if you're a chocolate fan then you're going to love my super easy Vegan Chocolate Muffins. 🙂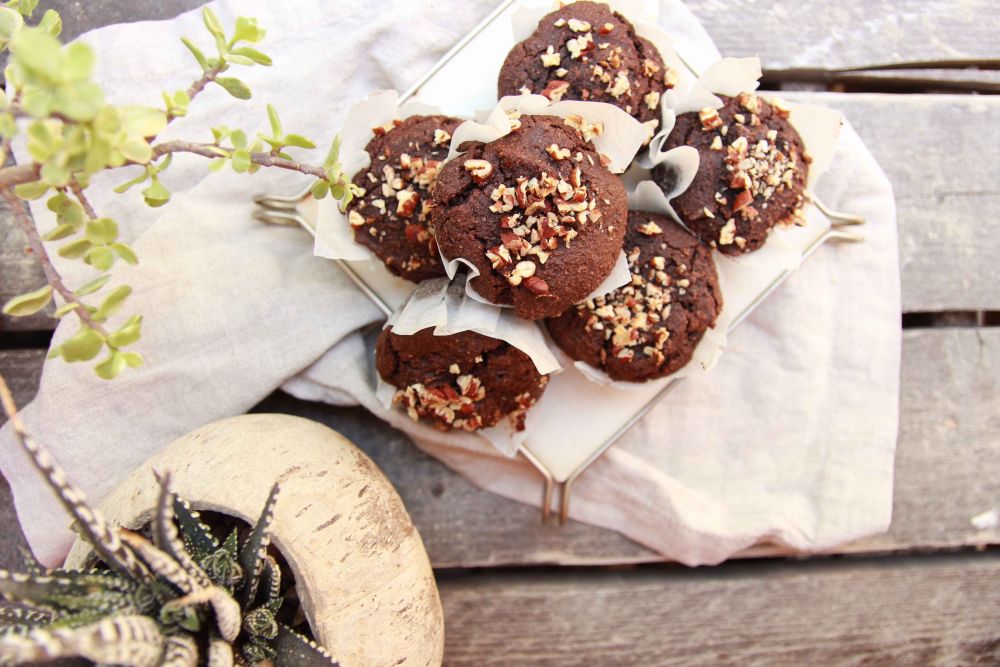 Until next time, have a bright day xx