This creamy chocolate chestnut tart is perfect no matter what season you're currently in! With thin slices of banana, and a rich whipped chocolate ganache, it all comes together in my freshly baked gluten free tart crust.
My version of the classic Banoffee Pie, is made with a light, chestnut and coffee filling, that's refined sugar free, and completely vegan! The fillings naturally sweetened with medjool dates, and perfectly infused with coffee. So, let's whip up the ultimate chocolate chestnut tart for your next indulgence!
Note that you'll need to make this tart a few hours before serving, as you need to chill the chocolate ganache, and the coconut cream, before whipping. I always keep a carton in the fridge, just in case. 🙂
What You'll Need
For The Filling
1 cup of Peeled Roasted Chestnuts
2 Teaspoons of Vanilla Extract
4 Medjool Dates, pits removed
1/2 cup + 2 Tablespoons of Coconut Milk, or Cream
1/2 Teaspoon of Cocoa Powder
1/4 cup of Mashed Banana
1 Teaspoon of Instant Coffee
For The Chocolate Ganache
1/2 cup of Chilled Coconut Cream
1/4 cup of chopped Dark Chocolate
Pinch of Instant Coffee
1/2 Teaspoon of Cocoa Powder, for dusting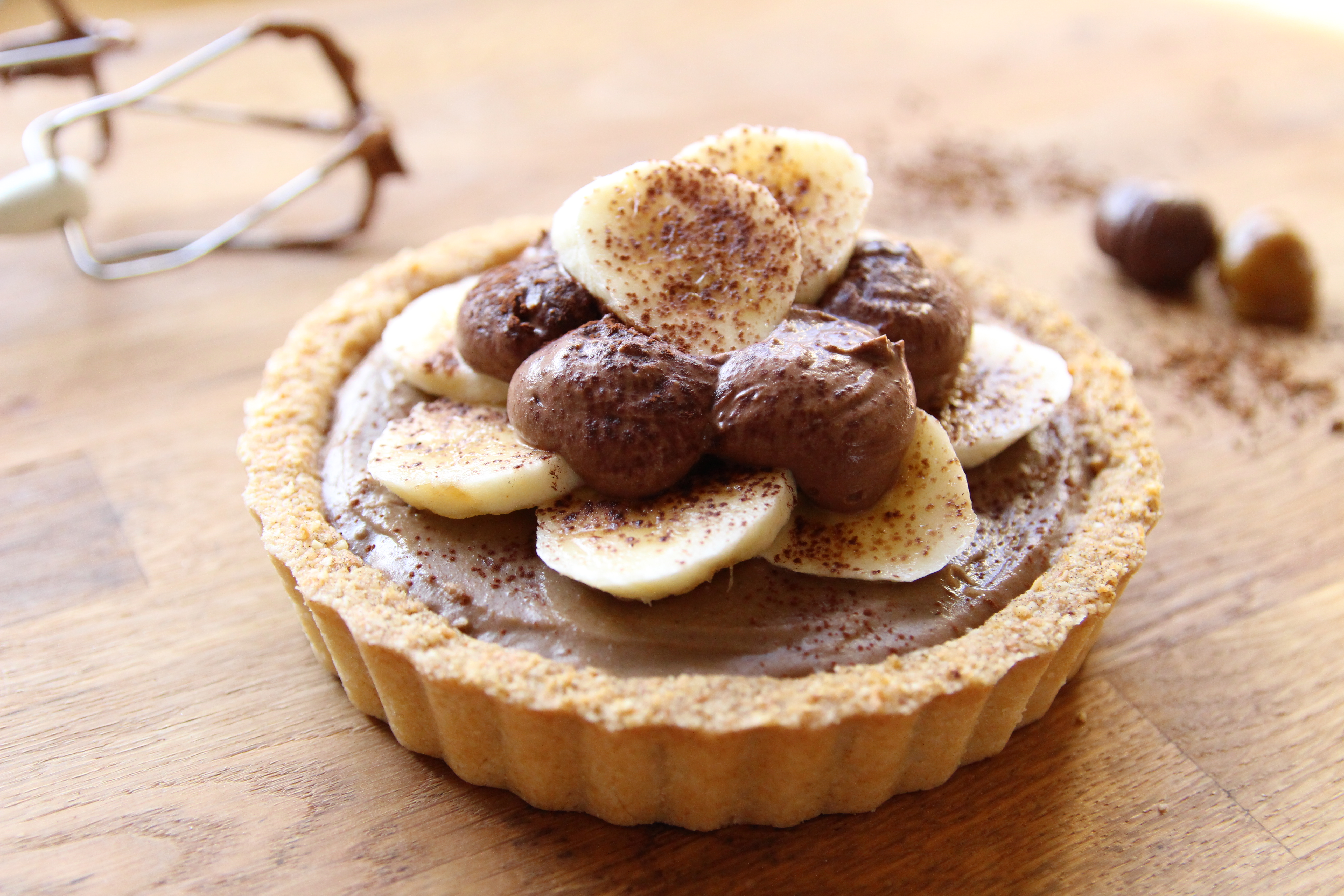 Instructions
For The Chocolate Ganache
1. Place the chopped dark chocolate in a small bowl, and set aside.
2. Next, add a 1/4 cup of the coconut cream, and a pinch of instant coffee, to a small pot. Bring to a boil, and then pour onto the chocolate, and let it rest a minute.
3. Finally, mix until the ganache is smooth and shiny, and chill for an hour, while we make our chocolate chestnut filling.
For The Ultimate Chocolate Chestnut Tart Filling
1. In a small pot, add the vanilla extract, medjool dates, pits removed, instant coffee, and the coconut milk, or cream. Next, break the chestnuts into quarters, add to the pot, and heat for a minute or two, occasionally stirring. This is done to soften the dates.
2. Take the pot off the heat, then add the cocoa powder, and a 1/4 cup of mashed banana, and blend until smooth.
3. Finally, pour your chestnut filling into your freshly baked tart crust, and transfer to the fridge for a couple of hours, to set.
To Assemble Our Chocolate Chestnut Tart
1.Once your chocolate chestnut tart has set, thinly slice 1 banana, and start dressing up your tart, as you wish!
2. To finish the chocolate ganache, whip the remaining coconut cream, until stiff peaks form, and fold into the ganache.
3. Finally, pipe the cream on top of the sliced banana, and dust with cocoa powder.
There you have it, don't forget to pin it for later, and share it with your friends! 🙂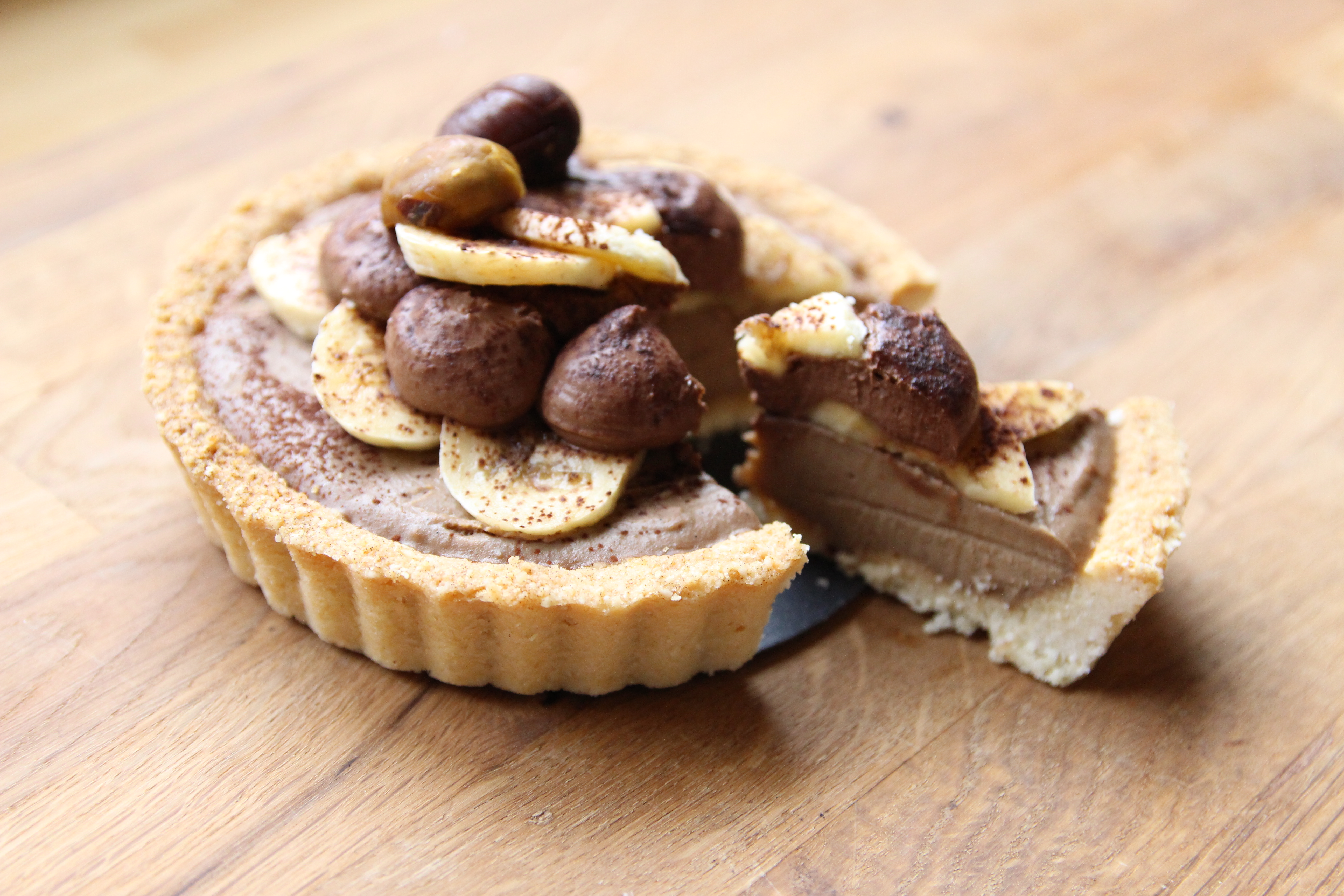 Next Time Try It With My Rich Chocolate Filling
If you love chocolate, you'll love my Super Easy No Bake Chocolate Tart.
With a heavenly rich chocolate filling, you can't go wrong!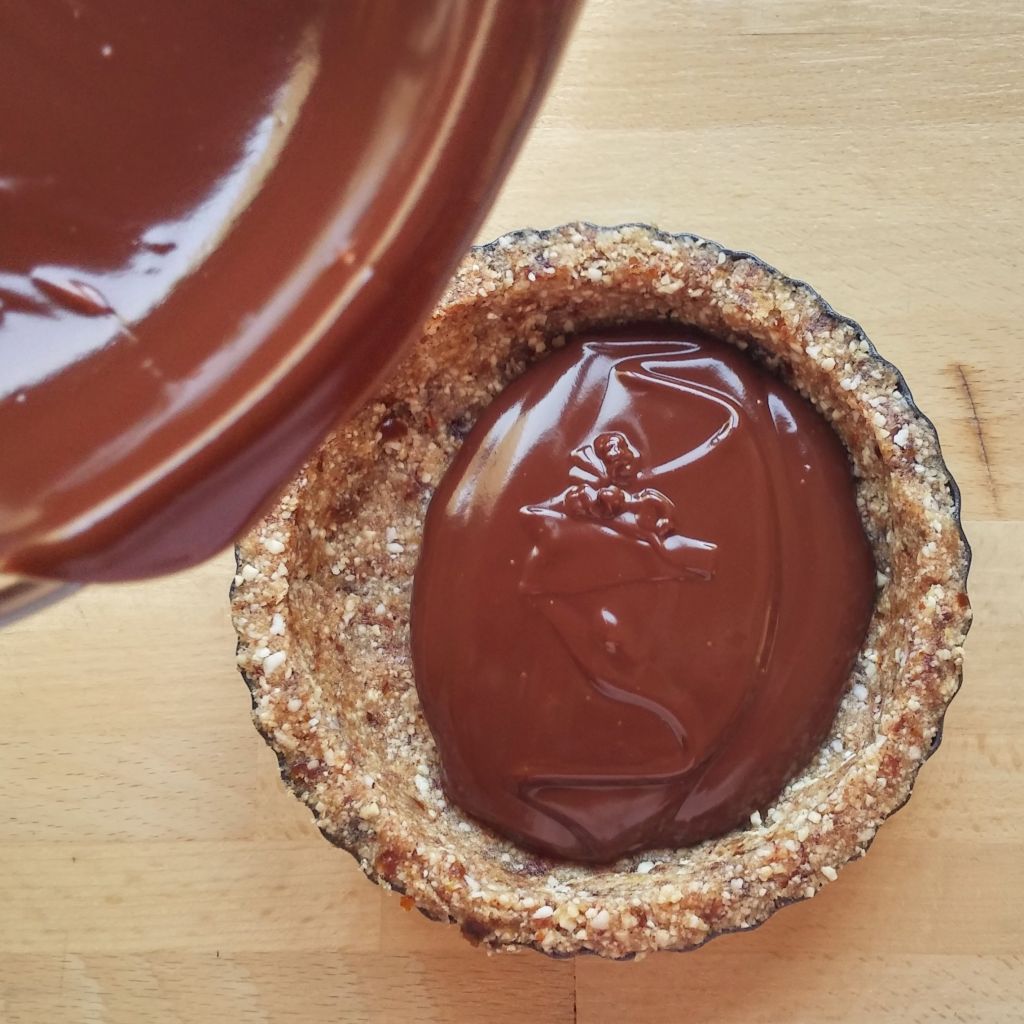 I'd love to know how your turned out. 🙂
Until next time,
Have A Bright Day xx