Hi darlings! I'm about to share, in my opinion, the best orange and poppy baked vegan donuts I've ever had! They're moist, oil free, and have a healthy, refined sugar free, frosting! These vegan donuts are gluten free, not too sweet, and baked in my brand-new donut tray. 🙂
If you don't own a donut tray, simply turn them into exceptionally pleasing orange and poppy seed muffins!
Technically oats are gluten free, but a lot of companies usually pack them in contaminated environments. So, if you are gluten intolerant, make sure you buy a brand that clearly states it's gluten free, like this one.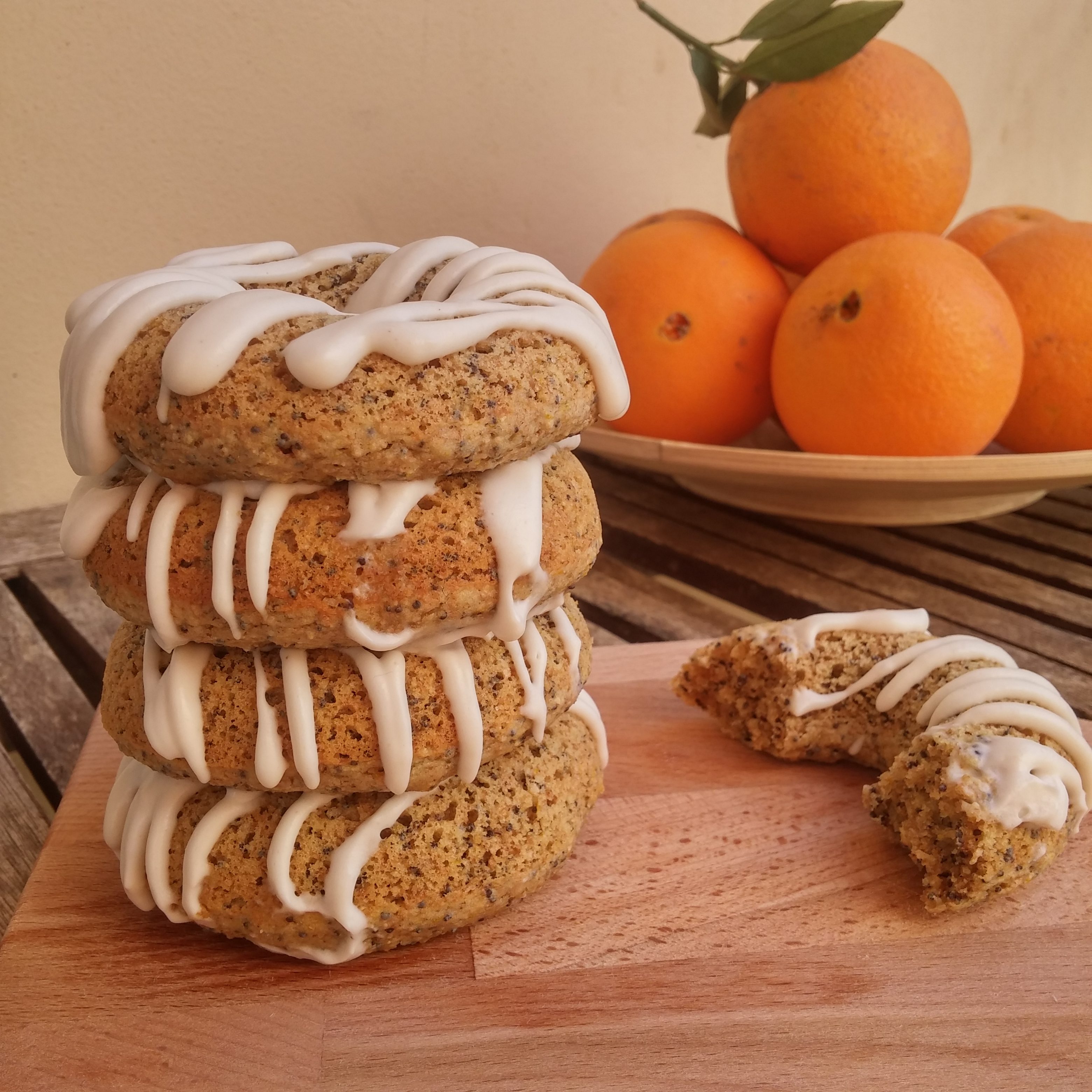 That being said, let's whip up a freshly baked batch of vegan baked donuts.
What You'll Need
Makes 6 baked vegan donuts or muffins
3/4 cup of Oat Flour
1.5 Teaspoons of Baking Powder
2- 1/4 Tablespoons of Organic Cane Sugar
Zest from 1 Orange
1/3 cup of Orange Juice
1.5 Tablespoons of Almond Paste
2- 1/4 Tablespoons of Unsweetened Apple Sauce
1.5 Tablespoons of Poppy Seeds
For The Healthy Coconut Cream Frosting
1/4 cup of Chilled Coconut Cream
1 Teaspoon of Maple Syrup
1- 1/2 Teaspoons of Almond Paste
*Put a carton of coconut cream in the fridge, for at least a few hours, preferably overnight, before use. 
Instructions
1. Preheat your oven to 320 degrees F (160 C), then blend together the whole grain oat flour, baking powder, and organic cane sugar.
2. In a separate bowl, add the orange juice, orange zest, almond paste, and unsweetened apple sauce, and whisk until combined.
3. Next, add the wet ingredients in with the dry ingredients, add the poppy seeds, and mix all that goodness together.
4. Finally, evenly pipe your batter into a lightly greased donut tray, or muffin tray, and pop your donuts into the oven until they've lightly browned, and a toothpick comes out almost clean, around 7 – 10 minutes, depending on your oven.
5. When ready, take them out of the oven, to cool down, while we prepare our coconut frosting.
For The Coconut Frosting
1. Add the chilled coconut cream to a bowl, and whisk, until soft peaks form.
2. Next, add the almond paste and maple syrup, and mix well, until you get a yogurt texture.
3. Drizzle the frosting over your orange and poppy seed, baked vegan donuts, and dig in!
Let me know how yours turn out, I'd love to know 🙂 And if you liked this recipe, feel free to share these moist, fruity delights with your friends, or pin it for later. 🙂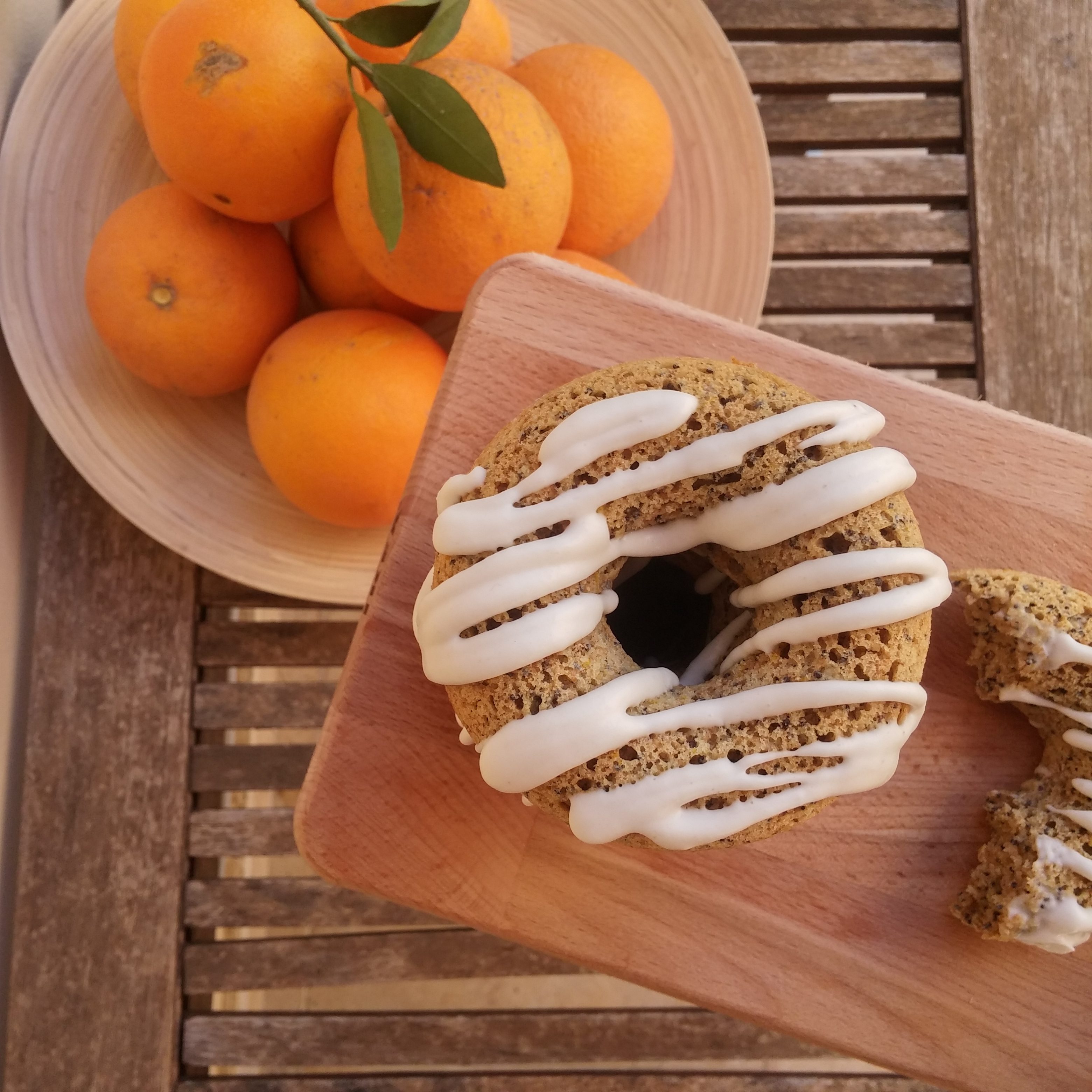 A Few Treats To Try Next Time
Grab a few spoons, or one, and dig into this warm, comforting, Chocolate Chip Skillet Cookie.
My Chocolate Chestnut Tart is the ultimate indulgence! It has a scrumptious gluten free tart crust, it's refined sugar free, and of course completely vegan!
And Finally, if you haven't already tried my Pistachio And Lemon Energy Balls, now's the time! Only 5 ingredients, they're raw, and ready in 10 minutes! 🙂
Until next time,
Have A Bright Day xx