This vegan banana bread is super moist, nutty, and a great on the go snack, for all those busy mornings! It's perfectly infused with vanilla, lemon juice, and walnuts, and has become a staple in our home! Also, you can easily just turn them into 12 individual muffins, if you prefer. They'll taste just as good, and make a great lunch box snack for the kids!
Super easy to make, and takes less than 5 minutes to whip up. Plus, the irresistible aroma, that'll perfume your kitchen, while this banana bread's baking away in the oven, is out of this world! 🙂
Whether you cut yourself a sliver, or find you ate the entire loaf, one piece at a time, I won't judge, or blame you! That's what happened to me with this batter, and my moist carrot cake muffins, I recently posted. 🙂
So, have yourselves a great day darlings, and let's brighten up with this freshly baked vegan banana bread.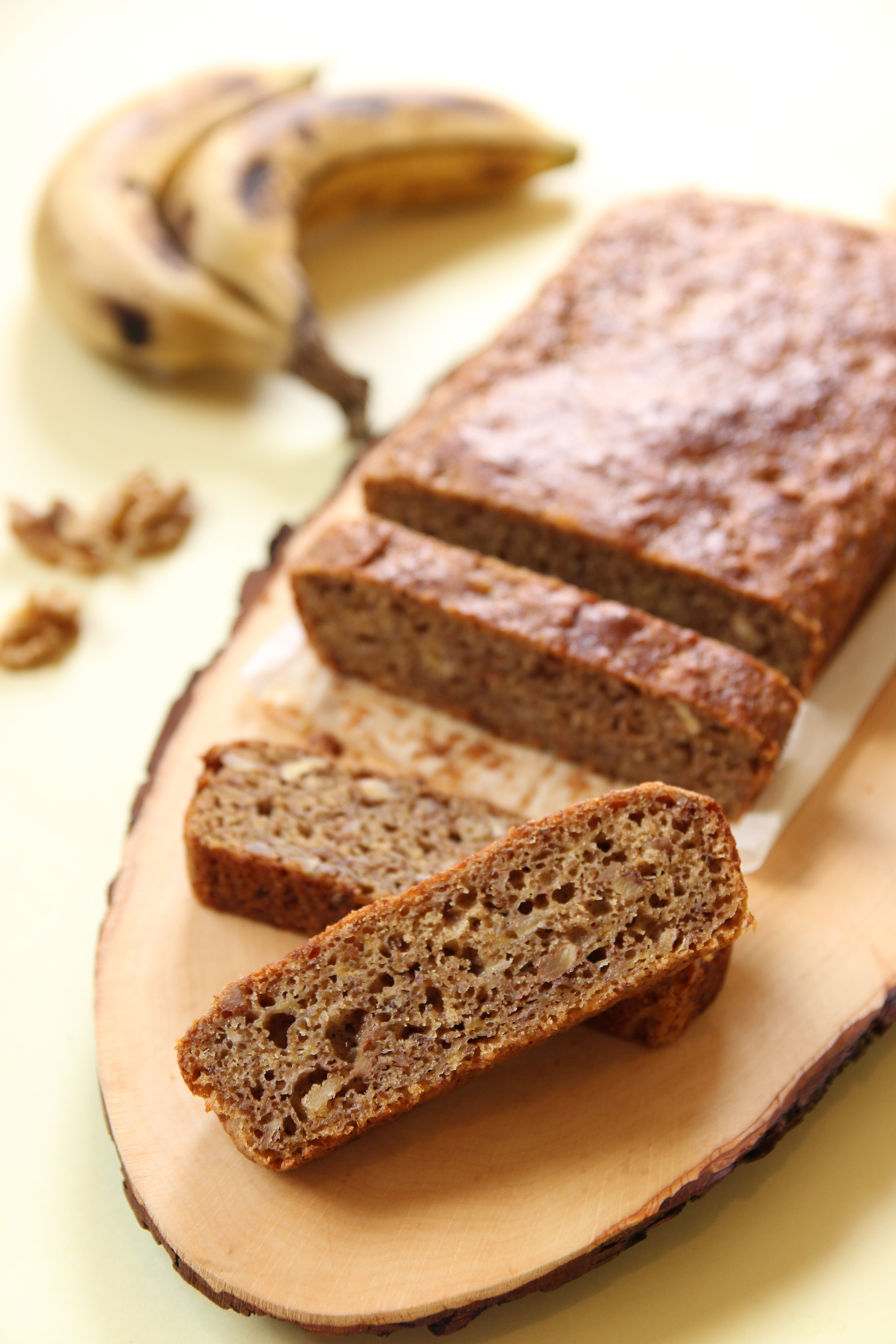 What You'll Need
Makes 1 vegan banana bread loaf
2 Tablespoons of Ground Flax Seed
6 Tablespoons of Lemon Juice
1/2 Cup of Coconut Sugar
2 Tablespoons of Maple Syrup
Splash of Vanilla
6 Tablespoons of Olive Oil
1 Cup of Mashed Bananas
1/2 Teaspoon of Baking Powder
1/2 Teaspoon of Baking Soda
1 Cup of Whole Spelt Flour
1/2 Cup of Walnuts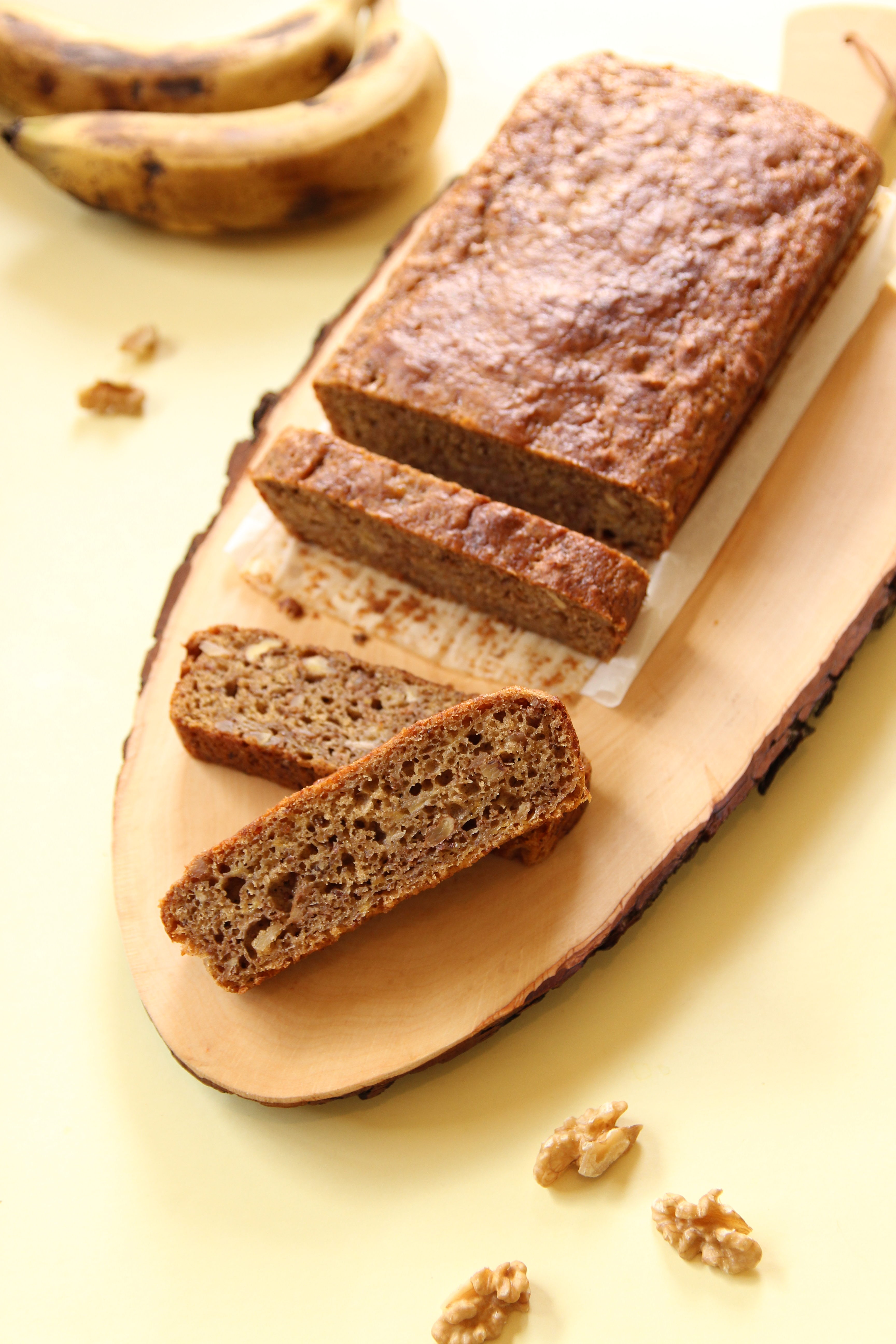 Instructions
1. Preheat the oven to 356 degrees F (180 C)
2. Mix the ground flax seed together with the lemon juice, and set it aside.
3. Mash 1 cup of bananas, with a fork, and place it into a medium sized bowl. Next, add the coconut sugar, splash of vanilla, olive oil, maple syrup, and flax seed mixture, and whisk well, until combined.
4. Place the spelt flour, baking soda, and baking powder into a separate bowl, and give it a quick mix. Switch to a spatula, then add the flour mixture in with the wet ingredients, in 2 parts, and mix, until combined.
5. Finally, roughly chop the walnuts, then add it to the bowl, and give it one final mix.
6. Transfer your batter into an 8 x 4 x 1/2-inch loaf pan (20 x 10 x 6 cm), or into a muffin tray, lined with cupcake liners, and bake until a toothpick comes out clean, around 20- 45 minutes.
*If you've turned your banana bread into muffins, your baking time will shorten. So, keep an eye out, until a toothpick comes out clean, around 15 minutes.
7. When your vegan banana bread is ready, take it out, to slightly cool, before you dig in! 🙂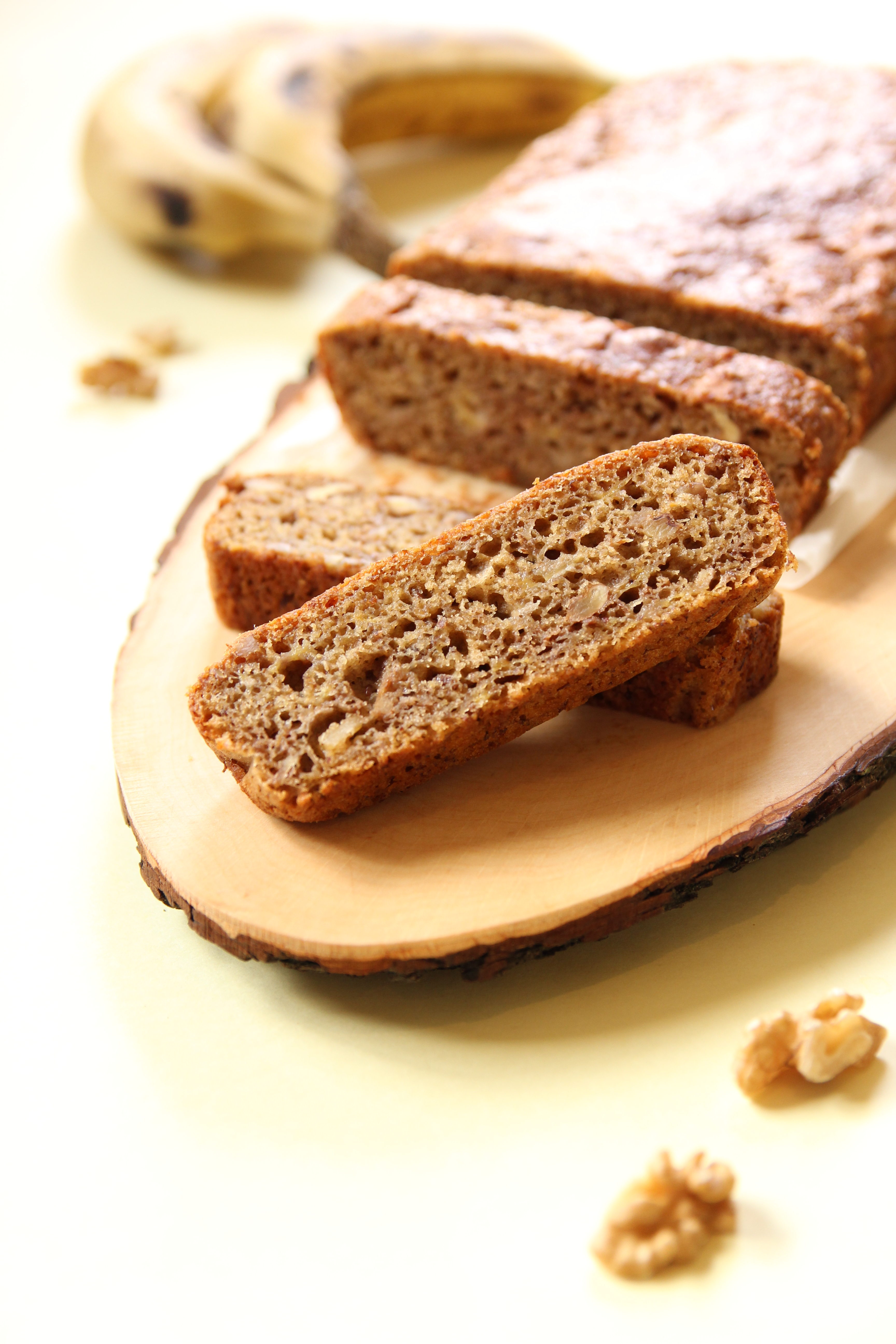 Remember to tag me on Instagram @lets_brighten_up, when you get a chance to make this! I'd love to see how your banana bread turned out! 🙂
Until next time,
Have A Bright Day xx