These are by far the tastiest carrot cake muffins I've ever had! They're super moist, take less than 5 minutes to whip up, packed with flavor, and vegan of course!
But wait, it gets better!
They're also perfectly infused with olive oil, and oranges! 🙂
These scrumptious carrot cake muffins are exceptional on their own, or topped with my super easy, and light, refined sugar free, coconut cream frosting. Just make sure you remember to chill a carton of coconut cream overnight, before you begin, or your cream won't whip.
So, let's brighten up our weekend, and bake ourselves a batch of these quick and easy carrot cake muffins! Because weekends are all about spending time with the family, and not slaving away in the kitchen, am I right darlings?
If you want to turn these scrumptious muffins into a carrot cake, simply double the recipe and bake the batter in an 8 x 4 x 1/2-inch loaf pan (20 x 10 x 6 cm) until a toothpick comes out clean! 🙂 
What You'll Need
Makes 6 vegan carrot cake muffins
1 Tablespoon of Ground Flax Seed
3 Tablespoons of Orange Juice
1/2 Teaspoon of Orange Zest
1/4 Cup of Coconut Sugar
3 Tablespoons of Olive Oil
1 Tablespoon of Maple Syrup
1/4 Cup of Walnuts, or Pecans
Splash of Vanilla Essence
1/2 Cup of Whole Spelt Flour
1/4 Teaspoon of Baking Soda
1/4 Teaspoon of Baking Powder
3/4 Cup of Grated Carrots
1/2 Teaspoon of Cinnamon Powder
For the frosting
1/2 Cup of Chilled Coconut Cream
1 Tablespoon of Maple Syrup
Splash of Vanilla Essence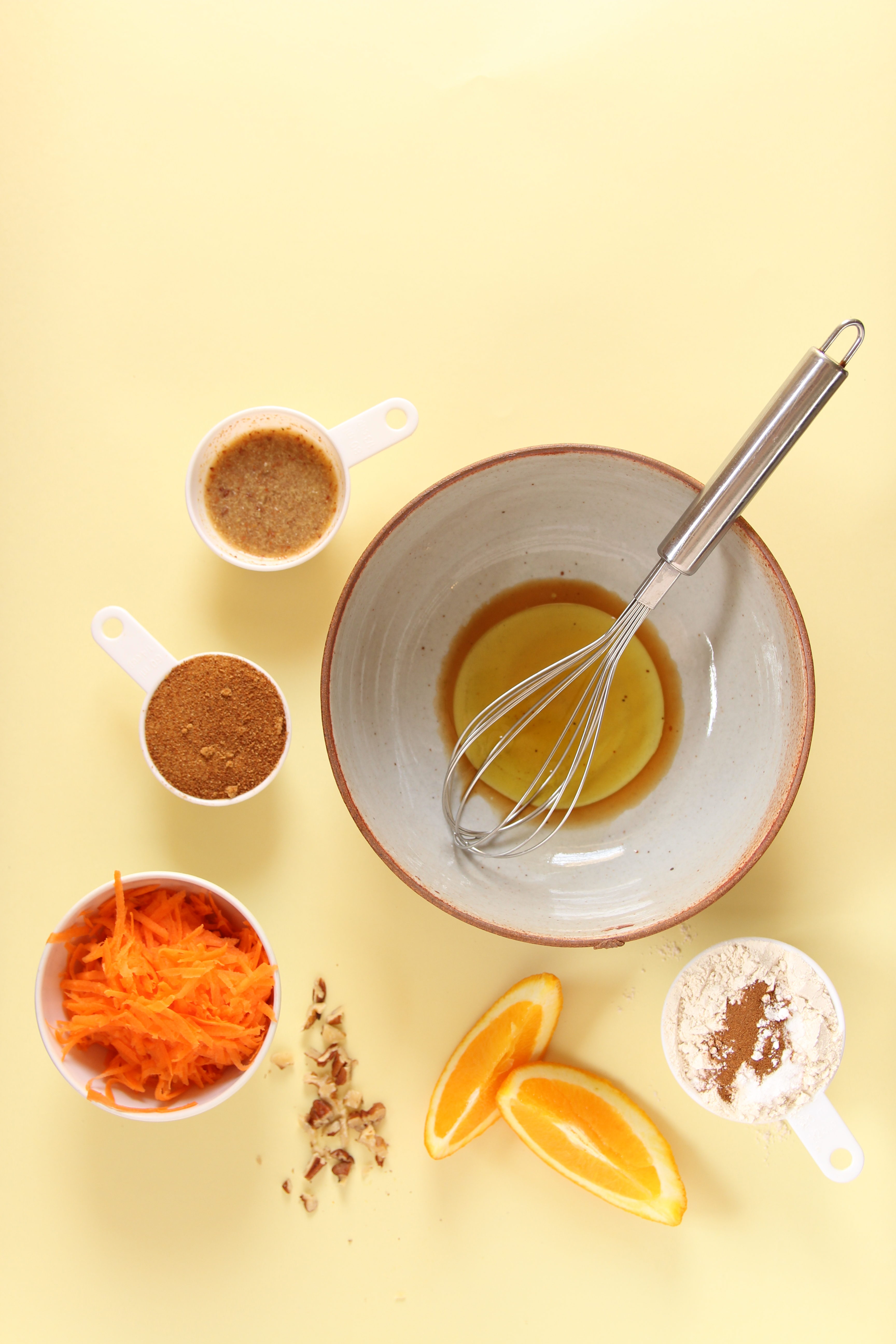 Instructions
1. Preheat the oven to 356 degrees F (180 C)
2. Place the ground flax seed and freshly squeezed orange juice into a small bowl, then mix and set aside, to soak up.
3. Wash, peel, and grate 3/4 of a cup worth of carrots, about 1 large carrot, and set aside.
4. Place the coconut sugar, maple syrup, vanilla essence, and olive oil into a medium sized bowl, along with the flax seed egg, and whisk well, then add the grated carrots, switch to a spatula, and give it all a good mix.
5. In a separate bowl, mix together the flour, cinnamon, baking soda, and baking powder, then slowly add it in with the wet ingredients, and mix well. Finally, roughly chop the walnuts, and fold it into the carrot cake batter.
6. Scoop, or pipe, your batter into a muffin tray, lined with 6 cupcake liners, and bake until a toothpick comes out clean, around 10 – 15 minutes.
7. Take the tray out of the oven, to completely cool, before adding the frosting. If you ask me, these muffins taste exceptional on their own, but if you want to dress them up a bit, then continue with the frosting below.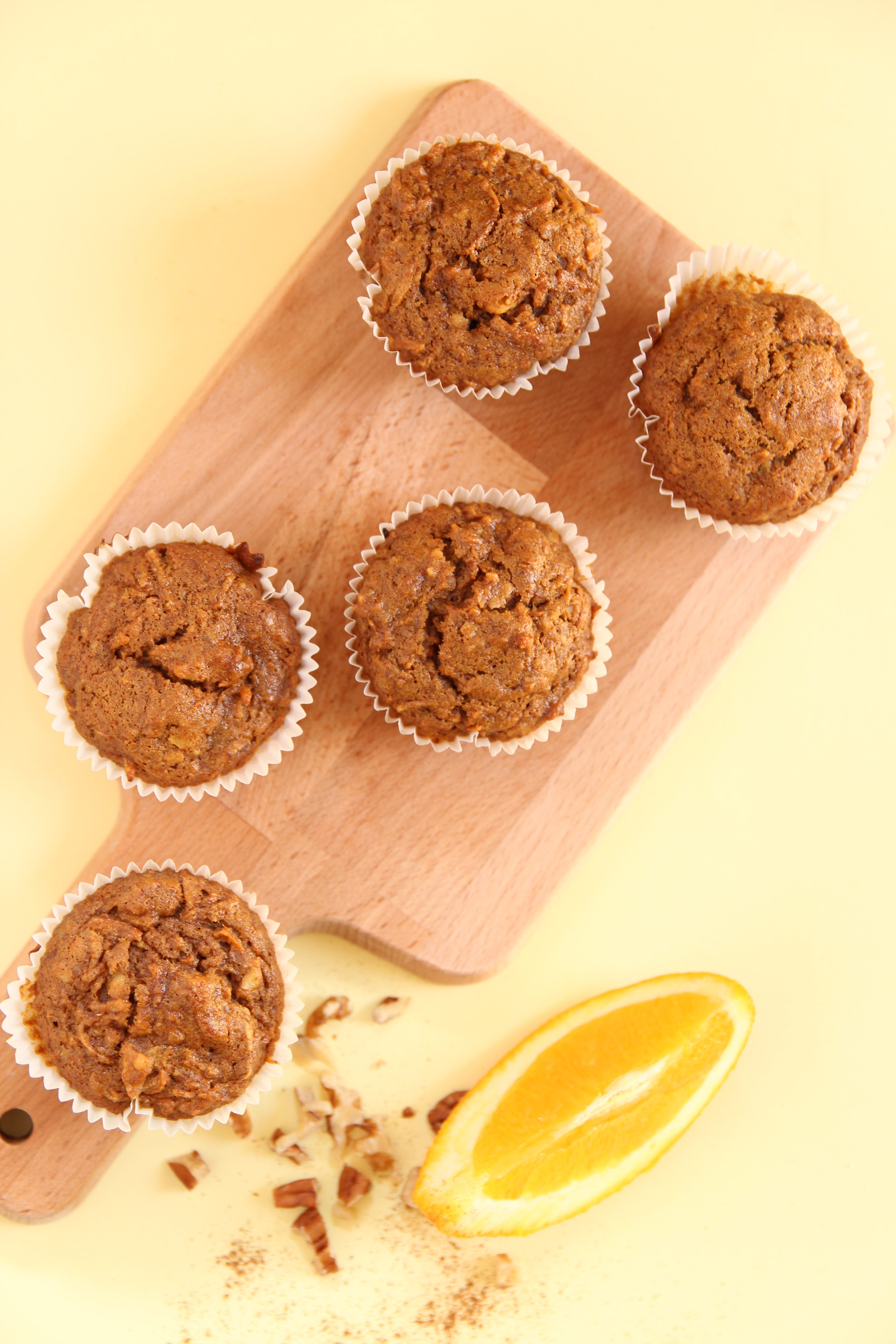 For The Coconut Cream Frosting
1. Take your chilled carton of coconut cream out of the fridge, scoop the top layer out, into a clean bowl, and whisk until stiff peaks form.
2. Next, add the maple syrup and vanilla essence, and briefly mix.
3. When your carrot cake muffins have completely cooled, transfer your cream into a piping bag, then evenly pipe the cream frosting on top of each muffin, and dig in!
Store the carrot cake muffins in an airtight container, at room temperature, without the frosting, for 4 days.
Don't forget to tag me on Instagram, @lets_brighten_up, when you get a chance to make these! And remember, sharing is caring! 🙂
What sweet treat will you whip up next time? I've got you covered with my Super Crisp Biscotti Cookies! They're perfect to dunk in your coffee, easy to make, and 100% vegan! 🙂
Until next time,
Have A Bright Day xx