Before we begin, preheat your oven to 320 degrees F (160 C), because in under 5 minutes your vegan drop biscuits will be ready to bake. No need to knead, or let them rest. They're hassle free, time saving delights that are healthy, nutritious, and always come to my rescue when I'm out of bread, or just craving something freshly baked.
They are filled with nutritious ingredients like black sesame seeds, that are extremely healthy. Check out the many health benefits of black sesame seeds here.
Plus, they're packed with ground flax seeds. Here's an excellent post that tells you everything you need to know about flax seed and all its amazing health benefits.
But getting back to these savory biscuits, they have been my go to recipe lately! Served with a super simple spring onion and garlic cashew cream, these scrumptious delights go great with anything.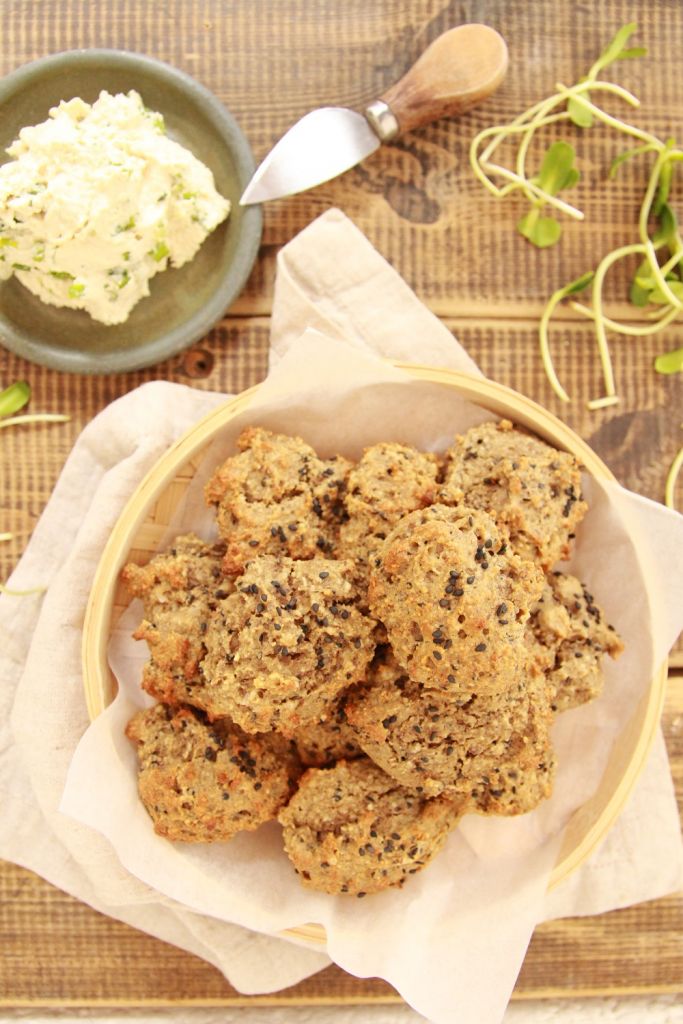 What You'll Need
Makes 6 savory vegan drop biscuits
1/2 Cup (60 gr) of Almond Meal
1/2 Cup (60 gr) of Whole Rye Flour
1/4 Cup (30 gr) of Ground Flax Seed
1 Teaspoon (5 gr) of Baking Soda
1/2 Teaspoon (2 gr) of Baking Powder
1/2 Teaspoon (4 gr) of Sea Salt
1 Tablespoon (8 gr) of Black Sesame Seeds + more for topping
1/2 Cup (120 gr) of Unsweetened Apple Sauce
2 Teaspoons (10 gr) of Freshly Squeezed Lemon Juice
1/4 Cup (60 gr) of Almond Butter
2 Teaspoons (8 gr) of Olive Oil
2 Teaspoons (10 gr) of Maple Syrup
Spring Onion And Garlic Cream
1/2 Cup (75 gr) of Soaked Cashews
1 Garlic Clove (4 gr)
1/8 Cup (7 gr) of Chopped Spring Onion
Pinch of Sea Salt
2 Teaspoons (10 gr) of Freshly Squeezed Lemon Juice
1 Teaspoon (4 gr) of Olive Oil
Instructions
1. It's all about multitasking. While your oven is preheating, place all the dry ingredients in one bowl, and all the wet ingredients in another bowl.
2. Next, give them both a good mix, then when your oven is ready, place the dry ingredients in with the wet and mix until combined.
3. Scoop 12 balls with a tablespoon onto a baking tray lined with baking paper, garnish with a bit of black sesame seeds, and pop them into the oven for 8 – 10 minutes. Every oven is different, so bake until they start to lightly brown. When ready, take them out to slightly cool.
For The Spring Onion And Garlic Cashew Cream
1. Soak the cashews in hot water for a couple of hours, or overnight, then rinse them well and blend along with the peeled garlic clove, lemon juice, and a pinch of sea salt.
2. Transfer your cream into a bowl, then finely chop the spring onion, add it to the bowl, and give it a quick mix.
3. Finally, spread some of that creamy goodness on top of your vegan drop biscuit, and Bon Appetite!
How did your savory biscuits turn out? Do you agree they're a HUGE time saver?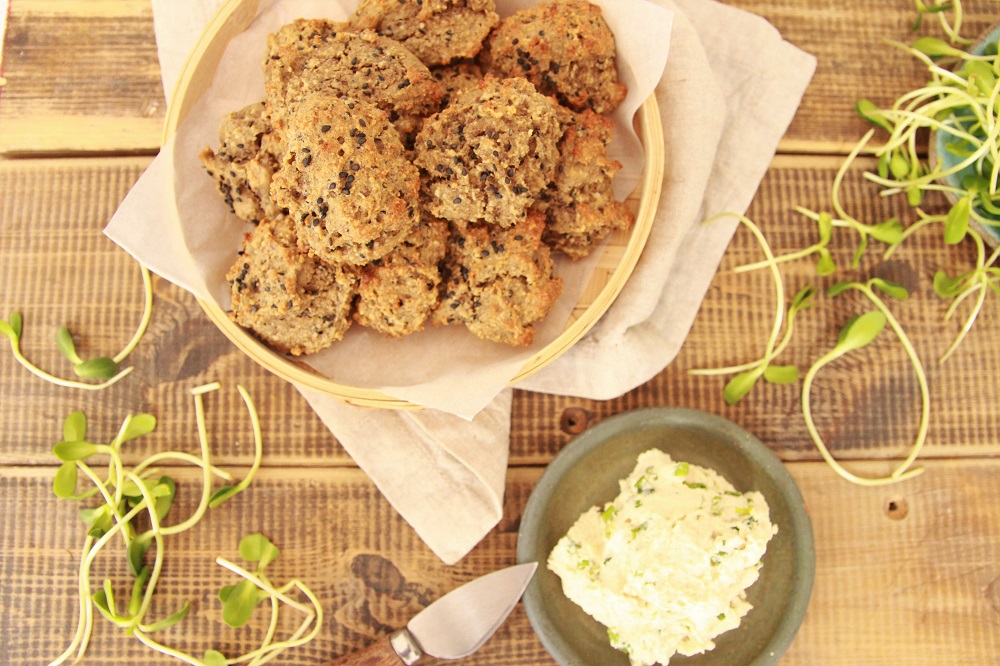 Recipes To Try Next Time
I've put together a few recipes that I think you might like. Vegan Summer Rolls for those HOT days.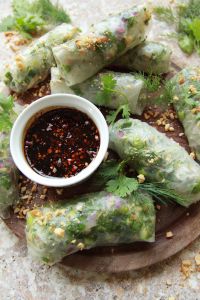 Vegan Seed Crackers to dip into your spring onion and garlic cashew cream.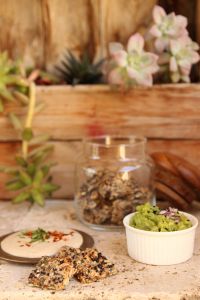 And of course, something for that sweet tooth you might have. Chocolate Muffins!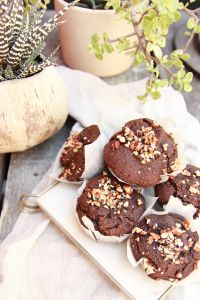 All easy, quick to make recipes. So there you have it. Enjoy everyone and until next time, have a bright day. xx