I never knew just how perfectly chestnuts and mushrooms complement each other until I found myself foraging the fridge for ingredients that I could use as a filling for my dough. I knew I wanted to make a mushroom pastry filled with spices, herbs, garlic, and onions, but didn't want to settle on just those ingredients.
That's when I came across a vacuumed pack of organic peeled chestnuts. Excited to begin, I sauteed onions, garlic, mushrooms, spices and herbs, and seasoned well with sea salt and pepper. Once the mushrooms were nice and soft, I crushed some chestnuts, threw them into the pan and gave it all a good mix.
From here it was a piece of cake. I divided my dough into 5 even balls, rolled them into small rectangles, placed my pre-chilled filling in the center of each rectangle and rolled them into swirl shaped pastries. I briefly let the mushroom swirls rest, then popped them into the oven.
Well before I knew it I was waiting impatiently for them to cool down so I could try one! I could easily have gobbled them all up, but stopped myself in order to let my helpful tasters test them out. Hearty, soft, and bursting with flavor were their words.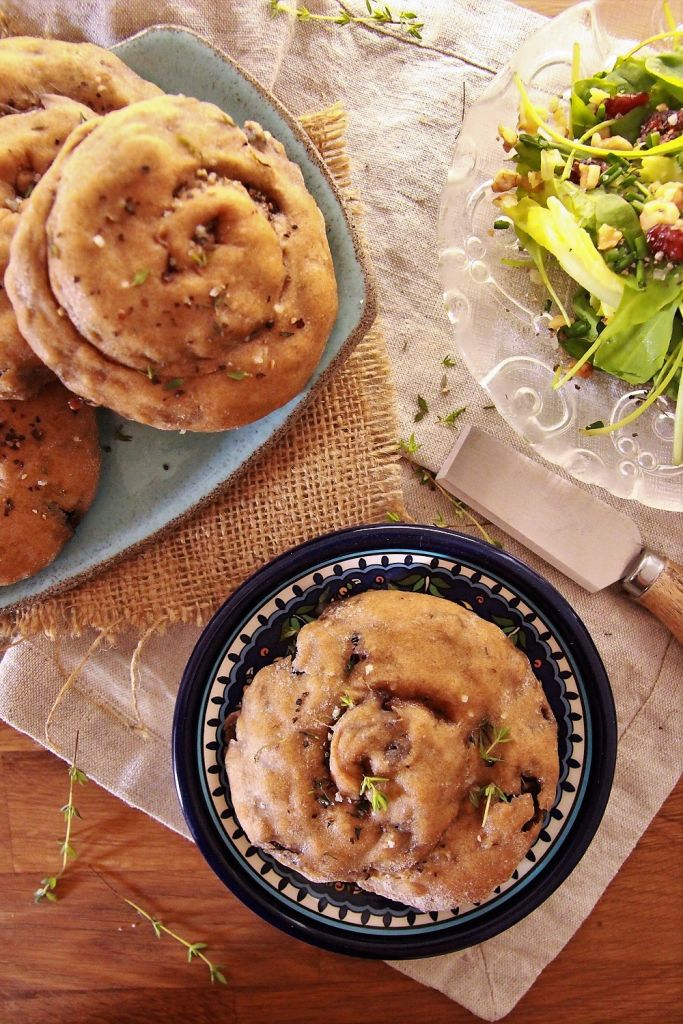 What You'll Need
Makes 5 chestnut and mushroom pastries
1 Teaspoon (4 gr) of Active Dry Yeast
1/2 Cup (100 gr) of Tap Water
1 Cup (150 gr) of Whole Spelt Flour
1 Tablespoon (10 gr) of Olive Oil
1/4 Teaspoon (2 gr) of Sea Salt
For the mushroom filling
2 Tablespoons of Olive Oil
1 + 1/3 Cups (180 gr) of Diced Red Onion
2 + 1/4 Cups (200 gr) of Diced Mushrooms
4 Garlic Cloves
10 Fresh Thyme Sprigs
Sea Salt to taste
1/2 Teaspoon of Ground Black Pepper
1/2 Cup (80 gr) of peeled Vacuumed Chestnuts
Instructions
1. Let's begin with the dough. Place your active dry yeast into a bowl along with the water.
2. Next, add the olive oil, flour, and salt, and mix with a spoon until you form a dough. If your dough is still very sticky add an extra tablespoon of flour.
3. Flouring your hands as needed, knead the dough in the bowl for roughly half a minute then cover it with a clean towel and place in a warm area until it has doubled in size, around 30 – 60 minutes.
4. In the meantime let's prepare the filling. Finely chop the onions and mushrooms. Crush the garlic cloves, then heat a saucepan on medium heat. Add the olive oil and onions, and cook until they start to sweat.
5. Next, add the mushrooms, garlic, leaves from the thyme sprigs, and cook until the mushrooms are nice and soft.
6. Crush the chestnuts with your hands and add it to the pan. Add sea salt and black pepper to taste, give it a good mix, and set aside until it's cool enough to place in the fridge. Let it completely chill.
7. When your dough has doubled in size, flour your hands, knock out all the air in your dough, then divide the dough into 5 even balls, lightly flour it, cover with plastic wrap, and place in the fridge for an hour to chill.
Assembling The Chestnut And Mushroom Pastry
1.Preheat the oven to 356 degrees F (180 C).
2. When your dough has chilled, take it out of the fridge, and place one ball onto a floured surface. Roll the ball in some flour, don't worry this dough loves flour, then roughly shape it into a rectangle.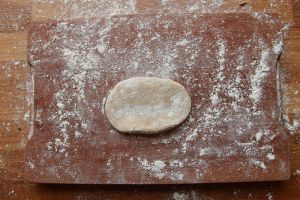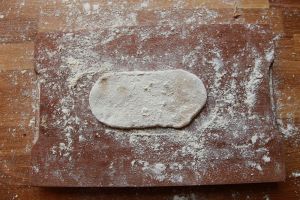 3. Roll it roughly 8 inches (20 cm) long, and 4 inches (10 cm) wide, making sure to flour the dough well, and constantly flipping it over so it won't stick to your counter top, or rolling pin.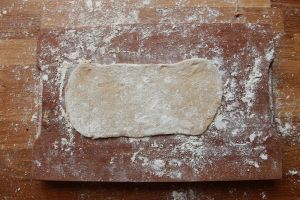 4. Evenly place the chilled filling in the center of your rectangle, making sure to reserve enough filling for all 5 pastries.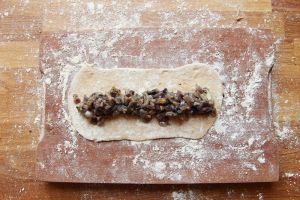 5. Fold the lower end of your dough to cover the filling, roll into a sausage, and pinch the ends.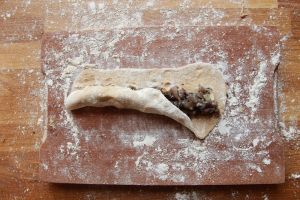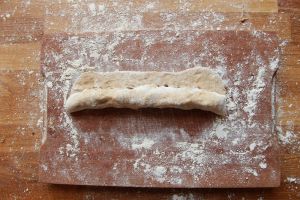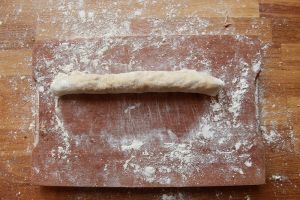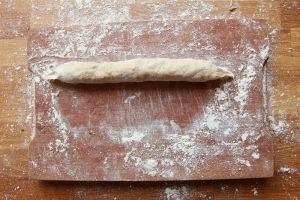 6. Next, take one end of your mushroom sausage, and form a spiral in counter clockwise motion, then gently lift it up into your hand, tuck the other end under your mushroom pastry, and place on a baking tray lined with baking paper.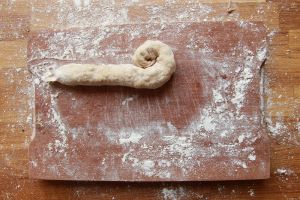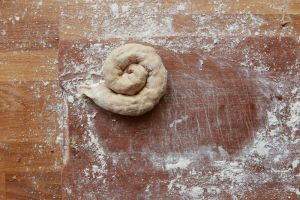 7. Repeat until you have rolled all 5 mushroom pastries.
8. Let the mushroom pastries rest for another 20 – 30 minutes then gently brush the top of each mushroom pastry with a bit of olive oil, and season with sea salt, black pepper, and a few thyme leaves. Finally, pop them into a preheated oven for about 15 – 20 minutes. Remember, every oven is different, so keep an eye on them.
9. When ready, take them out to slightly cool, and enjoy!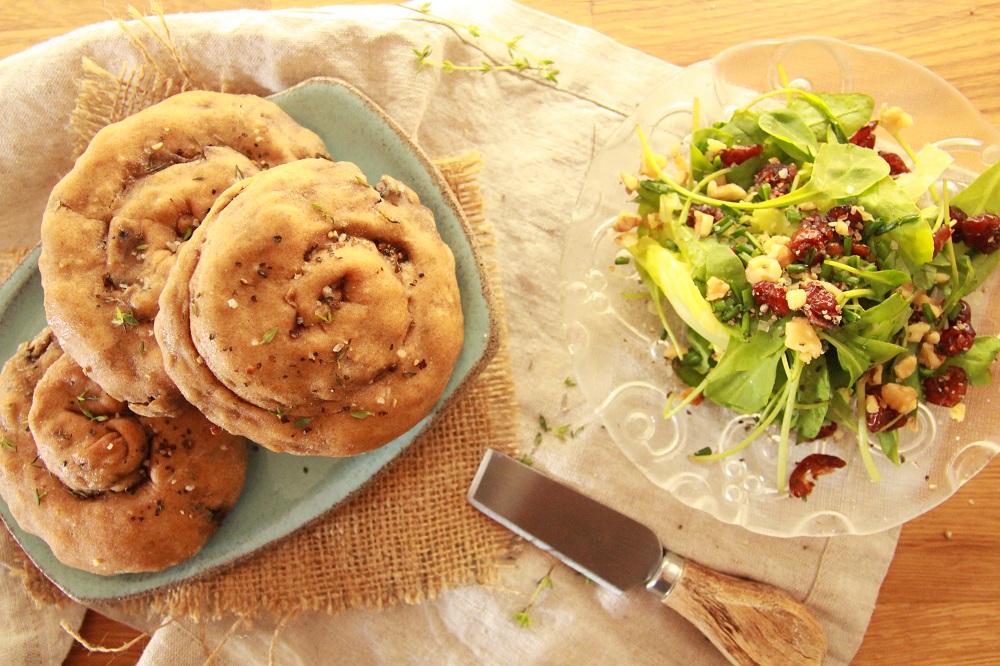 You May Also Like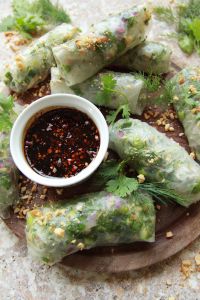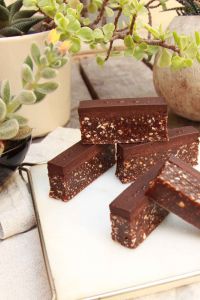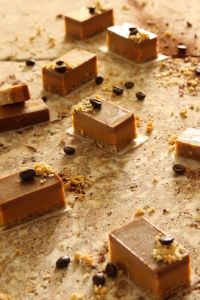 Can't wait to hear what you all think. Have a question? Let me know in the comments below. Plus, if you make these I'd love to see how they turned out. So be sure to tag me on Instagram @lets_brighten_up. It honestly makes my day. Until next time, have a bright day xx