Whether you decide to indulge in this sweet potato no crust quiche for breakfast, lunch, or dinner, nothing beats homemade bakes. So, since I've posted many muffin recipes lately, I thought I'd spice things up a bit, and bake a no crust quiche instead. When I made my savory muffins recipe last week, I immediately knew I would be tweaking it into future savory recipes, and that's how we ended up here, today. 🙂
With fresh basil leaves, nigella seeds, slightly caramelized red onions, and small chunks of roasted sweet potatoes in every bite, this sweet potato no crust quiche has it all!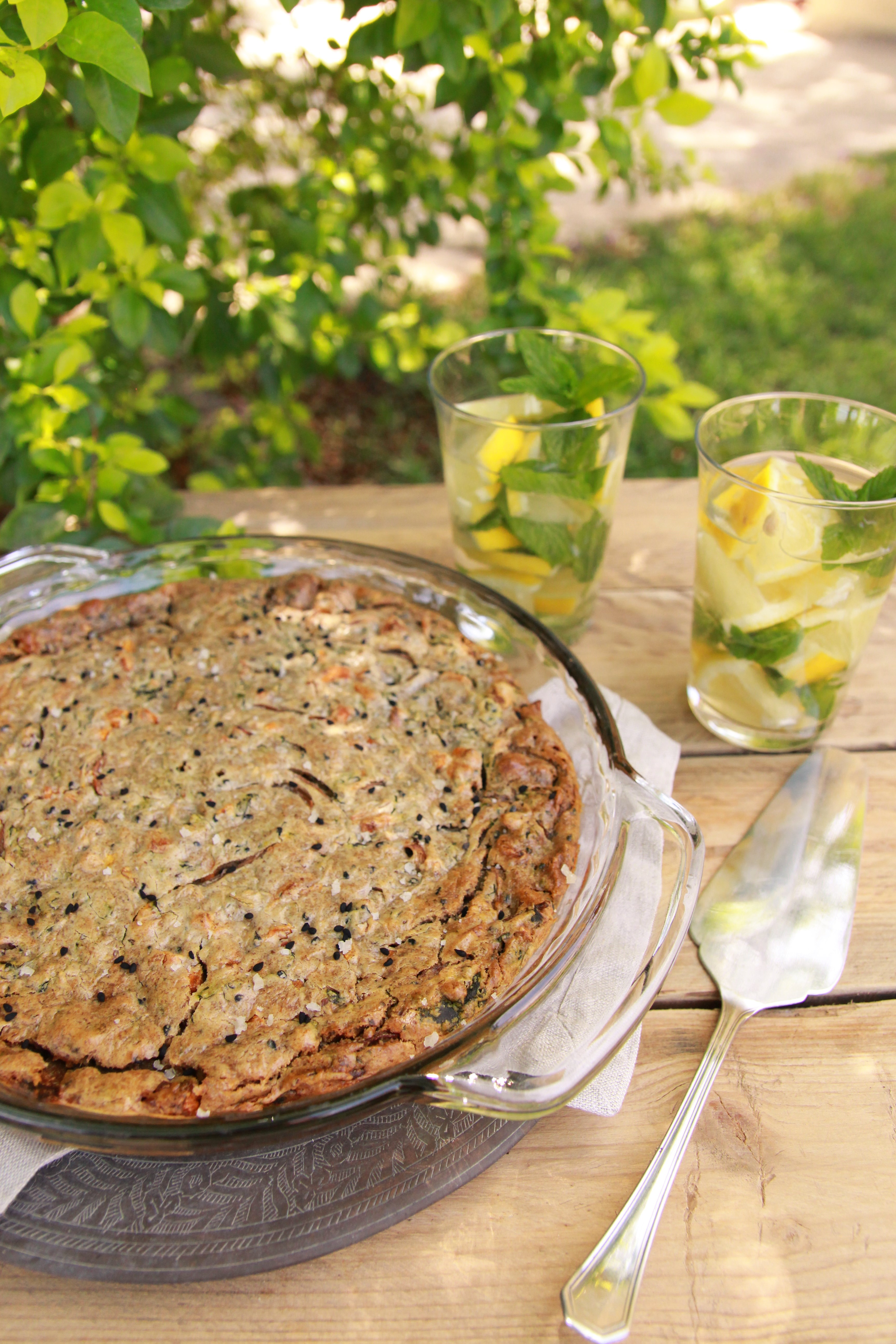 What You'll Need
Makes an 8-inch (20 cm) round sweet potato no crust quiche
9 Tablespoons (105 gr) of Water
3 Tablespoons (20 gr) of Ground Flax Seed
1 + 1/2 Cups of Diced Sweet Potatoes
3 + 1/2 Teaspoons (15 gr) of Baking Powder
1/2 Teaspoon of Sea Salt or to taste
Black Pepper to taste
3 Teaspoons (15 gr) of Olive Oil
1 + 1/2 Cups of Sliced Red Onion
7 Garlic Cloves (28 gr)
3 Teaspoons (8 gr) of Nigella Seeds
1 + 1/2 Handfuls (10 gr) of Fresh Basil Leaves
1/3 Cup (90 gr) of Almond Butter
3/4 Cup (160 gr) of Coconut Milk
1/3 Cup (55 gr) of Whole Grain Spelt Flour
Instructions
1. Preheat the oven to 392 degrees F (200 C).
2. Mix the ground flax seed and water together in a bowl, and set aside.
3. Peel, wash, and finely dice 1 and a 1/2 cups of sweet potato, around 1 sweet potato, then place it onto a baking tray, lined with baking paper. Add 1 teaspoon of olive oil, a pinch of sea salt, and black pepper, mix well, then pop it into the oven until soft, around 15 minutes.
4. Peel, and cut the red onion in half, and then into long thin strips. Heat a saucepan, add the remaining olive oil, then add the onions to the pan. Toss until they start to slightly brown. Take the pan off the heat, crush the garlic cloves, wash the basil leaves, finely chop them, and add to the pan.
5. When the sweet potatoes are ready, add them to the pan, and give it all a good mix. Adjust the oven to 356 degrees F (180 C), then mix the baking powder, nigella seeds, a pinch of sea salt, and black pepper, along with the spelt flour, in a separate bowl.
6. Add the almond butter, and coconut milk, into the flax seed mixture, and mix. Next, add in the flour mixture, mix, then add all the veggies from the pan, and with a spoon, fold the veggies into the batter.
7. Transfer the batter into a round 8-inch (20 cm) pan, and pop your sweet potato quiche into the oven, until the surface is lightly golden brown, around 20 – 25 minutes.
8. When ready, take it out to slightly cool, then slice and enjoy!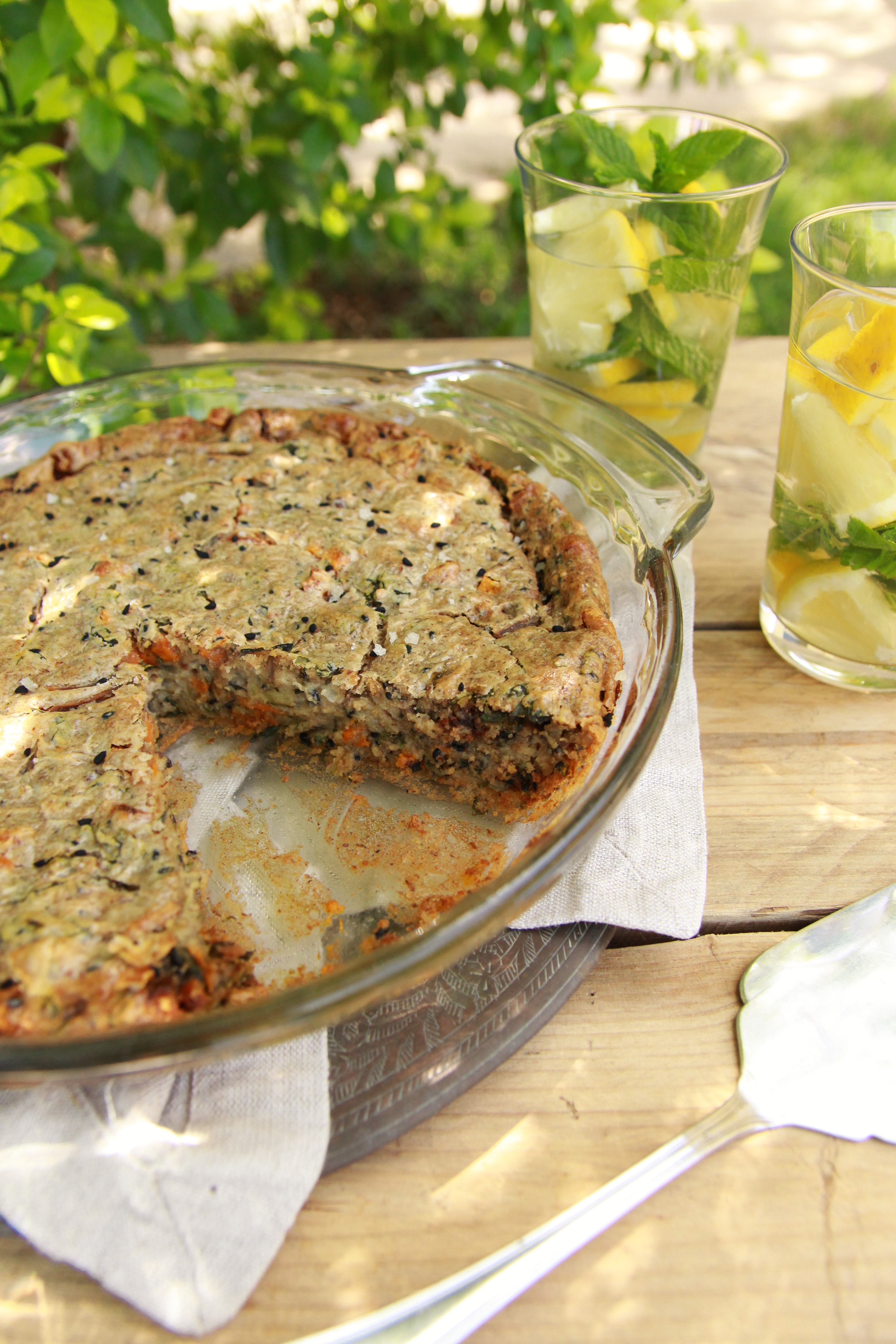 Storing The Sweet Potato No Crust Quiche
Store in an airtight container, at room temperature for up to 4 days. Another option is to cut it into slices and freeze it. Then, when you want, simply take a slice out, defrost, pop it into the oven for a few minutes, and enjoy!
Don't know what sweet treat to indulge in? Whether you want a freezer treat, or baked treat, I have plenty of options to choose from.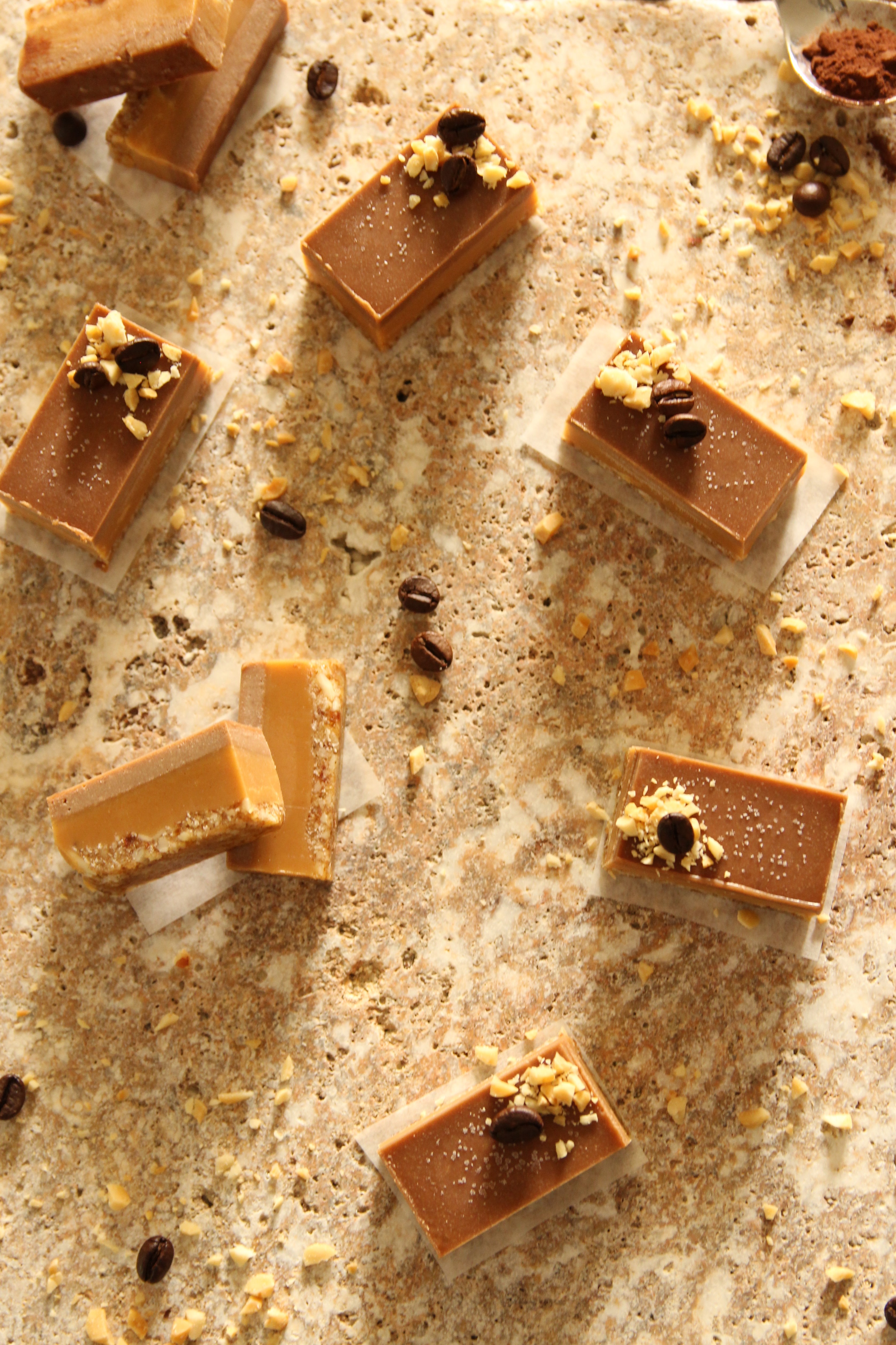 Sharing is caring!
Until next time,
Have A Bright Day xx