Ever since a close friend of mine had us over for dinner, a few years ago, and served us polenta in jars, I have been dreaming of making my own. The adorable looking jars, and the whole concept of eating out of a jar really fascinated me! 🙂 Well, I finally decided it was about time I create my own, creamy, vegan polenta. I mean, what's the worst that could happen?
Excited to begin, I boiled some water in a pot, got out a few ingredients, then added the polenta in all at once, didn't whisk, and if that wasn't enough, I had it on high heat! Before I had a chance to think, it started spitting out onto my counter top, my kitchen wall, and onto my favorite t-shirt!
I quickly rushed to find the lid, covered the pot, and waited for it to calm the heck down, then, of course I had a good laugh, as you would have too, if you'd have seen the state of my kitchen. 🙂
But, since I'm not a quitter, I went back to the kitchen, for a second try. Luckily this time, I had the pot on medium heat, let the water boil, and slowly added in the polenta, while constantly whisking. After adding a few flavor enhancers, spice, and color, it turned out extraordinary, and was worth all the mess I'd made.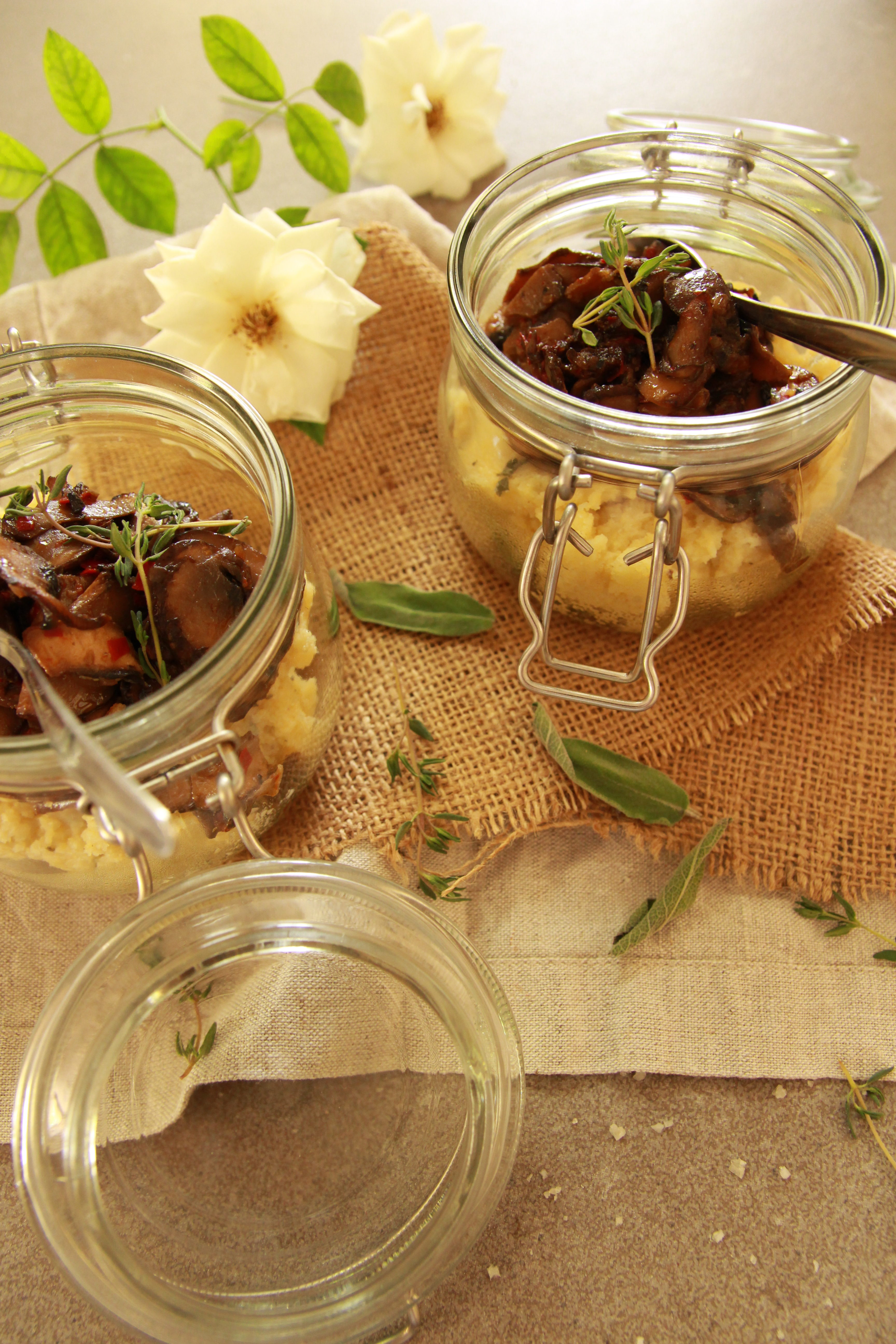 What You'll Need
Makes 2 vegan polenta jars
1 + 1/2 Cups of Water
1/2 Cup of Quick Cooking Polenta
1/4 Cup of Coconut Milk
1/4 Cup of White Wine
1/2 – 3/4 Teaspoon of Sea Salt
1/4 Teaspoon of Nutmeg Powder
1 Tablespoon of Olive Oil
2 Small Garlic Cloves
3 Large Sage Leaves
For the Mushrooms
1 Tablespoon of Olive Oil
2 packed Cups of Sliced Portobello Mushrooms
4 Garlic Cloves
1 Red Chili
1/2 Cup of Coconut Milk
2 Teaspoons of Balsamic Vinegar
Instructions
1. Mix together the olive oil, coconut milk, and white wine, and set aside. Measure the polenta, then heat the water in a pot, on medium heat. In the meantime, crush the garlic cloves, and finely slice the sage leaves.
2. As soon as the water reaches boiling point, slowly add the polenta with one hand, and constantly whisk with the other hand. When it starts to thicken, add in the coconut milk mixture, and continue whisking.
3. Next, add the crushed garlic, and sage leaves, whisk, then take it off the heat.
4. Add the sea salt, and nutmeg powder, mix, taste, adjust according to taste, and set aside.
5. For the mushroom sauce, finely slice the mushrooms, then heat a saucepan, add the olive oil, along with the mushrooms, and cook, until they're nice and soft. Finely dice the red chili, and add it to the pan.
6. Finally, add the balsamic vinegar, and coconut milk, and let it simmer, until the liquids evaporate.
7. Serve in jars, or on a plate, and enjoy!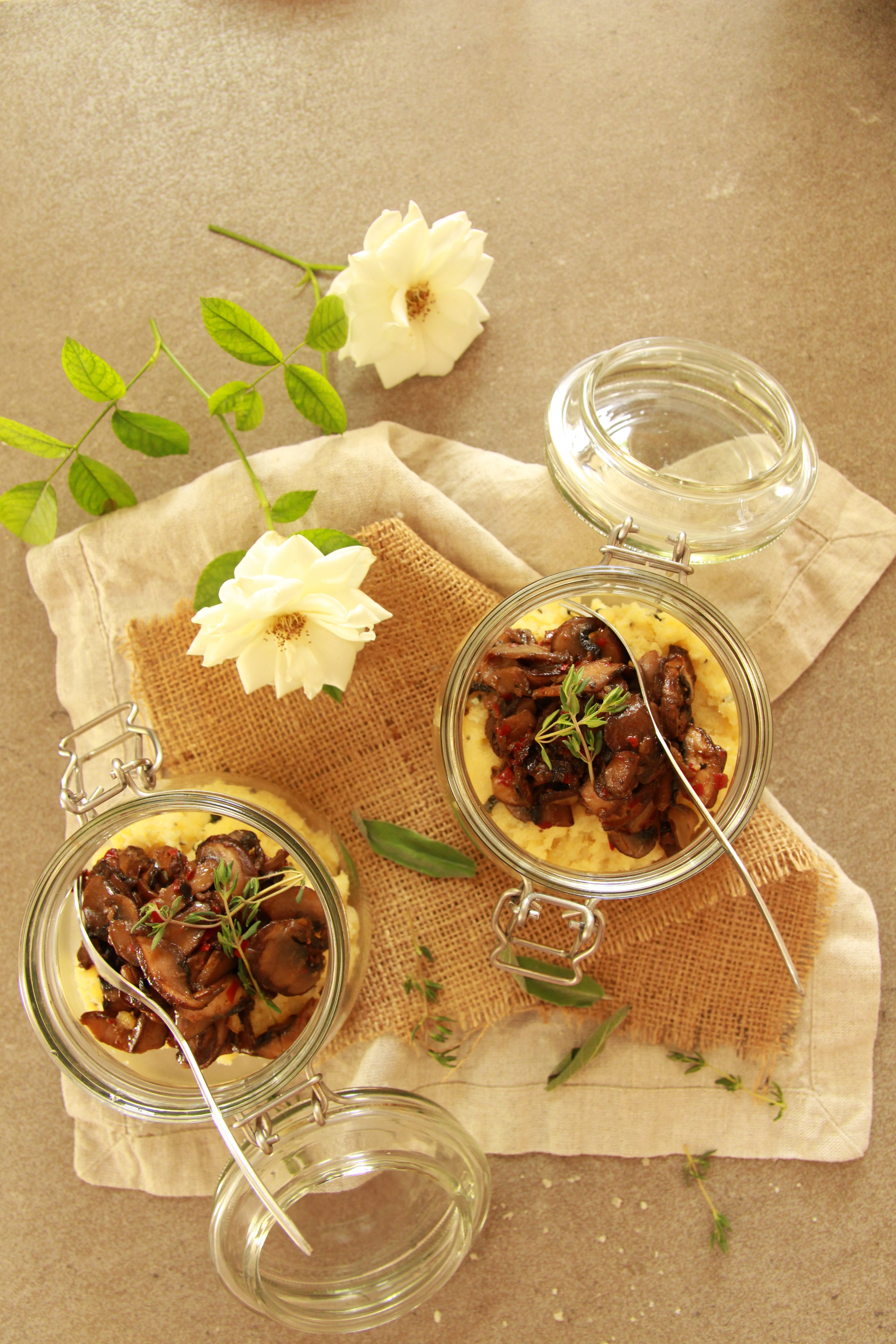 What's for dessert? My No Bake Pecan Bars, are easy to prepare, refined sugar free, vegan, and pure pleasure with every bite!
Remember sharing is caring!
Until next time,
Have A Bright Day xx