So, for me, winters all about blankets, cuddles, and most of all, soup! Does the cold weather also have that effect on you? Well, today I'll show you how to make my Amazing Curried Pumpkin Soup with roasted walnuts. Because who doesn't love a bowl of comforting soup on a cold, rainy day?
This Curried Pumpkin Soup is packed with hearty vegetables, and is Extremely Comforting!
Quick and Easy to make, and Ready in under 30 minutes.
So, let's warm up with this incredibly satisfying pumpkin curried soup.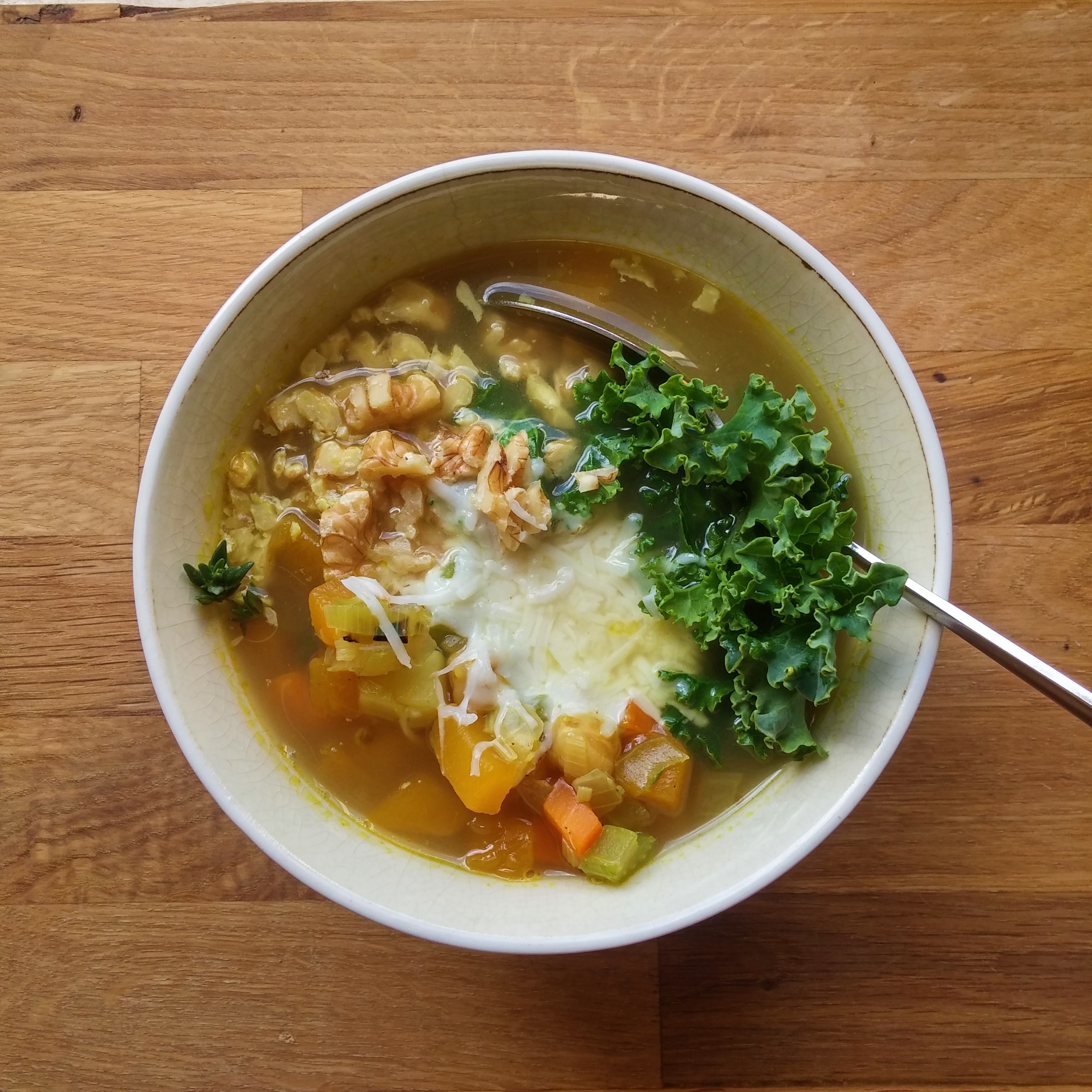 What You'll Need
Serves 2 with second helpings 🙂
1 1/2 cups of cooked chickpeas
1 potato
2 cups of diced pumpkin
1/2 cup of celery – about 2 stalks
1 carrot
1 onion
1/2 leek
4 garlic cloves
Sea salt and Pepper to taste
Handful of fresh kale
Handful of roasted walnuts
1 tablespoon of curry powder
1 tablespoon of coriander seeds
Vegan Cheese to serve
Instructions
1. I always find it easier to have all my veggies diced and sliced, before I begin. So, start by finely slicing the leek, and removing the top green portion of it.
2. Next, peel and dice the onion, slice the garlic cloves, and set aside.
3. In a separate bowl, peel the carrot, potato and pumpkin, and finely dice them and the celery stalks into roughly half inch (1.5 cm) cubes.
4. Next, heat up a pot, add a good drizzle of olive oil and add the onion and leek to the pot. Occasionally stir, until the onion starts to sweat.
5. Then, add the diced carrot and celery, and close the lid for a couple of minutes. While you wait, boil a kettle full of water.
6. After a couple of minutes, add the potato, pumpkin and cooked chickpeas to the pot and give it all a good stir.
7. Once your kettle has boiled, add to the pot. Next, add sea salt and pepper to taste, 1 teaspoon of coriander seeds, and 1/2 to 1 tablespoon of curry powder, depending on how strong you like your curry, then close the lid and let it cook away until the potato softens. About 20 minutes. We're almost finished.
Serving Our Delicious Homemade Curried Pumpkin Soup
1. To serve our delicious homemade curried pumpkin soup, garnish with a few fresh kale leaves, and chopped roasted walnuts.
2. Finish off with some vegan cheese on top. Yum!
So, there you have it. A delicious, comforting, curried pumpkin soup.
What are you waiting for? Dig in! 🙂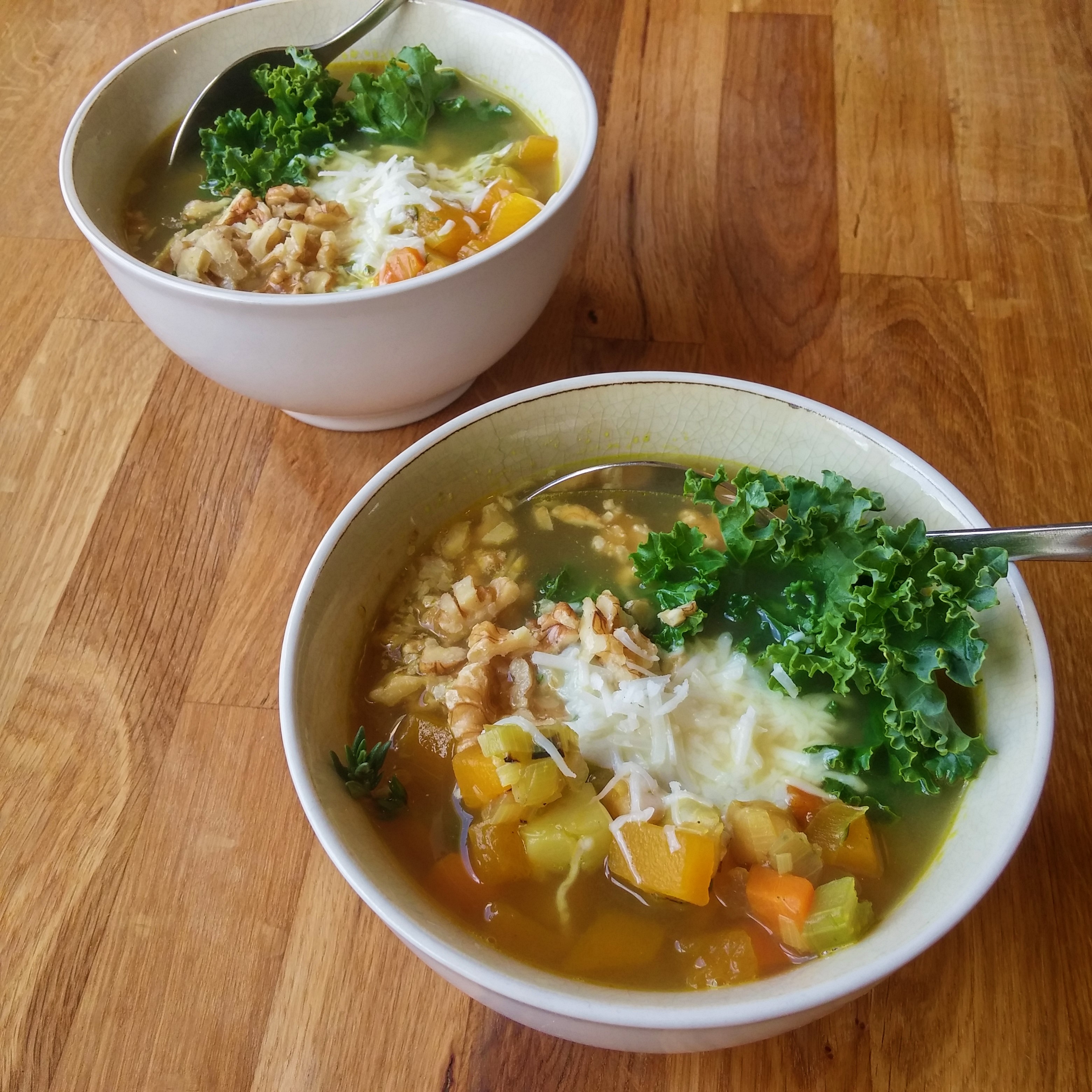 Do you want to stay up to date with all my latest insanely delicious recipes? Come Like my Facebook page.
Also, have you tried my Super Comforting Leek And onion Soup yet?
Or seen my YouTube video on how to make my super easy, mouth-watering, Vegan Chickpea Burgers? There worth having a look at.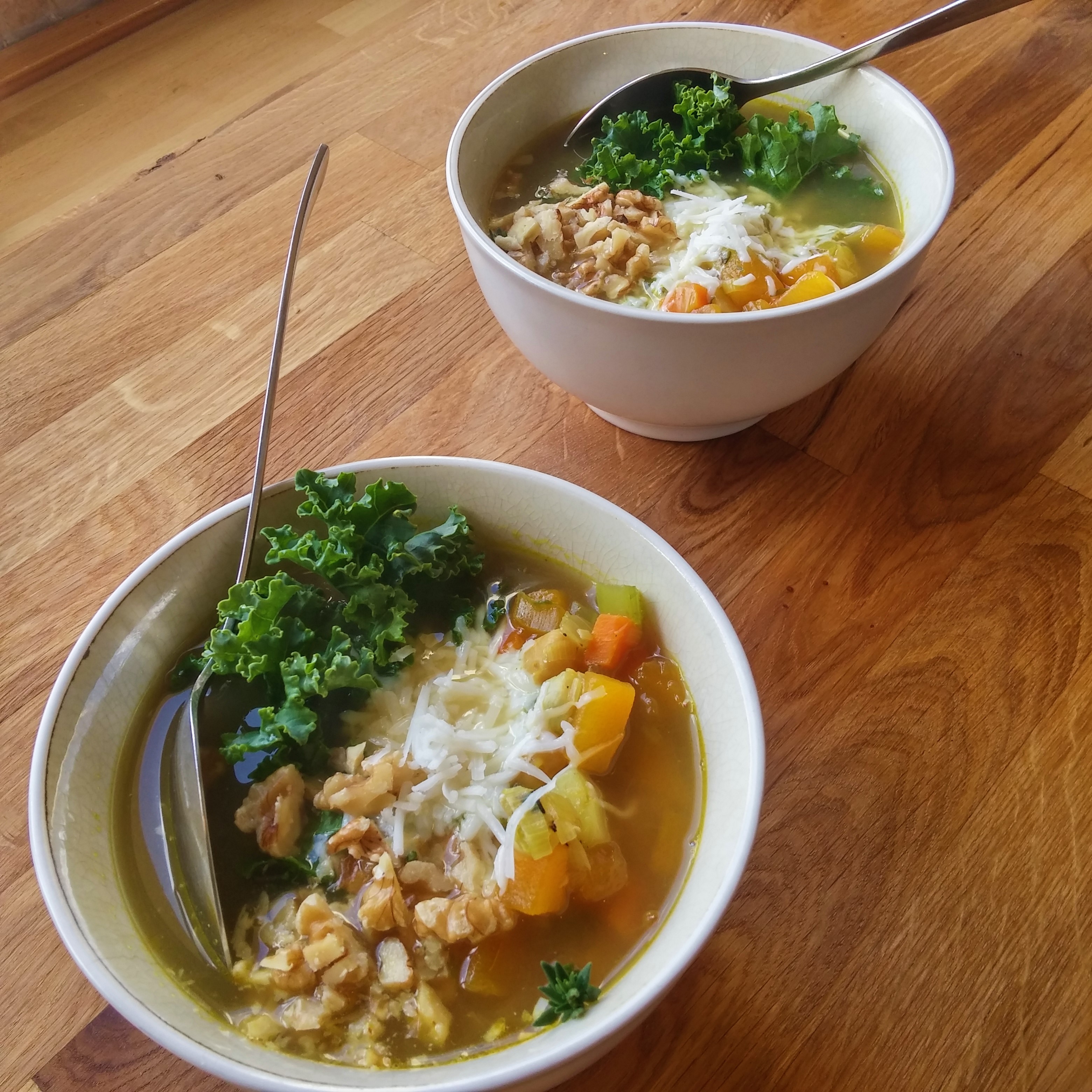 Also, let me know if you have any questions. I'm all ears and respond quickly 🙂
Until next time,
Have A Bright Day xx