Raw, gluten free and mouth-watering all in the same sentence? Yes darlings. These raw mango tart delights are a true delight, and super easy to make. This is yet another one of my quick and easy recipes.
This tart is nutty and fruity, naturally sweet from the mango, with only a hint of agave. No oven time, has no gluten and are delicious, but I'll let you be the judge of that. So let's brighten up that dessert.
What You'll Need
Makes 2- 15 cm tarts or 1- 20 cm tart
4 Mango's
40 gr cashews, soaked for at least an hour in boiling water
4 Teaspoons of coconut butter
3 Teaspoons of sweetener
1 Teaspoon of lemon juice
1 Teaspoon of lemon zest
2 Tablespoons of agar
12 Tablespoons of boiling water
Instructions
Put on your timers darlings, because this raw mango tart will be ready in a jiffy 🙂
1. In a food processor blend the soaked cashews and lemon zest.
2. Add 2 mango's, the coconut butter, lemon juice and agave syrup. Blend until you get a smooth texture.
3. Mix the agar with the boiling water, extract a few tablespoons of the mixture to the agar mixture and whisk fast so that no bumps are formed. Then add back to the mixture and blend until combined.
4. Transfer all that goodness into your ready raw pie crust, put in the freezer for an hour to set, then decorate with fine slices of mango.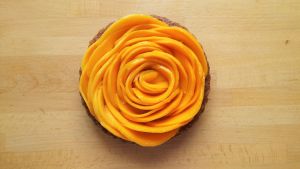 E N J O Y and Stay tuned for more scrumptious delights.
Liked it? Share it with your friends on the left hand side. 🙂
I've recently joined Facebook. Like it, so you can stay up to date with my scrumptious sweet treats.
Have a question? I'm all ears and respond quickly.
Until next time,
Have A Bright Day xx