These chocolate beet cupcakes were created as a result of some serious chocolate cravings! So here I was in my kitchen, trying to come up with ideas on what to make. That's when I found myself adapting my chocolate beetroot cake.
I easily managed to remove the chocolate, add some extra cocoa flavor along with a few other enhancers and before I knew it my chocolate beet cupcakes were already cooling down.
These are oil free, gluten free, and mostly refined sugar-free, apart from a hint of organic coconut sugar. But wait! What's this about an avocado frosting?
So I've seen these online for quite a while now, and never grilled up the courage to make my own. But then again I was hesitant the first time I tried using beetroot puree in a sweet treat, and I've never looked back since.
I knew I had to try this, for a few reasons. I had a bowl full of avocados that were almost all ripe, and I'm always up for a challenge, to test my comfort zone.
The avocado helps make the frosting ever so smooth and almost velvet looking, and is really easy to work with too. I did notice that many of the recipes involve oil when in my opinion there is NO need. The avocado is rich and thick and perfectly compliments and binds together the other frosting ingredients.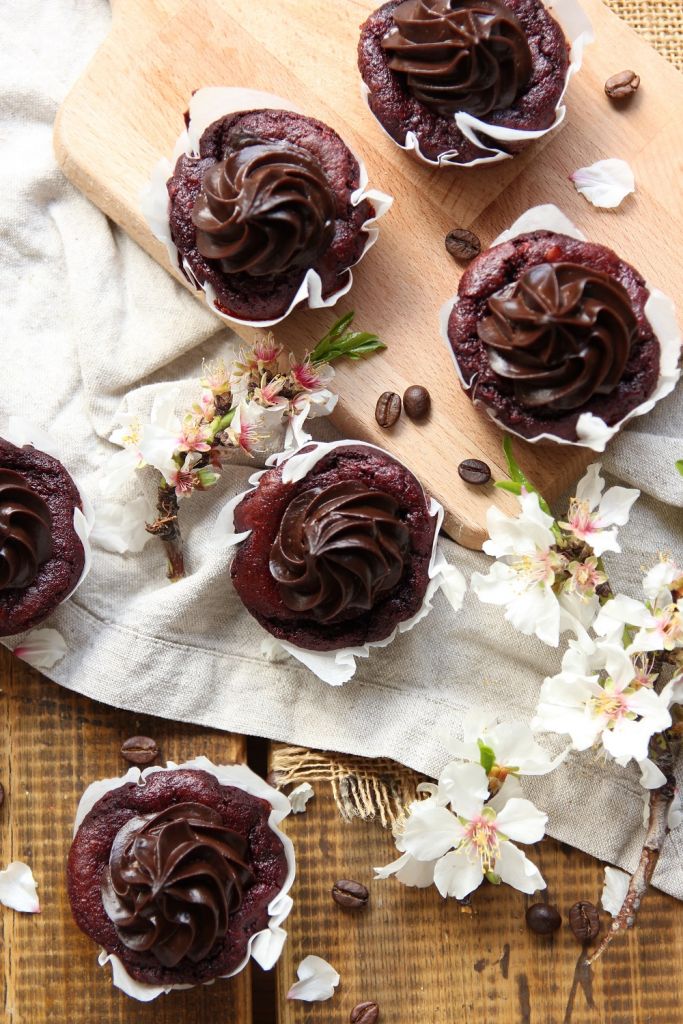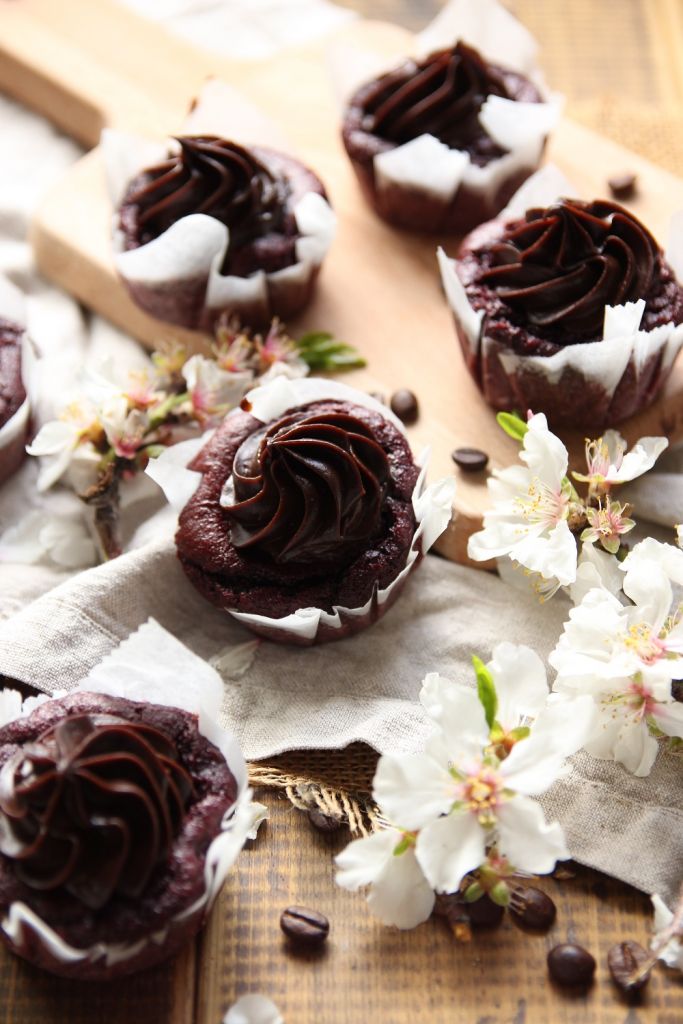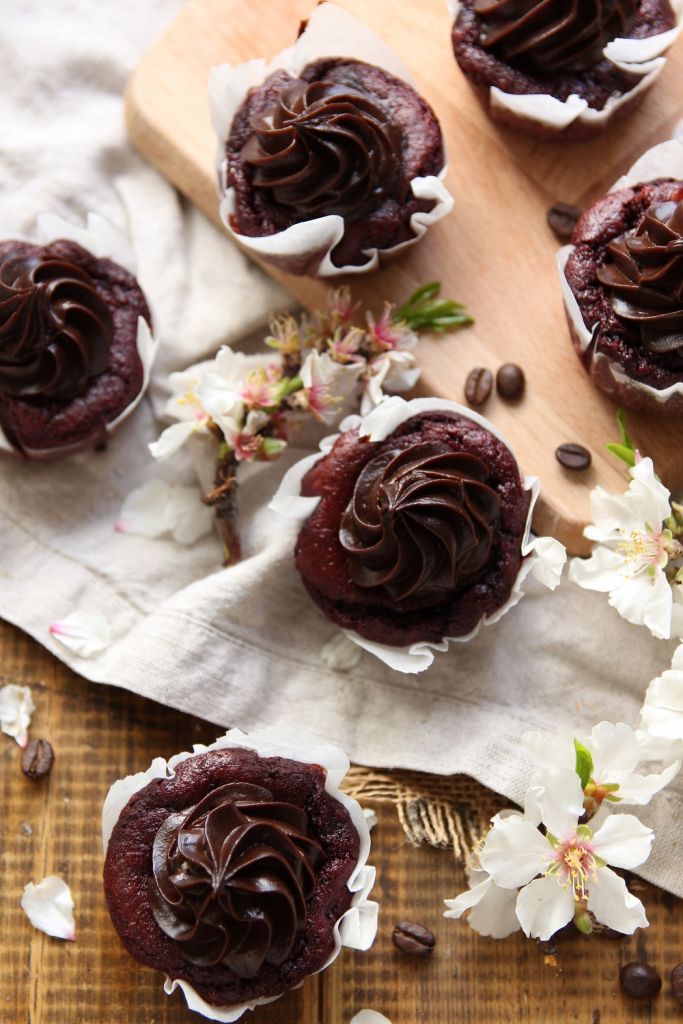 What You'll Need
Makes 6 vegan beet cupcakes
1 and 1/2 Tablespoons (9 gr) of Ground Flax Seed
3/4 Teaspoon (1 gr) of Instant Coffee
4 Tablespoons (40 gr) of Water
1/3 Cup (80 gr) of Beetroot Puree
1/4 Cup (60 gr) of Almond Butter
4 Tablespoons (60 gr) of Maple Syrup
1/4 Cup (30 gr) of Packed Almond Flour
1 Teaspoon (3 gr) of Baking Powder
3 Tablespoons (15 gr) of Cocoa Powder
1 Tablespoon (10 gr) of Organic Coconut Sugar
For the chocolate avocado frosting
20 gr of Dark Chocolate
Coconut Milk
100 gr of Avocado ( 1 Small Avocado)
Instructions
1. Preheat the oven to 338 degrees F (170 C).
2. Begin with the beetroot puree. Place the beetroot in a pot covered with water and cook until soft. Rinse, peel, puree, and set aside.
3. Place the ground flax seed, instant coffee, and hot water in a bowl, and mix. Add the almond butter, maple syrup, and beet puree, and whisk well until combined. Next, add the almond flour, baking powder, coconut sugar and cocoa powder, and mix until well combined. Scoop or pipe your batter into 6 muffin holes lined with cupcake liners and pop into the oven to bake for 13 – 15 minutes. Take out to completely cool.
4. To prepare the chocolate avocado frosting, place the chocolate in a heatproof glass bowl. Add an inch (2.5 cm) of water to a pot and bring to a bowl. Take off the heat, and place the glass bowl on top. Mix until the chocolate has completely melted, then set aside.
5. Cut open the avocado, discard the peel and core, and place into a food processor along with the maple syrup, and cocoa powder. Blend until smooth. You may need to scrape down the sides of the mixer a few times.
6. Add the coconut yogurt and peanut butter, and mix well until combined. Next, transfer the chocolate into a cooled bowl, and add a small amount of the avocado mixture to the chocolate mixture. Mix until combined, then continue adding more of the mixture until all your mixture has combined with your melted chocolate.
7. Pipe, scoop or use a spatula to decorate each cooled beetroot cupcake, then transfer to the fridge to chill and enjoy!
Next time try my No Bake Tahini Infused Chocolate Black Sesame Seed Tarts!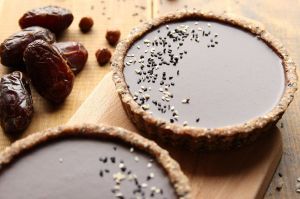 Lots of love from  Elinor, Let's Brighten Up xo