Do you ever have those brilliant moments where everything just seems to fall into place? Where you're on such an inspirational high, you can already picture your final product before you have even begun? Well, that's what happened to me when I started experimenting on this heavenly vegan poached pear custard tart.
It all began a few weeks ago when I was invited back to i24 news studios. I was asked to come talk about the Jewish festival Sukkot, (feast of tabernacles) and bring in a few dishes that use mainly seasonal fruits and vegetables, with the emphasis of going back to basics. I prepared a few recipes from my blog, along with a few sneak previews. This exquisite vegan custard tart being one of them. 🙂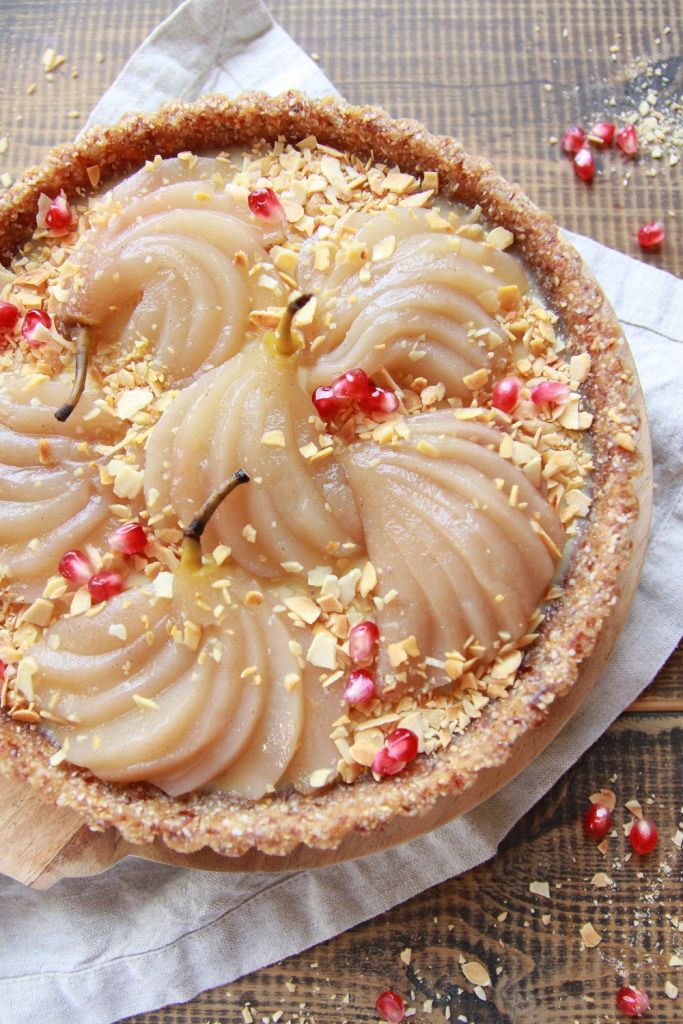 So, seeing as I was excited to begin experimenting on dishes I would bring in, I did a quick search of what fruits are best in season, and decided to grab a few pears!
I knew how it would look, I could even imagine how it would taste, but I didn't know what the poached pears would sit on. That's when I started adapting my delicious patisserie cream. And after only a few short attempts, my no bake custard tart was chilling in the fridge.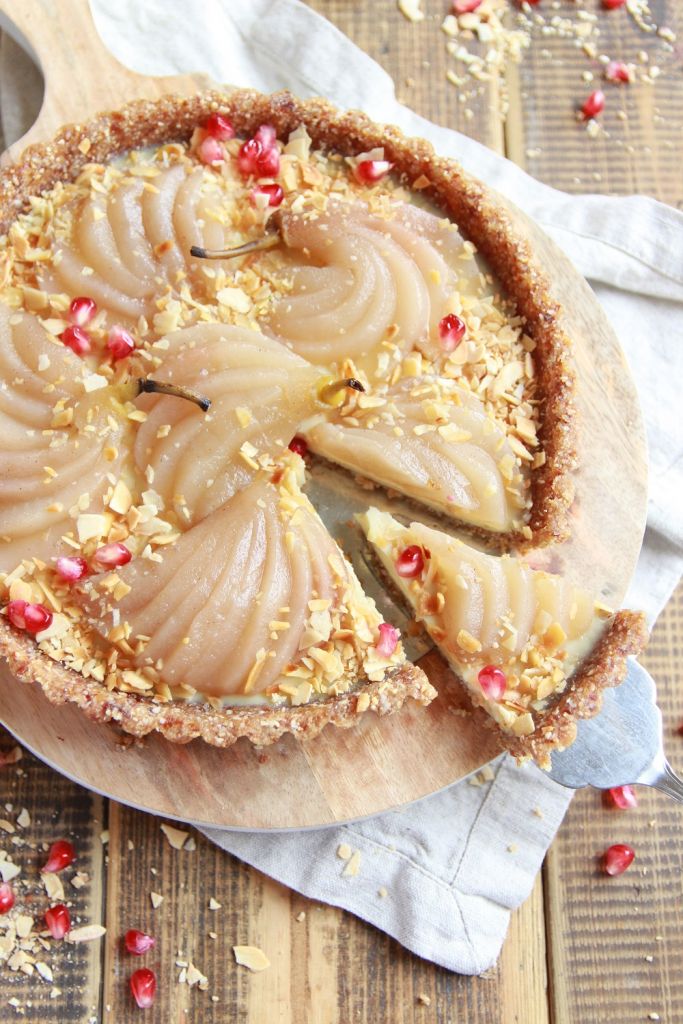 Anxious to try, I grabbed a fork. WOW! The poached pear custard tart tasted even better than expected, and I even managed to make it refined sugar free, oil free, and gluten free! Not bad, right?
Not only was my vegan custard tart chilling in the fridge in under an hour, it wasn't too sweet, tasted incredible and looked absolutely stunning too! I did my little dance, then let my family try it for themselves and watched as they devoured it. 🙂
If you make this be sure to let me know on Instagram @lets_brighten_up I always love seeing how gorgeous yours turn out!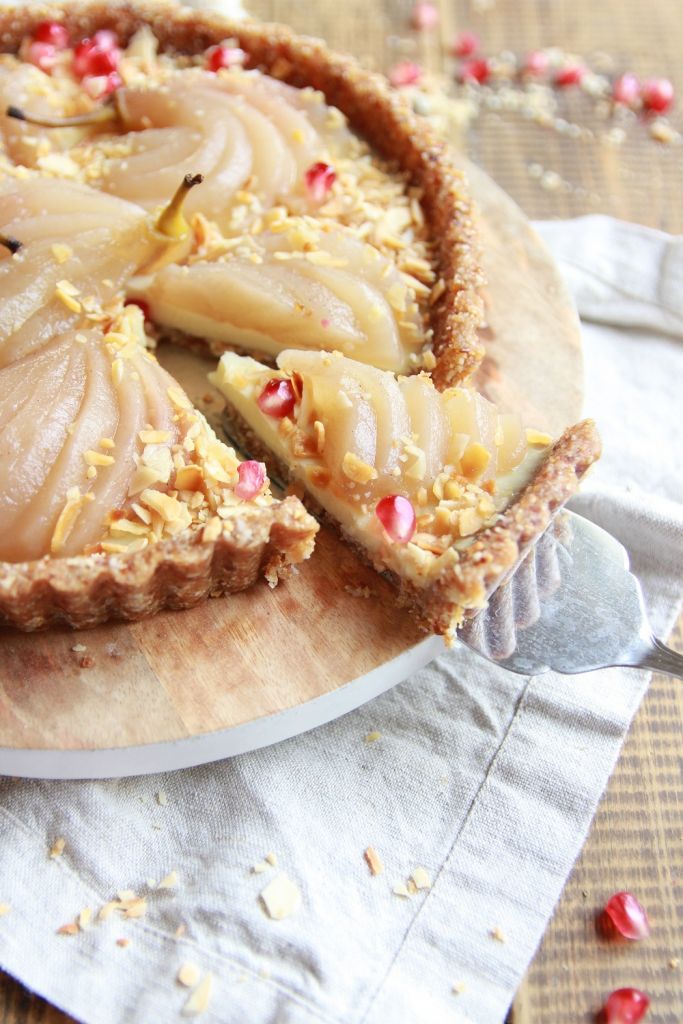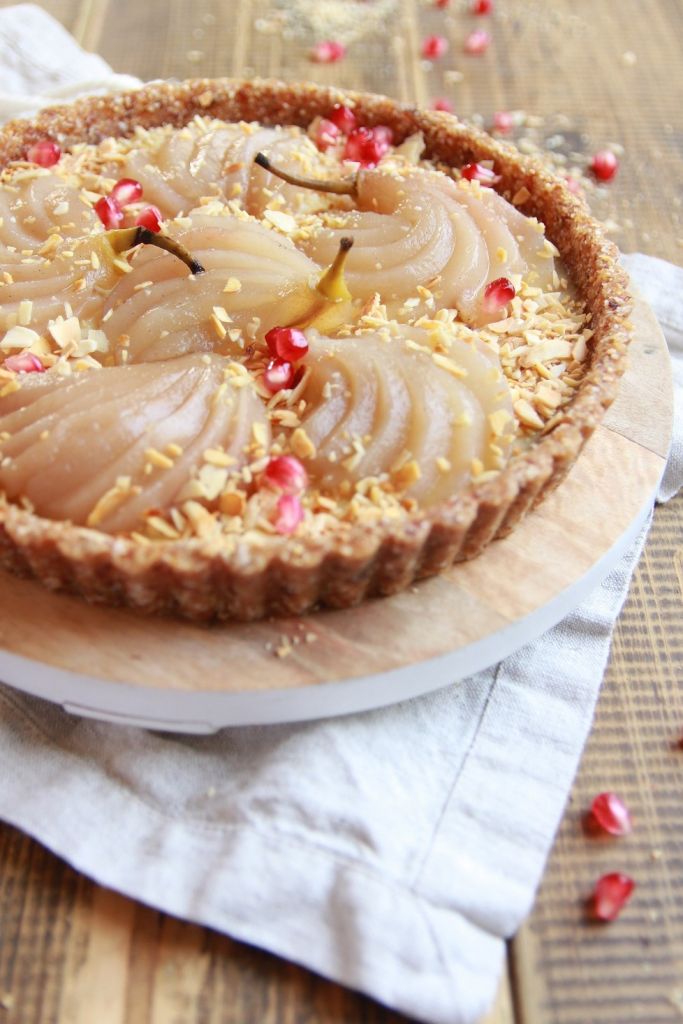 What You'll Need
Makes two 6 inch (15 cm)  tarts or one 8 inch (20 cm) no bake custard tart
For the Poached Pears
3 Pears
1/4 Cup (68 gr) of Maple Syrup
1 Cup (220 gr) of Water
1 Vanilla Bean
For the Crust
50 gr (1/2 Cup) of Almond Flakes
44 gr (1/2 Cup) of Shredded Coconut
56 gr (1/2 Cup) of Walnuts
24 gr (1/2 Cup) of Brown Puffed Rice
125 gr (5) Medjool Dates, pits removed
For the Custard Pear Tart Filling – Click Here
Instructions
1. Let's begin with the poached pears. Peel and wash the pears, cut off the ends, slice in half and with a spoon, scoop out the core.
2. Slice the vanilla bean in half, and place in a pot along with the maple syrup and water.
3. Add the pears to the pot and bring to a boil, then lower the heat and simmer until the pears soften, around 15 – 25 minutes.
4. In the meantime heat a pan on medium heat, then add the almond flakes and toss until they start to lightly brown. Transfer onto a plate and let them cool for a few minutes.
5. When ready, take the pears out of the syrup and let them completely cool.
For the Nutty Crust
1. Add the toasted almond flakes, shredded coconut, brown rice puffs, and walnuts into a food processor and pulse until coarsely ground.
2. Add the medjool dates, pits removed and blend until mixture is combined. To know if your tart base is ready, press a small amount of the mixture between two fingers. If it sticks it's ready. If not, pulse a few more times.
3. Transfer into two 6 inch tarts (15 cm) or one 8 inch (20 cm) tart and firmly press the mixture down until you have a nice and neat tart crust, then set aside.
4. Pour the custard onto your tart base and place in the fridge for 20 minutes or so to set.
5. With a smooth knife, thinly slice each halved pear, starting roughly half an inch (1 cm) from the top.
6. Place each pear artistically on top of the custard, and transfer into the fridge for at least 2 hours before serving. When ready to serve, decorate with some toasted almond flakes, and dig in!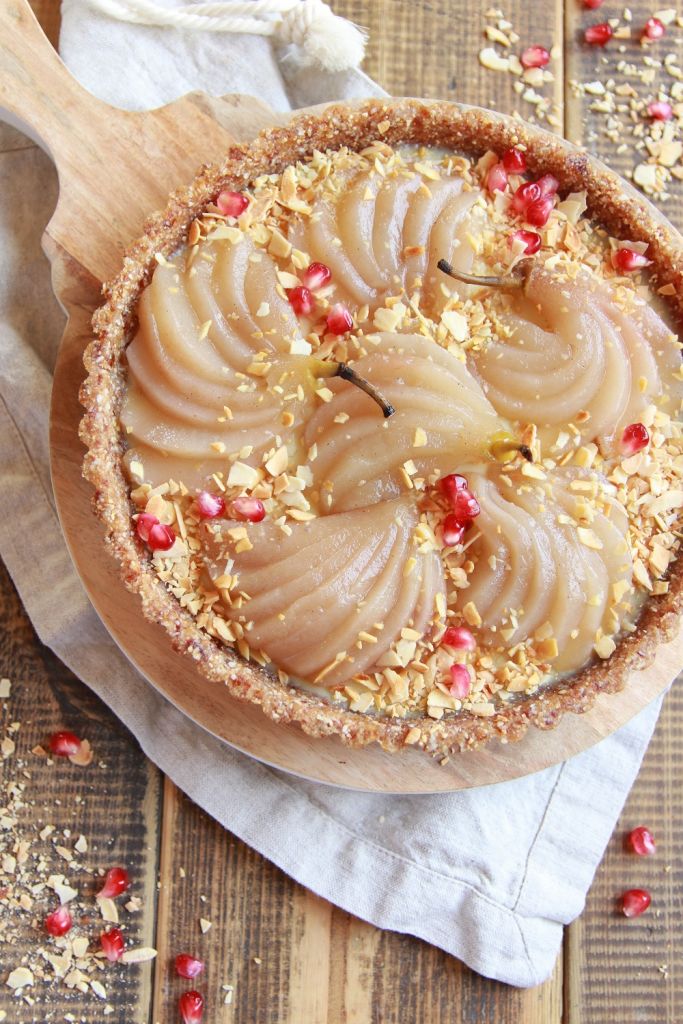 Until next time, have a bright day xx