I first came across this avocado lime tart last year when the hubby and I were visiting my family in Australia. They insisted to take us to a raw restaurant not too far from their home. So, we booked a table and went the very next day.
I immediately understood what the fuss was all about when I entered the restaurant. For a few minutes I was speechless, taking in its beauty. The different shaped chairs and tables, the styling, ornaments, the minimalist vibe, the wooden beams, it was as if we had entered a drawing.
And the menu! I wanted to order everything on it. But since that would be physically impossible, I settled for two dishes. For dessert there was a vast variety of delicious treats, and one of them was this avocado lime tart. Now I have tried many things in my short lifetime, but avocado in a dessert was a first!
Eager to try, I ordered a slice and waited patiently for it to arrive. I fell in love from the very first bite. The tart was creamy, slightly tangy, and not too sweet.
Back at home I started experimenting on the avocado tart, and even posted the recipe last year, but took it down as I wasn't entirely pleased with it. It was last week, while trying to figure out what to do with the stack of avocados that had suddenly ripened all at once that I decided to give the tart another try.
This time it was everything I wished it would be and although it has been over a year since I tried the original for the first time, I'm convinced this is as close as I remembered it to be.
This lime tart is gluten free, refined sugar free, not too sweet and perfectly garnished with a dash of matcha powder and pistachios to keep the green theme alive!
Be sure to tag me on Instagram @lets_brighten_up I'd love to see how yours turned out.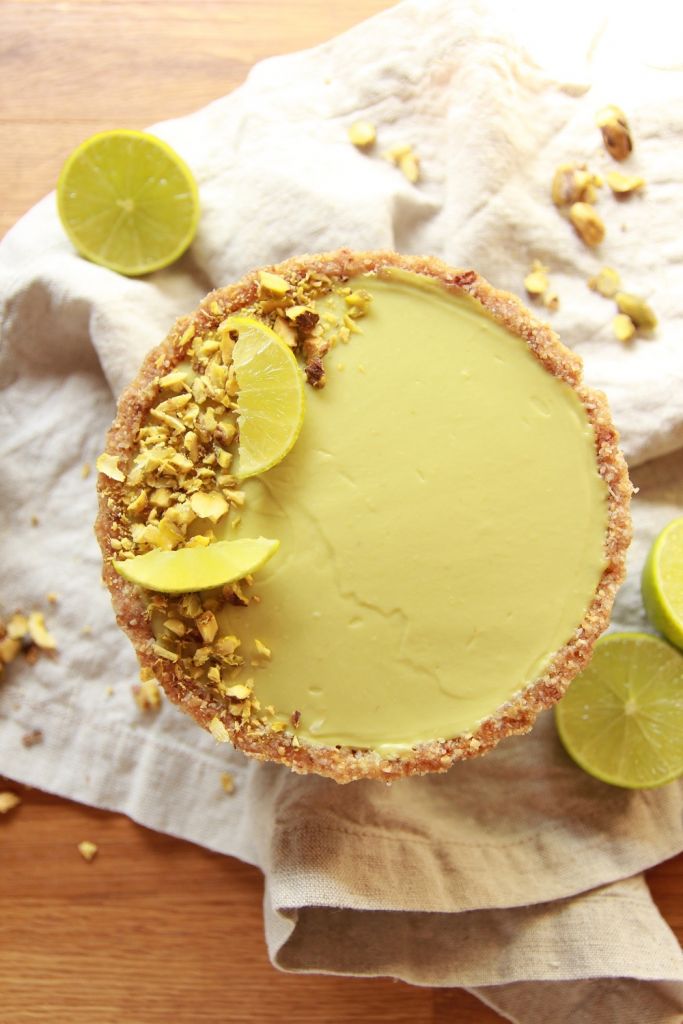 What You'll Need
Makes two 6 inch (15 cm)  tarts or one 8 inch (20 cm) avocado lime tart
For the crust
50 gr (1/2 Cup) of Almond Flakes
56 gr (1/2 Cup) of Walnuts
44 gr (1/2 Cup) of Shredded Coconut
22 gr (1/2 Cup) of Puffed Brown Rice
125 gr (5) Medjool Dates, pits removed
For the filling
1 + 1/2 Cups of Avocado Puree (300 gr) about 2 Avocados ripe
3 Tablespoons (36 gr) of Freshly Squeezed Lime Juice
2 Tablespoons (30 gr) of Maple Syrup
1 Tablespoon (15 gr) of Almond Butter
1 Tablespoon (10 gr) of Coconut Oil
Instructions
1. In a food processor, combine the almond flakes, walnuts, shredded coconut, and puffed brown rice. Pulse until the mixture becomes a coarse crumb.
2. Add the dates to the food processor and pulse until the mixture begins to stick together.
3. Press the crust mixture into the bottom of a 9-inch tart pan with a removable bottom. Press the mixture firmly and evenly into the bottom and sides of the pan.
4. In a separate bowl, mash the avocado with a fork or potato masher.
5. Add the lime juice, maple syrup, almond butter, and coconut oil to the mashed avocado and mix until smooth.
6. Pour the avocado filling into the crust, spreading it out evenly.
7. Place the tart in the refrigerator for at least 1 hour to set before serving.
Enjoy your No-Bake Avocado Lime Tart!
Until next time, have a bright day xx