Inspiration sometimes hits me while I'm foraging through my fridge, looking for vegetables and produce that are about to expire. So, the other day, while going through my fridge, I noticed a cauliflower which wasn't in its finest hour, and decided to switch on the oven and bake some oven roasted cauliflower.
Ok, that's great, but how would I season it? I wanted to spice things up a bit, rather than making my usual oven roasted cauliflower. One step at a time, I told myself, at least I know what I want to cook, the rest will follow.
So, I played some music in the back ground and started breaking off bite sized cauliflower florets. After washing the florets, I seasoned with sea salt and ground black pepper, then added olive oil and a splash of sesame oil, along with some crushed garlic, and fresh thyme leaves.
That's when it occurred to me to add the nutty crumb topping! I mixed together a small amount of nutritional yeast and almond meal, added it to the florets, and tossed them until combined.
Before popping them into the oven, I added an extra sprinkle of almond meal, then baked them until they were golden brown. By the time the cauliflower florets were ready, I had also baked my husband's favorite potato latkes, and whipped up a salad along with some tahini. It's all about multitasking. 🙂
These roasted vegan cauliflower florets perfectly compliment any main dish, and are heavenly in a sandwich.
If you make these be sure to tag me on Instagram @lets_brighten_up or leave a comment below.
What You'll Need
1 Medium Cauliflower Head (640 gr)
2 (8 gr) Garlic Cloves
Good Pinch of Sea Salt (4 gr or to taste)
Pinch of Black Pepper
1 Tablespoon (2 gr) of Freshly Chopped Thyme Sprigs, roughly 4
4 Tablespoons (40 gr) of Olive Oil
1 Teaspoon (4 gr) of Sesame Oil
1/3 Cup (45 gr) of Almond Meal
1/4 Cup (15 gr) of Nutritional Yeast
[amazon_link asins='B00473RWXY,B000WLCHDA' template='ProductCarousel' store='letsbrightenu-20′ marketplace='US' link_id='f348d3d9-c937-11e7-95fb-39683ae5157d']
Nutty Oven Roasted Cauliflower
Preheat the oven to 320 degrees F (160 C).
Wash and cut the cauliflower into bite sized florets. Crush the garlic cloves, then place them both in a bowl. Add the sea salt, ground black pepper, thyme leaves, olive oil and sesame oil.
Next, add the nutritional yeast and a 1/4 cup of the almond meal, then add them to the bowl and mix well until combined.
Place your florets onto a baking tray lined with baking paper, then evenly sprinkle the remaining almond meal.
Pop into the oven until golden brown on one side. Turn each floret onto the other side and pop back into the oven until golden brown.
Take the tray out of the oven and serve with a few salads, my delicious vegan fish fingers, my chickpea burgers, or however you wish.
Store in an air tight container in the fridge for up to 5 days, and enjoy throughout the week.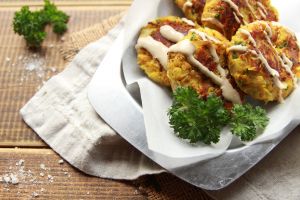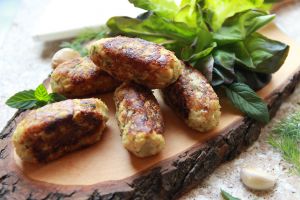 Until next time, have a bright day xx