Finally, some heavy rain and an excuse to nap a while longer, take out my winter robe, and cook up a pot of creamy chestnut and cauliflower soup inspired by last weeks nutty roasted cauliflower recipe. All this while watching as the rain waters all the plants in my garden, through my kitchen window.
Now don't get me wrong, I'll happily eat a bowl of soup any day of the year, but there's an entirely different feel when it's pouring down with rain outside, and the weather has drastically cooled down. Can you relate?
So, while I was embracing the rain from my kitchen window, I took out my ingredients, and got to work.
First I began with the soup topping, my nutty roasted cauliflower florets, then once I had chopped the onions and leek I fried them with a drizzle of olive oil, until they started to lightly color. I finely chopped the cauliflower and garlic cloves, then added it to the pot and dry fried them for a few extra minutes.
Finally, I added the vegetable broth, water, crushed the chestnuts and added a fresh thyme sprig. Then I let the soup cook until the cauliflower had softened. After blending the soup, and adding the coconut cream, I added sea salt to taste, and served the cauliflower soup with the recommended nutty oven roasted cauliflower florets and enjoyed my first REAL winter soup of the year.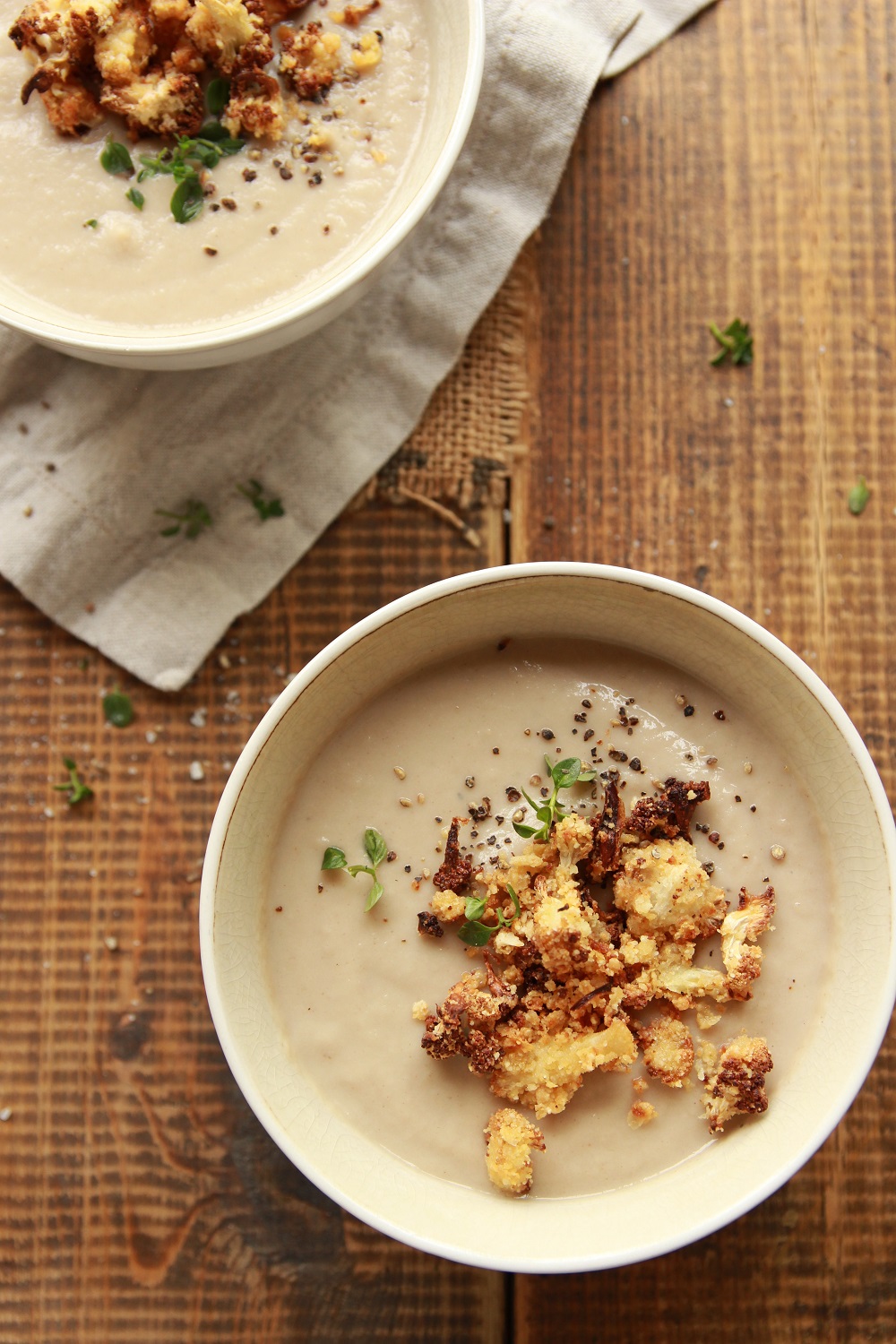 What You'll Need
Serves 2
2 Tablespoons (20 gr) of Olive Oil
2/3 Cup (93 gr) of Diced Onion
2/3 Cup (83 gr) of Finely Sliced Leek
3 Garlic Cloves (12 gr)
3 Cups (400 gr) of Finely Chopped Cauliflower
1 Cup (200 gr) of Vegetable Broth
1 Cup (200 gr) of Water
Fresh Thyme Sprig
1/4 Cup (50 gr) of Peeled Vacuumed Chestnuts
Sea Salt to taste
1/2 Cup (102 gr) of Coconut Cream
Instructions
1.Peel, wash and finely dice the onion, then finely slice the leek, and place in a pot with a tablespoon of the olive oil. Heat the pot on medium heat, occasionally stirring until they start to lightly color.
2. Finely chop the cauliflower and garlic cloves and add it to the pot, then dry fry them for a few extra minutes.
3. Next, add the vegetable broth, water, crushed chestnuts, and fresh thyme sprig and let the soup cook on low – medium heat until the cauliflower has softened. Take out the thyme sprig and let the soup cool down for a couple of minutes then blend it once.
4. Next, add the coconut cream and remaining tablespoon of olive oil and blend until smooth. Add sea salt to taste, blend again, and serve with the nutty oven roasted cauliflower florets.
5. Can be served with a pinch of pepper, and a few fresh thyme leaves. Or you can also serve with some nutritional yeast.
6. Store in the fridge for up to 4 days in an airtight container, then let it simmer until hot, while occasionally stirring and enjoy.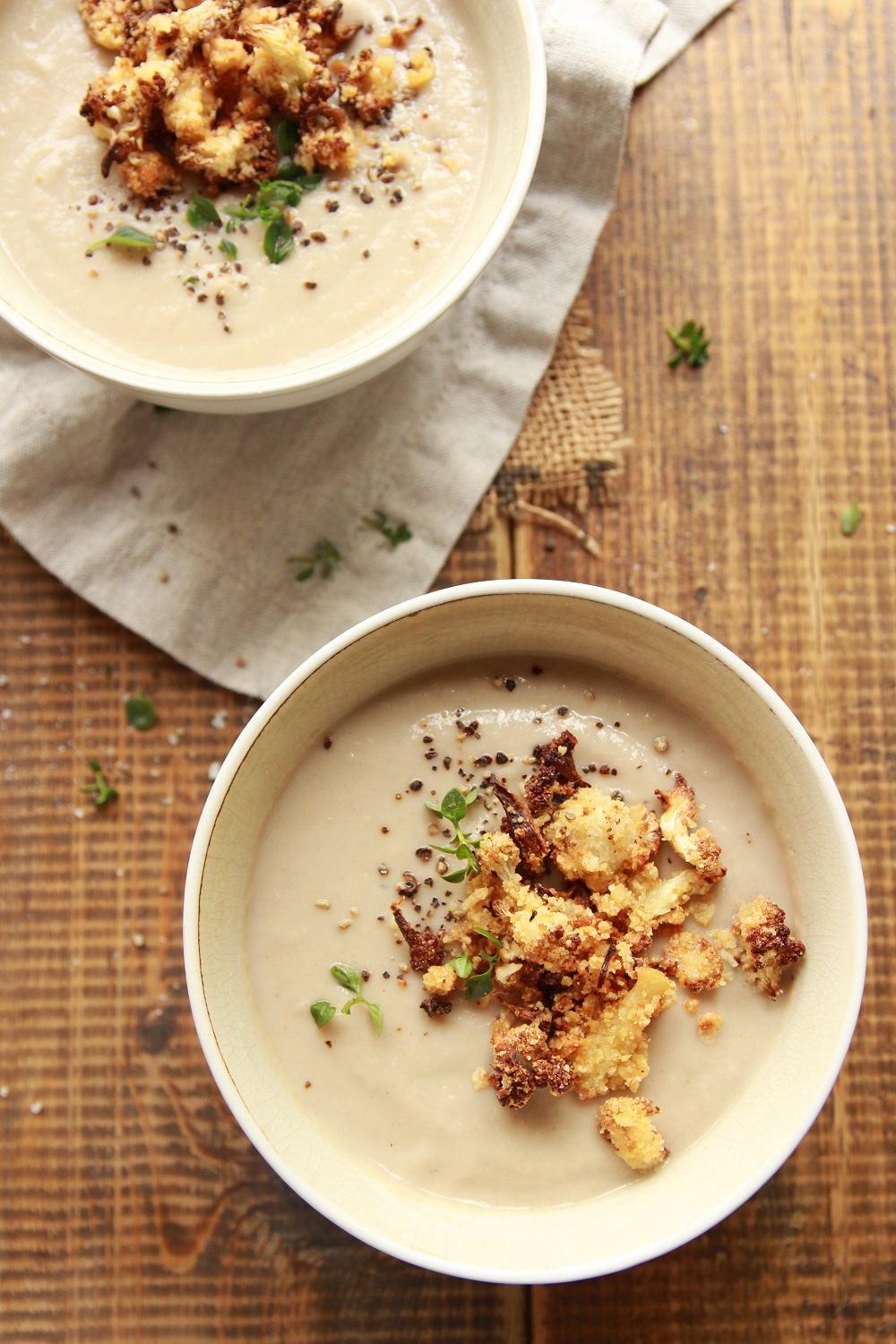 Liked this recipe? Let me know in the comments below or tag me on Instagram @lets_brighten_up I always love seeing your creations.
If you're looking for a comforting dessert to go with your soup, then try my Vegan Maple Cake. It's perfectly spiced and tastes heavenly.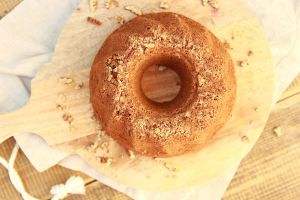 Until next time, have a bright day xx