These oil free vegan date cookies are packed with toasted walnuts, and a simple homemade date spread, then baked in the oven for roughly 15 minutes. Now if that isn't already enough, they are then rolled and sprinkled with just the right amount of coconut sugar and topped with extra walnuts.
These hassle free date cookies are perfect next to your morning coffee or tea, or just to snack on during the day. They're naturally sweet and everyone that has tried them said it was love at first sight… Too much? I'll let you decide.
But before we begin I want to share a few words of advice that I learned while making these.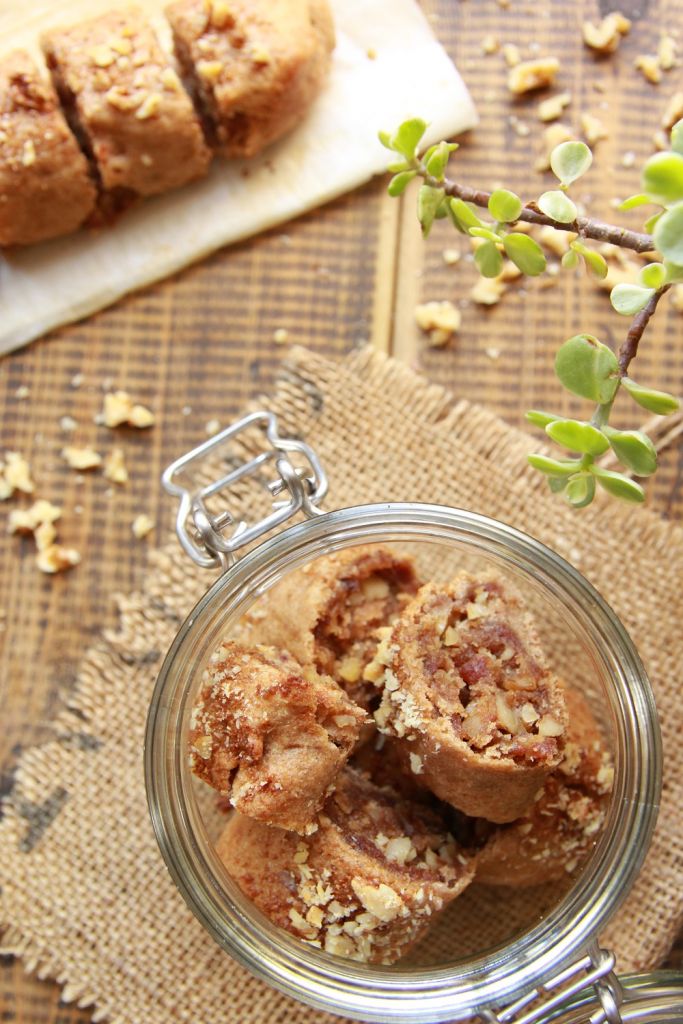 The order in which to mix in the ingredients is crucial! This is because the flour absorbs the water by itself, resulting in a workable dough. Where as if you were to add everything in together you'll end up with a rather sticky dough that'll stick to your baking sheets and result in a massive baking fail. Trust me, I know!
Adding the baking powder in the end helps absorb any excess moisture. Preparing and measuring all the ingredients before hand will result in a hassle free baking experience. Flipping the baking paper sheet onto the other side will ensure that your dough stays in tact and won't cling to the paper.
So now that you know this you're ready to embark on a delicious date and walnut recipe.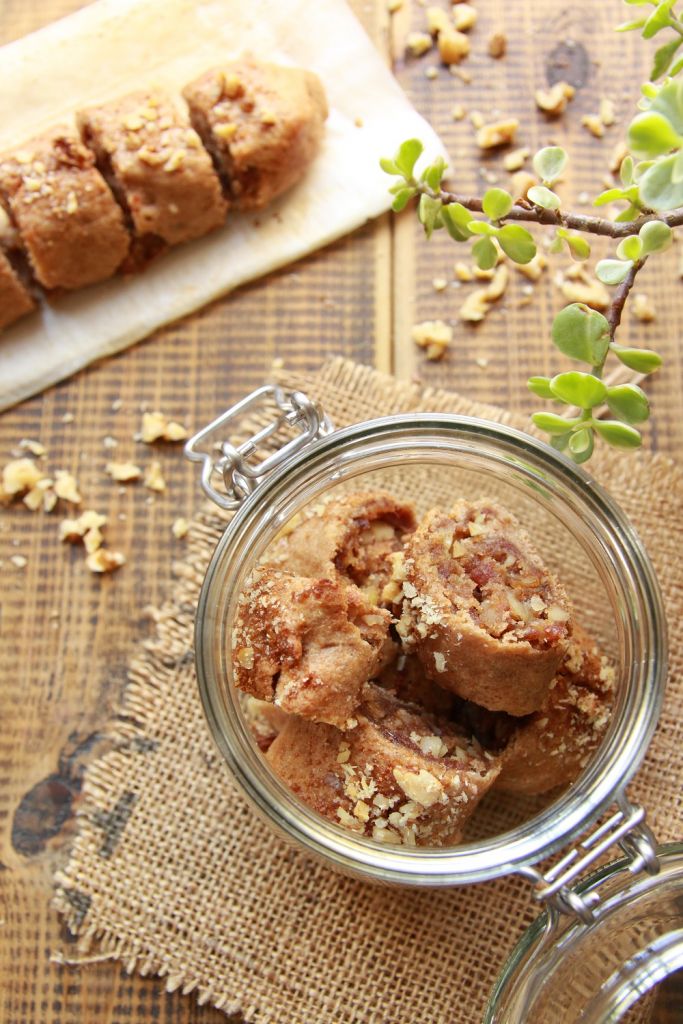 What You'll Need
Makes 10 Date Cookies
1/2 Cup (50 gr) of Walnuts
Date Spread
4 Medjool Dates, pits removed (100 gr)
1/2 Teaspoon of Lemon Zest
Pinch of Sea Salt
2 Tablespoons (25 gr) of Water
For the dough
1/2 Cup (60 gr) of Whole Spelt Flour
1/4 Cup (55 gr) of Boiling Water
1/8 Cup (30 gr) of Almond Butter
1 Tablespoon (7 gr) of Organic Coconut Sugar
1 Teaspoon (2 gr) of Baking Powder
Instructions
1. Before we begin with the dough let's get our toppings ready, and preheat the oven to 320 degrees F (160 C).
2. Heat a pan on medium heat, then add the walnuts and toss until they start to slightly color.
3. Next, finely chop the walnuts, or pulse in a food processor, and set aside.
4. Place the dates, pits removed, into the food processor and blend until combined.
5. Next, add the water, a pinch of sea salt, and lemon zest, and blend to a paste. You might need to scrape down the sides of the food processor a few times with a spatula.
6. Now, bring half the kettle to a boil, and measure all of the dough ingredients.
7. Place the flour into a bowl. When the kettle boils, add 1/4 of a cup of boiling water into the bowl and with a spoon mix until you have formed a dough. Add the coconut sugar, and almond butter, and mix until combined.
8. Finally, add the baking powder, and knead the dough for a few seconds until the baking powder has absorbed.
9. Shape the dough into a long sausage and place onto a sheet of baking paper.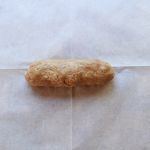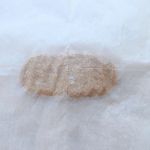 10. Next, place another sheet on top and with a rolling pin, roll the dough until roughly 4 inches (10 cm) wide.
11. Flip the sheet over onto the other side, and gently remove the baking sheet.
12. Then place it back onto the dough, turn the sheet 90 degrees clockwise, and roll until the dough is the shape of a rectangle roughly 11 inches (28 cm) long.
It's important to follow these steps because while you roll, you're creasing the dough. So to make sure your dough stays in one piece, follow the steps.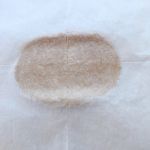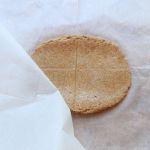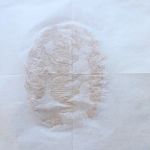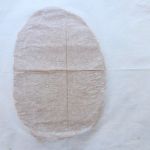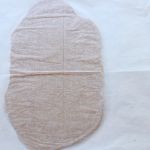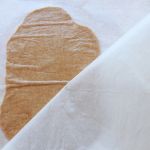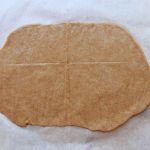 13. Evenly place the date spread onto your dough and gently smooth it out, then evenly add the chopped walnuts, reserving a bit for later.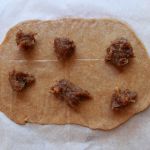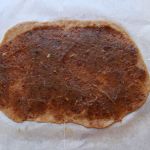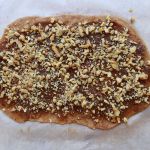 14. Wet your fingers and roll that goodness into a date roll. Do this with your hands and with the help of the baking sheet, lifting it and rolling the dough into a sausage form, then sprinkle a bit of coconut sugar and reserved walnuts on top.
15. Finally, wet a serrated utility knife, and slightly cut into 10 date cookies.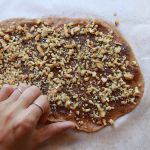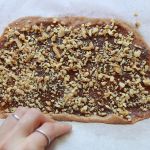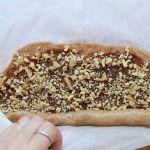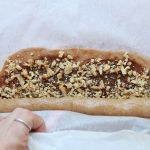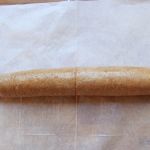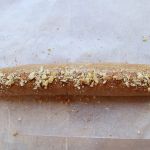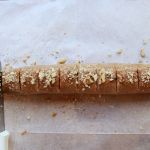 16. Pop into the oven to bake for 13 – 16 minutes, or until lightly golden brown, then take out to completely cool.
17. As soon as your date cookies have completely cooled down retrace the cuts and firmly cut to separate them.
18. Store them in an airtight container for 4 days and enjoy throughout the week. That is if they last that long!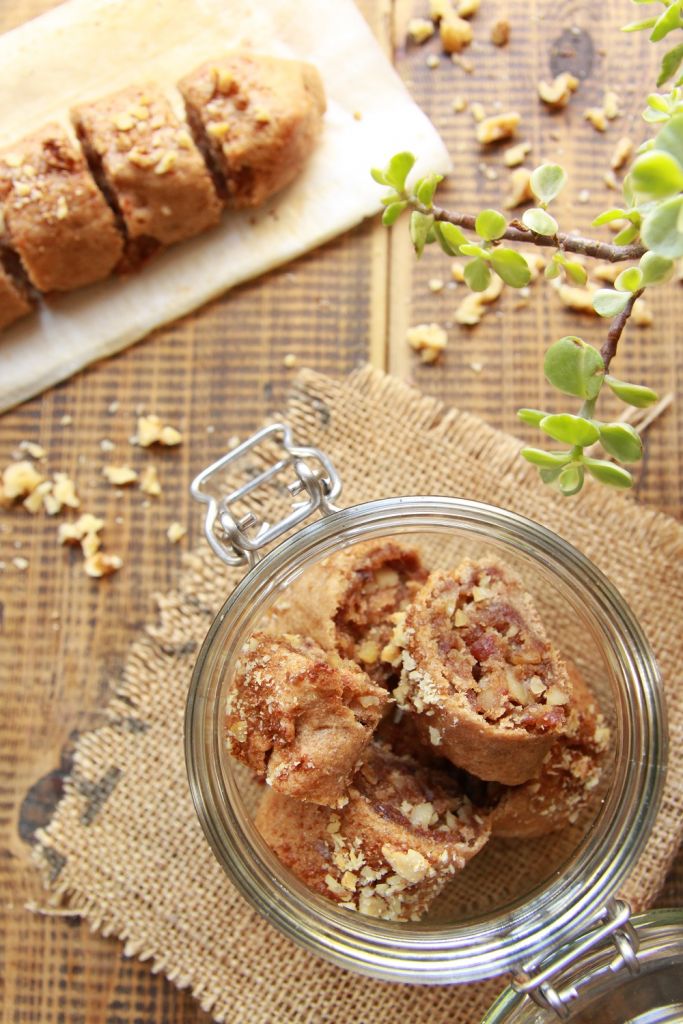 Have you tried my coffee infused Chocolate Balls yet? Coated with lightly toasted almond flakes, these vegan, oil free, not too sweet coffee infused chocolate balls are really easy to make and require just 6 ingredients!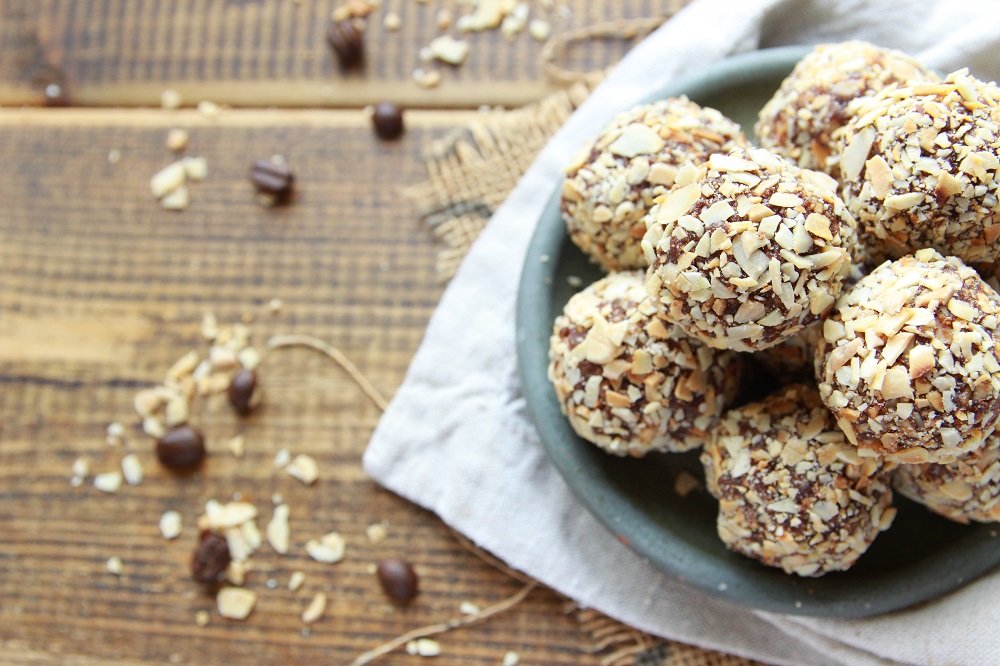 Until next time, have a bright day xx