When I originally made this vegan lasagna I had no intention of adding it to my blog. I was just craving lasagna for the past 2 weeks and decided it was time to do something about it. It was when the hubby and I sat down to eat, that we were blown away by how delicious it had turned out! I Instantly knew I would be making it again, this time writing down the measurements.

This delicious vegan lasagna is made up of layers of plant-based goodness! And the best part is that it requires minimal prep time too. While your eggplants (aubergines) are roasting in the oven, you're already preparing the tomato and bechamel sauce. By the time your eggplants are ready, so are all your toppings. Then, all that's left is to assemble the lasagna, bake and serve. Easy peasy!

So, crank up your favorite tunes and have some fun in the kitchen. Trust me this vegan lasagna recipe is worth it.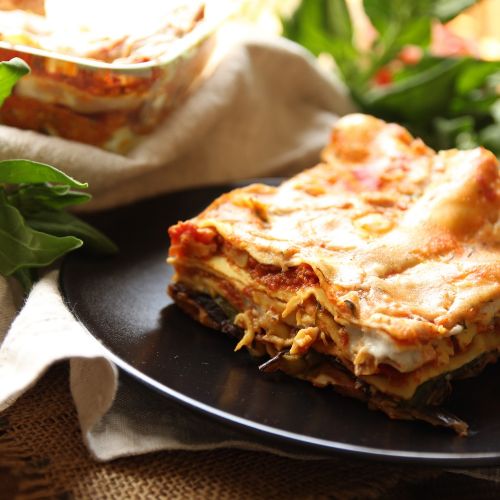 2 Large Eggplants (Aubergine)
1 Tablespoon Olive Oil, Plus drizzle for eggplants (10 gr)
2/3 Cup Diced Onion (95 gr)
3 Garlic Cloves (12 gr)
900 gr Crushed Tomatoes
2 Tablespoons Tomato Paste (30 gr)
1 Cup Water (200 gr)
2 Teaspoons Sweet Paprika (4 gr)
1 Teaspoon Ground Cumin (2 gr)
1 Teaspoon Ground Turmeric (Curcumin) (2 gr)
1 Teaspoon Sea Salt, or to taste (4 gr)
A few sprigs of Fresh Dill (5 gr)
1 Cup Cooked White Lima Beans (200 gr)
1.5 Cups Soy Milk (330 gr)
1.5 Cups Coconut Milk (330 gr)
4 Tablespoons White Spelt Flour (30 gr)
2 Tablespoons Nutritional Yeast (8 gr)
 2 Tablespoons Mustard (30 gr)
1 Teaspoon Sea Salt (4 gr)
 1/2 Teaspoon Ground Nutmeg (1 gr)
2 Handfuls of Fresh Spinach (100 gr)
Pack of Lasagna Sheets, make sure it's vegan.
Preheat the oven to 356 degrees F (180 C).
Wash and remove the top end of the eggplant (aubergine) then slice into long thin strips. Place on a baking tray lined with baking paper and lightly brush with olive oil. Pop into the oven to bake until golden brown, roughly 15- 20 minutes.  When ready, roughly chop and set aside.
Peel and finely dice the onion and garlic cloves. Heat a pan over medium heat, add the tablespoon of olive oil, then add the onion and garlic. Cook until the onion starts to sweat.
Add the crushed tomatoes, tomato paste, and water, along with the ground sweet paprika, cumin, turmeric, (curcumin) and sea salt to taste. Wash and finely chop the fresh dill, add to the pan and cook for 5 minutes, adjusting seasoning if needed.
In a separate bowl, mash the cooked white lima beans. Remove sauce from heat, add the mashed beans, mix and set aside.
Wash the fresh spinach leaves and set aside.
Place the soy milk and coconut milk into a small pot
 Reserve a 1/4 cup of the liquid in a small bowl. Add the spelt flour to the reserved amount of liquid. whisk until combined, and set aside
 Add the nutritional yeast, mustard, sea salt and ground nutmeg to the pot and bring to a boil. Next, add the flour mixture and constantly whisk until your bechamel cream starts to thicken. Remove from heat and set aside
Assembling The Vegan Lasagna
Begin by adding a small amount of the sauce to the bottom of your pyrex tray.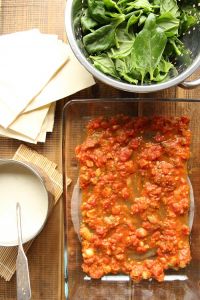 Next, add an even layer of lasagna sheets.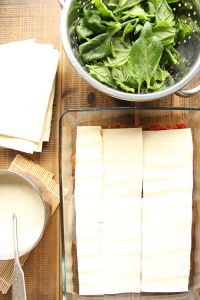 Add the roasted eggplants, along with a drizzle of bechamel sauce. Top with a handful of fresh spinach and add an extra even layer of lasagna sheets, (that I forgot to photograph).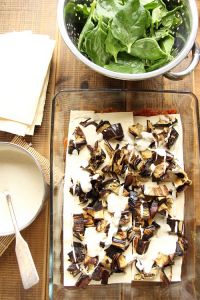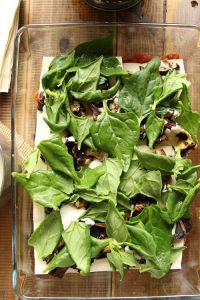 Add another layer of tomato sauce, followed by another drizzle of bechamel sauce, then top with an even layer of lasagna sheets.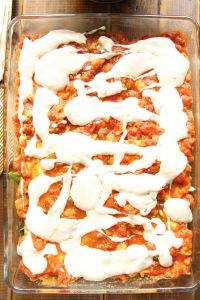 Add a layer of tomato sauce, followed by the second handful of fresh spinach, and an extra drizzle of bechamel sauce. Top with an even layer of lasagna sheets.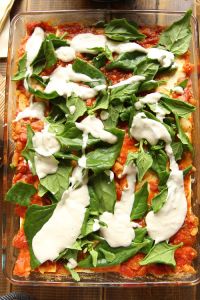 Add the remaining amount of tomato sauce, along with the bechamel sauce. Smooth out with a spatula, make sure the lasagna sheets are nicely covered then tightly wrap in aluminum foil and pop into the oven to bake for 40 – 50 minutes, or until your lasagna sheets are ready. Check this by poking it with a knife.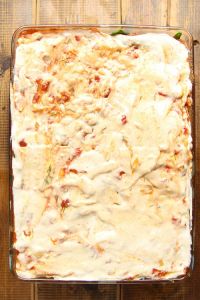 I like to gently remove the foil after roughly 40 minutes, and bake the extra 5 – 10 minutes uncovered, for that lovely golden look.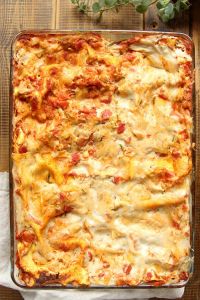 When ready remove from oven, slice, serve and ENJOY!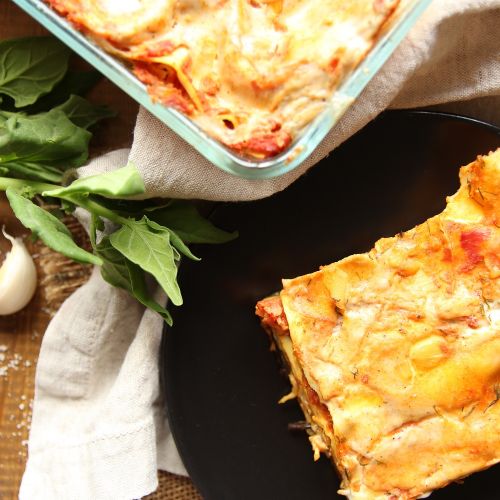 Pin This Vegan Lasagna For Later!