On today's menu, we have vegan cabbage rolls with a spicy tamarind and peanut butter sauce, drizzled on top. Sounds interesting, right? Wait, it gets better!
If you haven't noticed yet, this isn't your classic vegan stuffed cabbage, cooked in tomato sauce. But trust me when I say, these rolls don't need one!
They're filled with natural flavor enhancers like, fresh coriander, garlic, chopped peanuts and black pepper. On top, I've drizzled a generous amount of spicy tamarind and peanut butter sauce, that will seriously brighten up your palette!
If you don't like your food too spicy, simply adjust the chili flakes accordingly. So, darlings, let's whip up this phenomenal dish. 🙂
The brown rice and black eyed beans will need to be cooked before you begin.
What you'll need
Makes 10 small or 5 large vegan cabbage rolls
10 small Cabbage Leaves
Drizzle of Olive Oil
1 small Onion, diced
3 Garlic Cloves, crushed
1/2 cup of cooked Brown Rice
3/4 cup of cooked Black Eyed Beans
A handful of fresh Coriander
1/4 cup of Peanuts
Ground Black Pepper to taste
Handful of Chives
For the Tamarind and Peanut Butter Sauce
A Tablespoon of Tamarind Concentrate
A Tablespoon of Peanut Butter
1/4 cup + 2 Tablespoons of Hot Water
1/2 Teaspoon of Chili Flakes
1 Teaspoon of Pure Date Syrup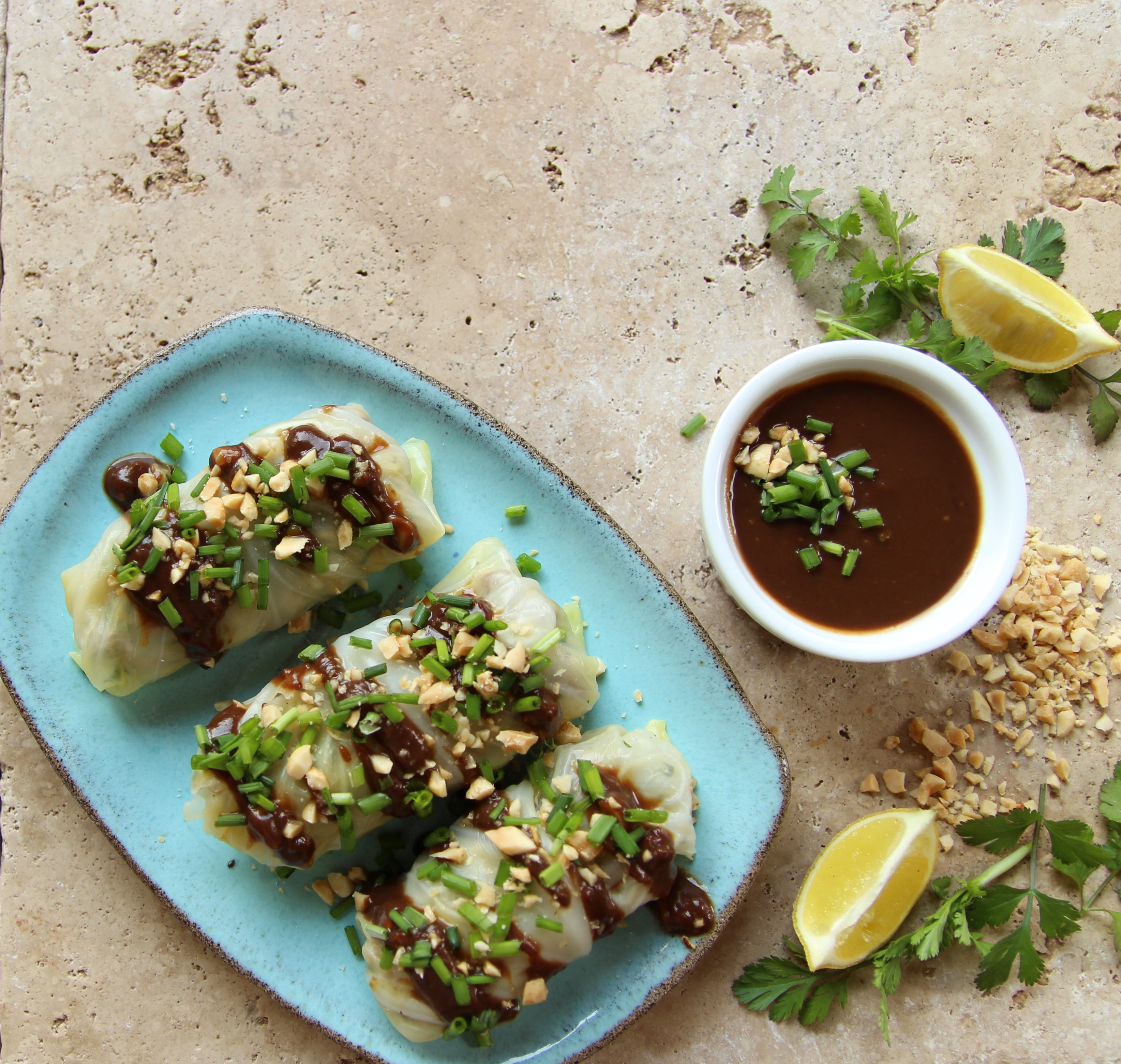 How To Make Vegan Cabbage Rolls 
Bring half a pot of water to a boil, then add the cabbage leaves, and close the lid for roughly 5 – 8 minutes, until they're soft. Drain the cabbage leaves, and set them aside, while we prepare the sauce and filling.
For The Spicy Tamarind And Peanut Butter Sauce
Add all the ingredients into a small pot, and whisk well, until combined. Lower the heat, and reduce the sauce for a couple of minutes, to slightly thicken.
For The Stuffed Cabbage Filling
Finely chop the fresh coriander, and the peanuts, then set aside.
Next, heat up a pan, add a drizzle of olive oil, and the finely diced onion, and cook for a couple of minutes. When the onion starts to sweat, add the crushed garlic cloves, and black pepper to taste, along with the rice and beans, and cook for an extra minute.
Finally, add the coriander and peanuts to the pan, along with a tablespoon of the tamarind sauce, and give it all a good mix. We're almost finished. 🙂
Assembling Our Vegan Cabbage Rolls
Add about a tablespoon of the filling to the bottom, center part of each cabbage leaf. Next, working with both hands, roll it half way, just enough to cover the filling, then tuck in the sides of your cabbage roll, and finish rolling, into a tight wrap.
Finally, drizzle a generous amount of the tamarind sauce, on top of your vegan stuffed cabbage. Decorate with some chopped peanuts and chives, and dig in!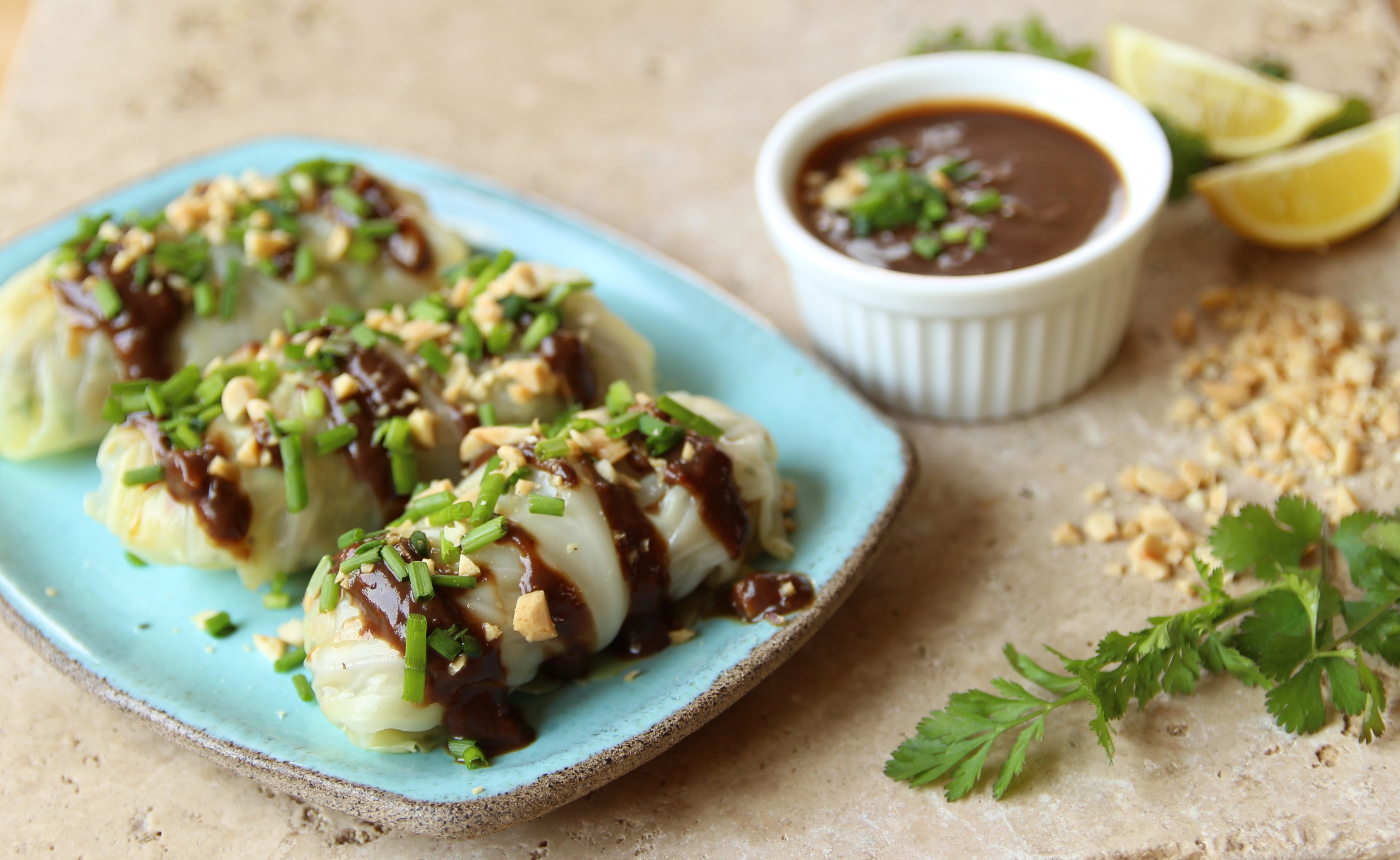 Remember, sharing is caring! So, let your friends in on the fun too! 🙂
Plus, what about a sweet treat, after you've devoured your cabbage rolls? Try my super easy, Chocolate Chip Skillet Cookie for the whole family to enjoy! 🙂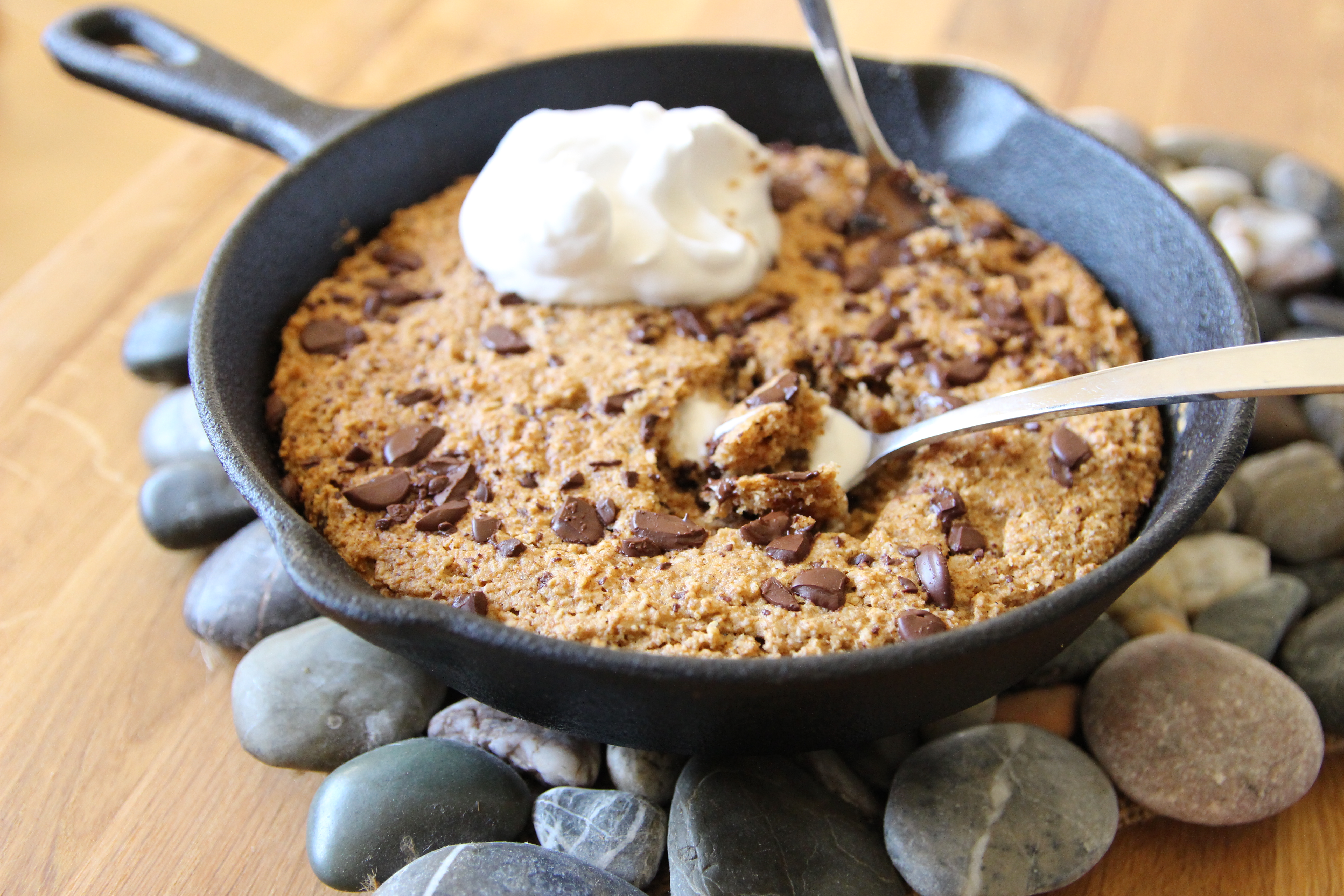 Also, if you have a question, feel free to ask. I'm all ears, and respond quickly! 🙂
Until next time,
Have A Bright Day xx