This vegan gluten free chocolate cake is fluffy, very "chocolaty", and made using my homemade gluten free flour blend. Topped with a decadent, creamy chocolate ganache, chocolate shavings and drizzle, it all sounds very dreamy, and I promise you it is!
As I mentioned last week, due to a good friend of my Mother wanting to make a homemade gluten free flour blend, I came up with the blend and was inspired to start experimenting with it.
It's funny how sometimes all you need is a little push of motivation to get you to a certain place, right? 🙂
So, after having successfully turned my maple cake gluten free I started adapting the recipe again, this time turning it into this incredibly delicious, fluffy, light, decadent, dreamy, yet simple gluten free chocolate cake that's not only perfect for any occasion, but also easy to prepare, naturally sweetened with maple syrup and organic coconut sugar, plus it's oil free, and packed with chocolate goodness!
Need I say more?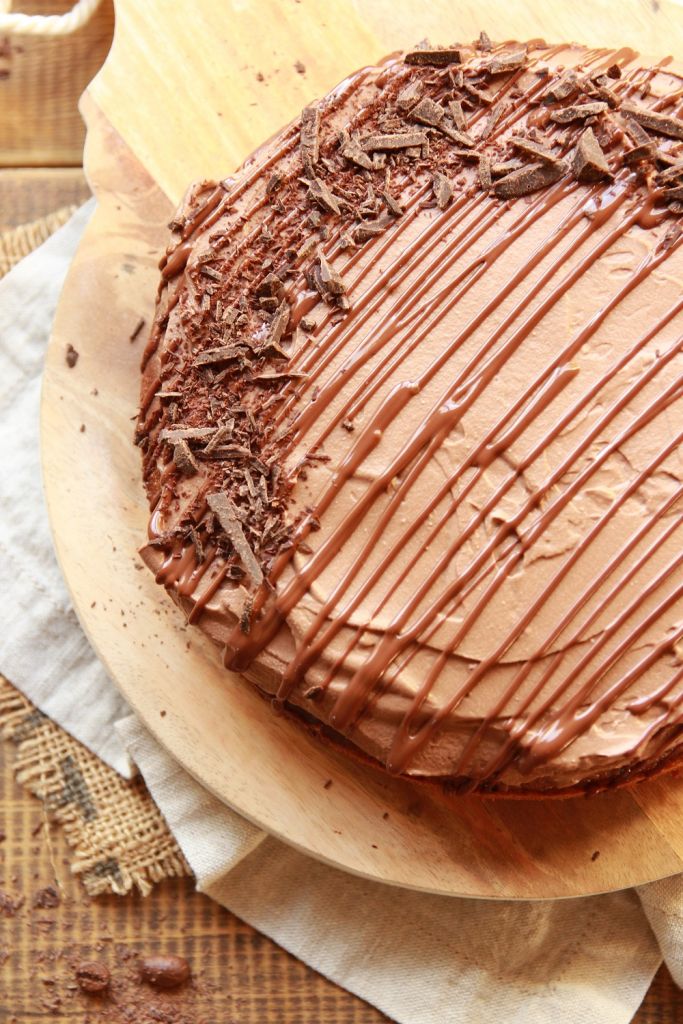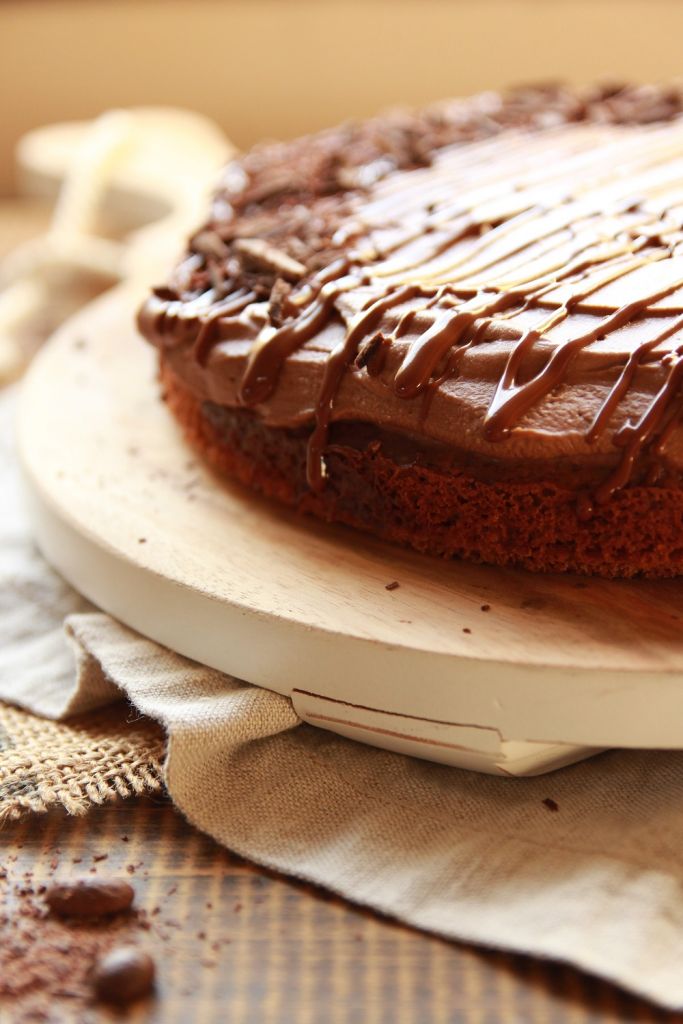 What You'll Need
Adapted from my Vegan Maple Cake
For the ganache
50 gr (1/3 Cup) of Dark Chocolate 60%
100 gr (1/2 Cup) of Coconut Milk
1/2 Teaspoon of Instant Coffee
60 gr (1/4 Cup) of Coconut Cream, chilled overnight
For the vegan chocolate cake
120 gr (1/2 Cup) of Soy Milk
120 gr (1/3 Cup + 1.5 Tablespoons) of Maple Syrup
30 gr (1/4 Cup) of Organic Coconut Sugar
40 gr (3 Tablespoons) of Almond Butter
40 gr (3 Tablespoons) of Unsweetened Applesauce
1/2 Teaspoon of Lemon Juice
144 gr of Gluten Free Flour Blend 
7 gr (1 Tablespoon + 1 Teaspoon) of Cocoa Powder
1/2 Teaspoon of Baking Powder
1/4 Teaspoon of Baking Soda
Instructions
1. Preheat the oven 320 degrees F (160 C).
2. Let's begin by preparing the chocolate ganache. Finely chop the chocolate, place into a medium sized bowl and set aside. Place the coconut milk and instant coffee in a pot, and bring to a boil.
3. When the coconut milk starts to bubble, immediately take it off the heat and pour it onto the chocolate. Let it sit for 1 minute, without touching it. I know you might have the urge to mix it but don't. The heat will gently melt the chocolate.
4. After a minute mix with a spatula until smooth. Reserve 1/8 cup of the ganache and transfer the rest into the fridge to chill.
For The Simple Gluten free Chocolate Cake
1. Place the soy milk, maple syrup, coconut sugar, almond butter, applesauce, and lemon juice into a bowl and whisk until combined.
2. Next, place the gluten free flour blend, cocoa powder, baking powder, and baking soda into a separate bowl and mix until combined.
3. Add the dry ingredients in with the wet ingredients and whisk well until all that goodness is combined.
4. Pour your batter into a round non-stick cake pan and pop it into the oven to bake until a toothpick comes out clean, around 15 – 20 minutes, depending on your oven.
If you don't have a non-stick cake pan, then lightly grease your pan before you pour the mixture in.
5. When your cake is ready take it out and wait for it to completely cool.
Assembling The Simple Gluten Free Vegan Cake
1. Once your cake has completely cooled, take out the chilled chocolate ganache and briefly whisk.
2. Next, add the chilled coconut cream and whisk until just combined. Make sure you don't break the ganache, but if you do it's not the end of the world. 🙂
3. Finally, spread the fluffy ganache on top of your chilled cake, then decorate with the reserved ganache, and some finely chopped chocolate, and dig in!
So there you have it. If you make this, I'd love to know. Leave a comment below or tag me on Instagram @lets_brighten_up It honestly makes my day seeing how gorgeous your creations turned out. 🙂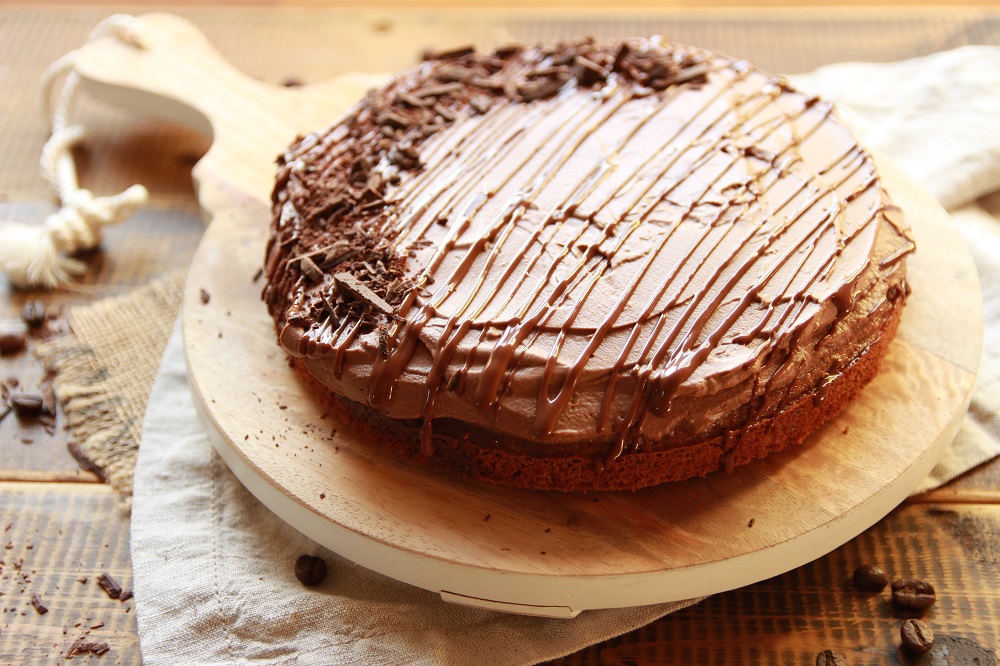 Next time try my oil free toasted Walnut And Date Cookies. They're one of my family favorites at the moment, plus they can easily be turned gluten free by simply switching the spelt flour with my new Gluten free flour blend. Follow the steps exactly the same, just bake them for a few extra minutes and enjoy! 🙂
So, feel free to share with your family and friends and until next time, have a bright day xx