Brighten up your week darlings, with this warm chocolate chip skillet cookie for the whole family to enjoy. There's something very comforting about a dessert that you can eat directly from the pan, don't you think? This giant skillet chocolate chip cookie, can be devoured with some whipped cream, coconut ice cream, or on its own. You decide! 🙂
It's vegan, has just the right amount of chopped dark chocolate, and it's made with whole-wheat flour. This is another one of my quick and easy recipes, to whip up, and by the time you've finished the dishes, it'll be ready to take out of the oven.
So, let's bake our next indulgence right now!
If you don't own a skillet pan, simply bake it in a round 8-inch (20 cm) cake pan, lined with baking paper.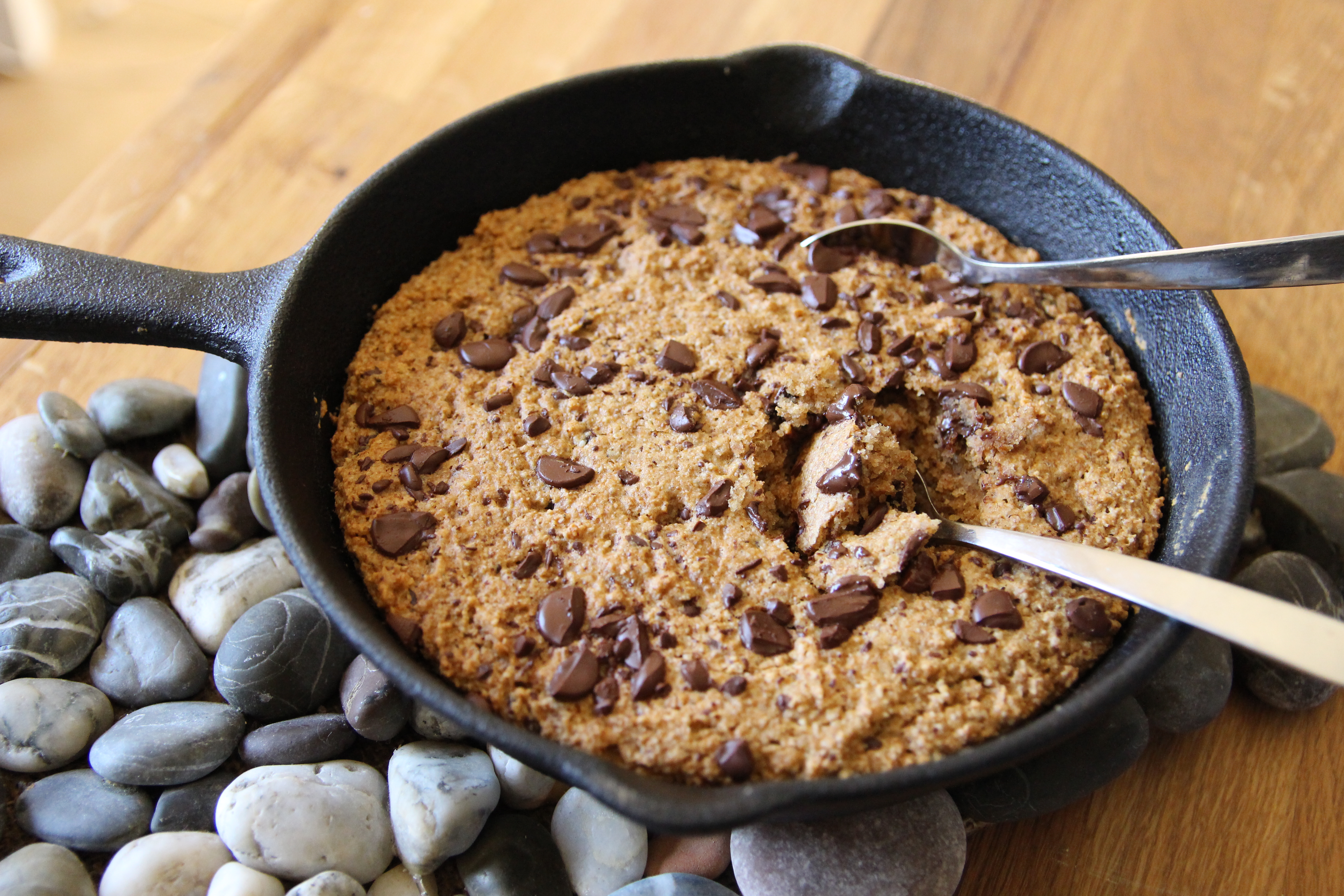 What You'll Need
Makes an 8-inch (20 cm) chocolate chip skillet cookie
1/3 cup of Whole-Wheat Flour
1/3 cup of Oat Flour
2 Tablespoons of Cane Sugar
1/3 cup of Almond Flour
1 Teaspoon of Baking Powder
1/2 Teaspoon of Baking Soda
2 Tablespoons of Melted Coconut Oil
1 Tablespoon of Coconut Milk
Splash of Vanilla
1/4 cup + 1 Tablespoon of Unsweetened Applesauce, at room temperature
2 Tablespoons of Chopped Dark Chocolate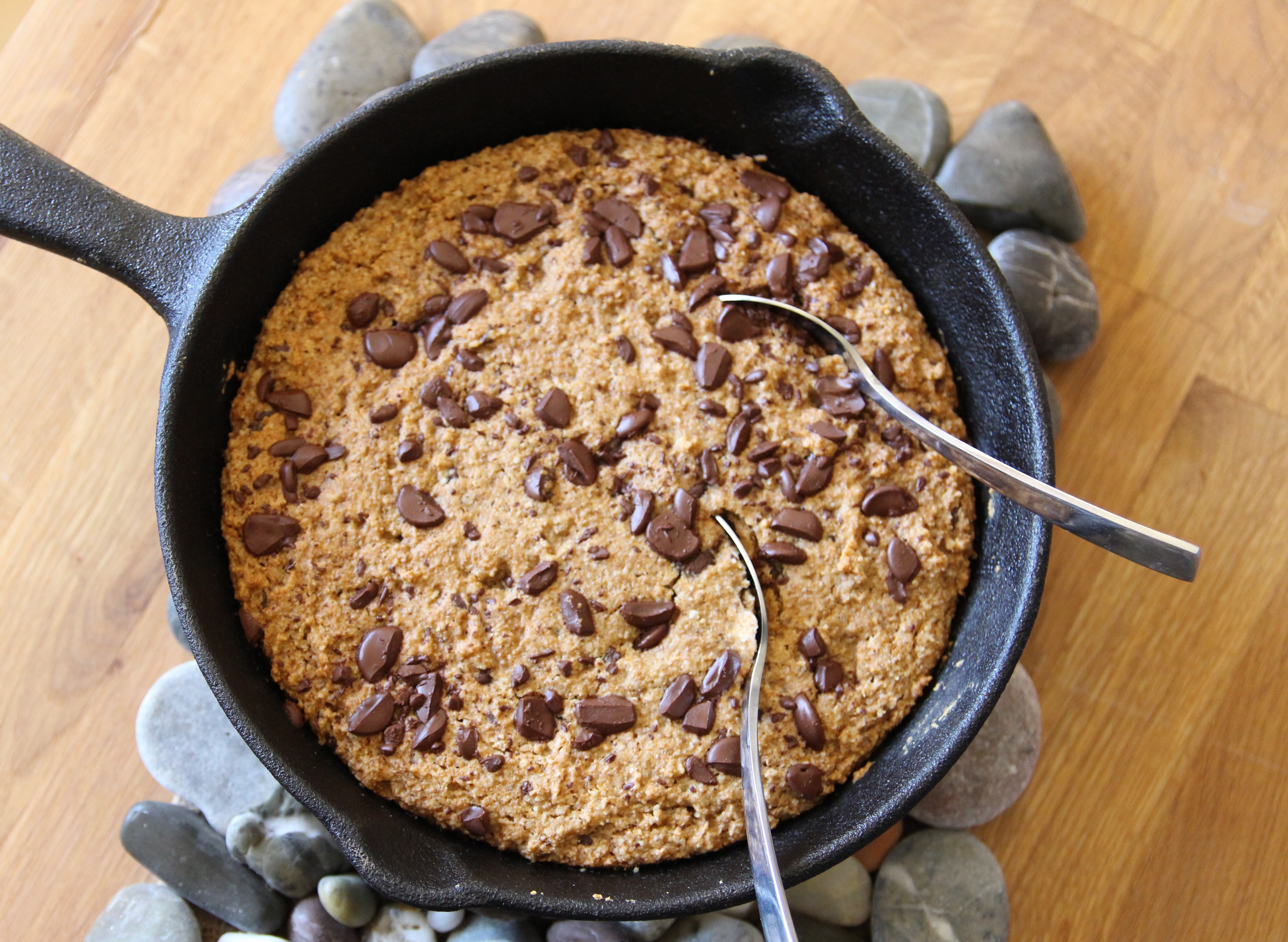 Instructions
1.Preheat the oven to 320 degrees F (160 C), then in a bowl, mix together the whole-wheat flour, oat flour, almond flour, baking powder, baking soda, and organic cane sugar.
2. Place the coconut oil into a small pot, and gently heat it, until it melts.
3. Next, add the unsweetened apple sauce, at room temperature, a splash of vanilla, and the coconut milk, to a separate bowl, add the melted coconut oil, and mix well, until combined.
*It's important that the apple sauce is at room temperature, otherwise the melted coconut oil will quickly cool down into chunks. If you're applesauce is straight from the fridge, simply add it to the pot with the melted coconut oil, for half a minute, to warm up. 
Almost Finished!
4. Add the wet ingredients into the dry, along with 1 tablespoon of chopped dark chocolate, give it a final mix, then transfer to an 8-inch (20 cm) skillet pan.
5. Finally, sprinkle the remaining chopped chocolate on top, and pop your skillet chocolate chip cookie into the oven for 10 – 15 minutes, until it's lightly golden brown, and a tooth pick comes out almost clean.
This recipe is best enjoyed warm! So, take it out of the oven, and let it cool for exactly 5 minutes, before you dig in! 🙂 Don't forget to pin it for later!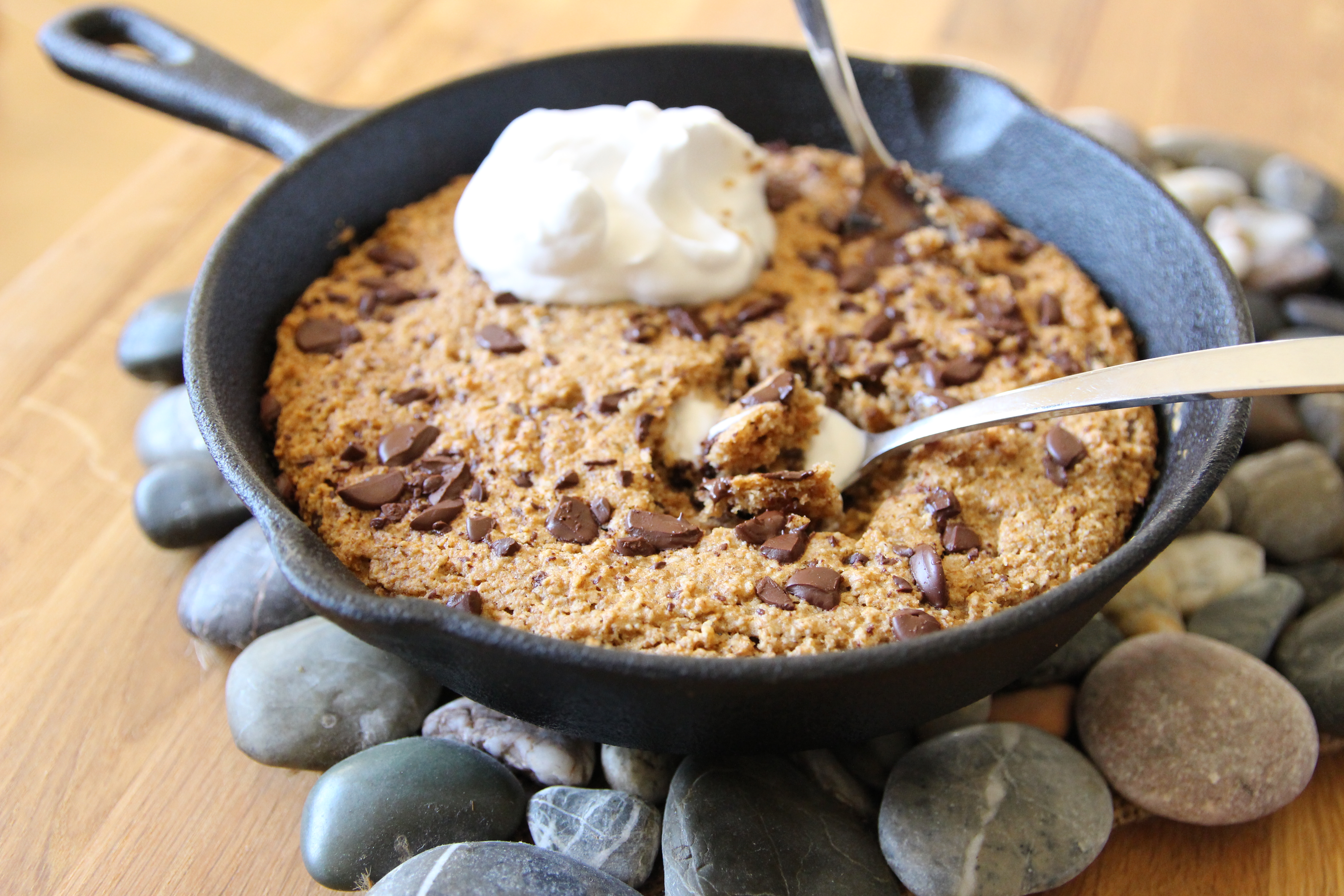 Tag me on Instagram @lets_brighten_up so I can see how your skillet chocolate chip cookie turned out! 🙂
Until next time,
Have A Bright Day xx