I want to get you all acquainted with these heavenly, not too sweet puffed rice granola clusters. They're made up of just 8 ingredients, naturally sweetened and go great with just about anything. Whether you eat them for breakfast, lunch or simply snack on them, like I find myself doing most of the time, this is a vegan granola recipe you should get yourself familiar with. I usually add different nuts, and seeds, depending on what I have in my kitchen. Sometimes I'll even add a few chopped dried fruit and other times I'll just snack on them as is. The recipe is very simple and ready in under 30 minutes, including prep time. So, after knowing all this there's really only one thing left to try. These crunchy, refined sugar free puffed rice granola clusters! 🙂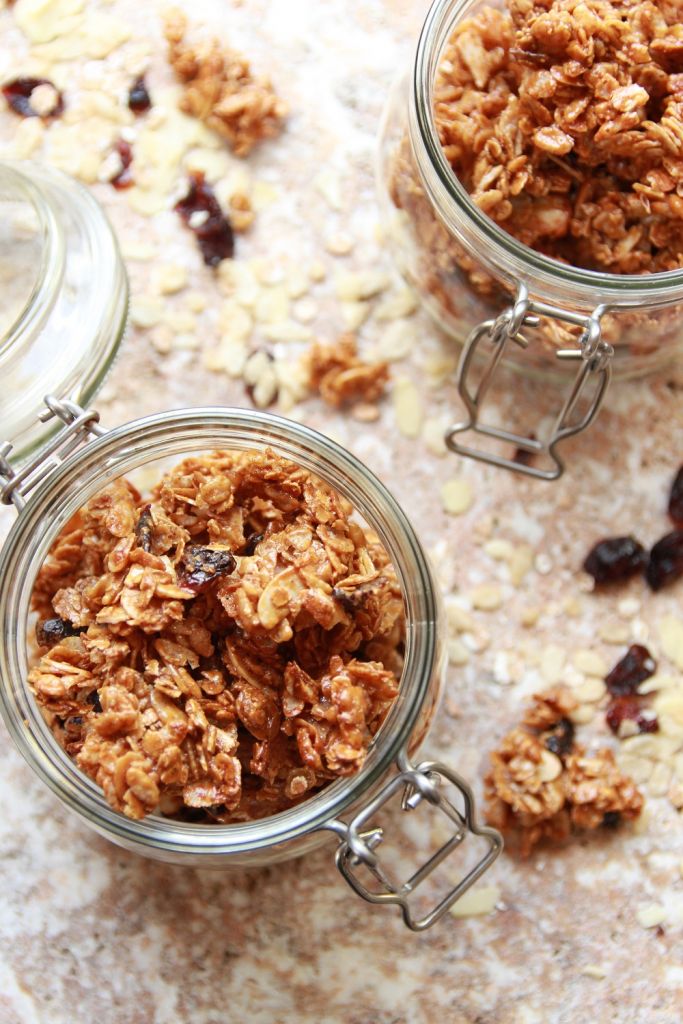 What You'll Need
Fills 2 small glass jars 1/3 Cup (40 gr) of Whole Oats 1 Cup (45 gr) of Brown Rice Puffs 1/4 Teaspoon of Cinnamon Powder 1/4 Cup (25 gr) of Almond Flakes 1/8 Cup (20 gr) of Dried Cranberries 1/8 Cup (40 gr) of Pure Date Syrup 2 Tablespoons (30 gr) of Pure Maple Syrup 1/8 Cup (35 gr) of Almond Butter
Nutty Vegan Puffed Rice Granola Clusters
Preheat the oven to 284 degrees F (140 C) Place the brown rice puffs, oats and cinnamon in a bowl along with the almond flakes and cranberries. Place all the wet ingredients in a small bowl, mix well until combined and pour it in with the dry ingredients. Mix well with a spoon then thinly spread it out onto a baking tray lined with baking paper and pop it into the oven to bake for 10 – 13 minutes. Take the tray out to completely cool then snap the granola into desired size, place in a glass jar with an airlock, and store at room temperature. Best made in small portions like this, to ensure freshness. So there you have it everyone. If you make this be sure to tag me on Instagram @lets_brighten_up. I'd love to see how beautiful your clusters turned out.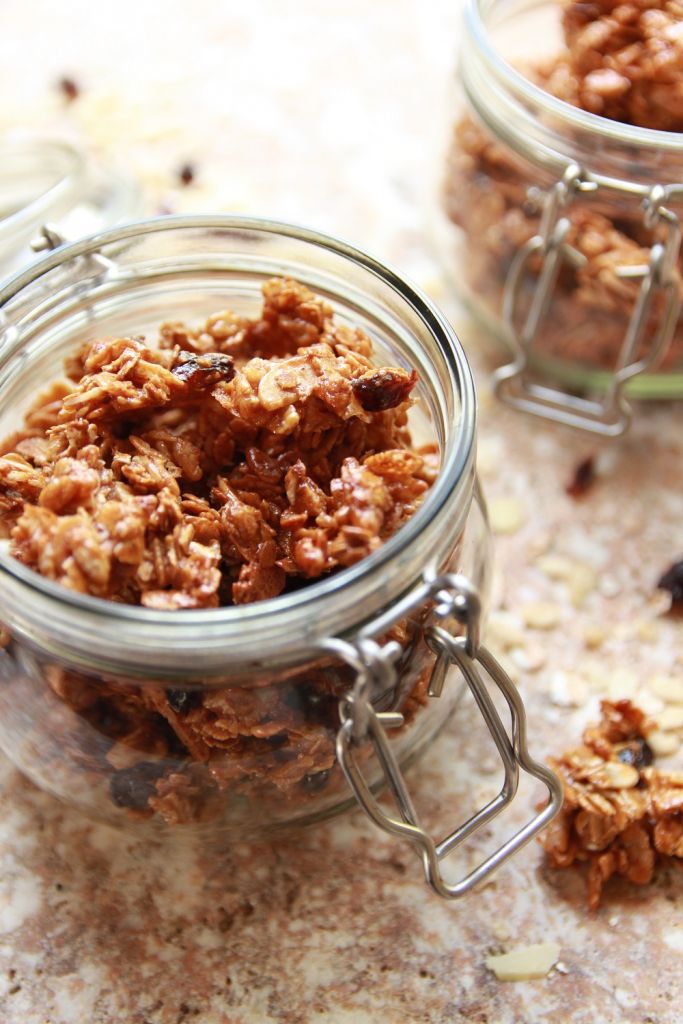 Here's Another Great Breakfast Recipe  
If you haven't already tried my
Vegan Pancakes
then now is the time. They're easy to make, require just 5 ingredients and taste heavenly.
Remember, sharing is caring. Until next time, have a bright day xx