These super easy stuffed mushrooms are a perfect snack, plus, they're healthy, vegan, ready in under 20 minutes, and only 7 ingredients needed to make them! What? That's right! Oh, and did I forget to mention that they're packed with flavor!? 🙂
While experimenting, I tried to make these vegan stuffed mushrooms with a salsa filling. But it had too many ingredients in it, and was still missing something. The second time I tried them, I had just returned from the organic store, with a bag full of fresh basil, and instantly knew I had to incorporate that strong, slightly minty, welcoming aroma, into the recipe.
How To Make Super Easy Stuffed Mushrooms?
So, with the basil being the focus ingredient of these easy stuffed mushrooms, I added a generous amount of garlic, sun-dried tomatoes, and chopped walnuts. And I used a mixture of portabella and champignon mushrooms, just to spice things up.
This recipe is very forgiving, so, don't stress if you've added a bit more basil to your filling, it'll turn out just fine!
What You'll Need
10 Medium sized Mushrooms
2 Handfuls of Fresh Basil Leaves
1/2 Cup of Sun-dried Tomatoes
1/3 Cup of Walnuts
3 Garlic Cloves
1 Teaspoon of Nutritional Yeast
Ground Black Pepper to taste
Instructions
1. First, preheat your oven to 356 degrees F (180 C), then, wash and remove the stem of your mushrooms, and place them, bottom side up, on a baking tray, lined with baking paper.
For the filling
1. Drain the sun-dried tomatoes from the oil, and pat dry. This is only needed if you're using *canned sun-dried tomatoes. 
2. Finely slice them into strips, and place in a bowl.
3. Next, crush the garlic cloves, chop the walnuts, add the nutritional yeast, and black pepper to taste, to the bowl.
4. Finally, wash and chop the basil, add it, and give all that goodness a quick mix.
5. Fill up the mushrooms, with a teaspoon, then pop them into the oven to bake. They take around 10 – 15 minutes to bake, but every oven is different, so, keep an eye on them, and when the filling turns golden brown, take them out of the oven, to cool for 5 minutes. So, what are you waiting for? Dig in!
*If you aren't using canned sun-dried tomatoes, add a drizzle of olive oil to your filling.
Have you tried my Sweet Potato Noodles yet? They'll go great with these vegan stuffed mushrooms!
And what about a scrumptious sweet treat to finish off your evening?
Try my Scrumptious No Bake Energy Bites, only 4 ingredients!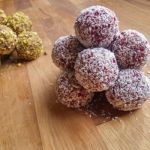 Also, if you liked it, go ahead, and share it with your friends. 🙂
Until next time,
Have A Bright Day xx