Hi darlings. Did you know that oven dried tomatoes are a great alternative to sun dried because they're ready in no time and you can control how dry you want them? Personally, I like mine on the juicy side, but you can just leave them in the oven for a little while longer.
These scrumptious oven dried tomatoes are
Juicy
Super quick and easy to make
Go great with everything
So, let's oven dry ourselves some scrumptious tomatoes
Scrumptious Oven Dried Tomatoes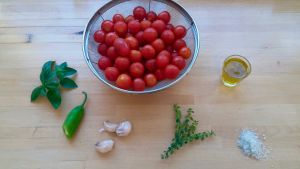 What you'll need
1 kg of cherry tomatoes
Handful of fresh basil
4 cloves of garlic sliced
Half a jalapeno sliced
Olive oil
Few stalks of fresh thyme
Sea salt
Let's Dry Ourselves Some Tomatoes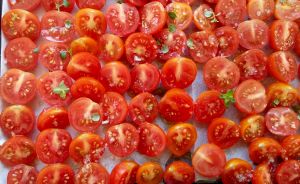 Wash and slice the tomatoes in half and place them on a tray with baking paper.
Brush them with olive oil, sprinkle with salt and thyme and pop them in the oven at 200 degrees Celsius (392 Fahrenheit) for about 1 to 3 hours- every oven is different, some are more powerful than others, so check in on them once in a while.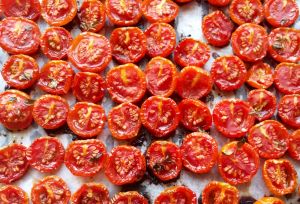 Once you're satisfied with their texture switch off the oven and let them cool down.
The aroma really does make your mouth water, go on then, have a taste or two.
They are naturally sweet and oh so juicy.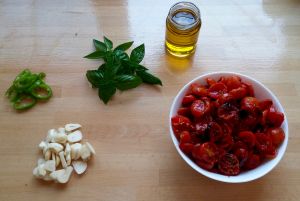 Next slice the garlic and jalapenos, mix with tomatoes and basil in a bowl. Don't mix them too long or they'll bruise. Almost finished with our scrumptious oven dried tomatoes.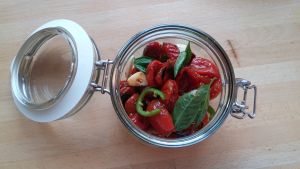 Put all of that goodness into the jar, top it all off with olive oil and make sure they're are not exposed to the surface, or they'll grow mold.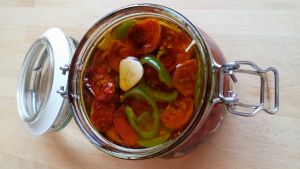 Now all that's left is to spread some of that goodness onto a slice of bread and…
E N J O Y
For more scrumptious recipes click here.
Until next time,
Have A Bright Day xx