Who here loves couscous? Any season, any time, give me a spoon and I'll happily devour a bowl full. This is probably not the way you're used to eating it, but after you try my hassle free, mess free, vegan couscous you'll never look back. It's chunky, hearty, filling, perfectly spiced, and if you like it as much as I do, then you won't reserve it only for those cold days!
Plus, the soup is really easy to make! Just roughly chop the veggies, season well with sea salt and hawaiij, blend in a few fresh tomatoes, add water and cook until your veggies are nice and soft. That's it!
Hawaiij is a Yemen spice found in many Jewish kitchens. Since I was a child I can remember my Mum using it in soups and meals. The blend is made up of a few spices, and goes great with everything, plus it's known to have many health benefits too! You can find it in the kosher food aisle, or many spice stores.
So get out your cooking utensils and let's cook up some veggie goodness.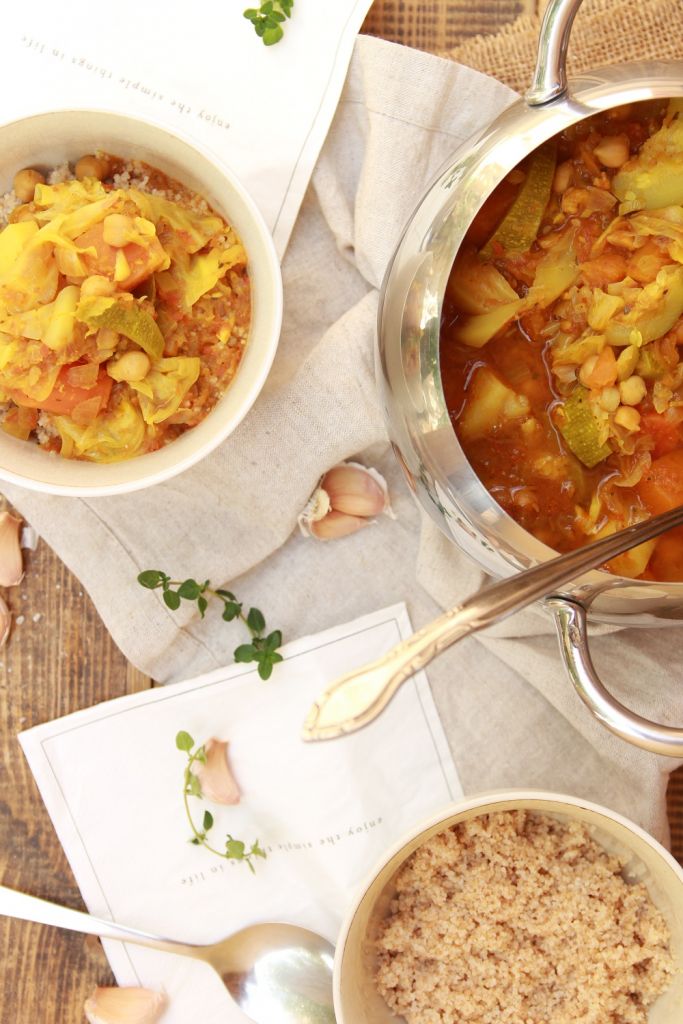 What You'll Need
Serves 4
2 Tablespoons (20 gr) of Olive Oil
3/4 Cup (95 gr) of Diced Onion
1/2 Cup (50 gr) of Sliced Leek
5 Garlic Cloves (20 gr)
1 Cup (180 gr) of Diced Potatoes
1 + 1/2 Cups (220 gr) of Diced Pumpkin
3/4 Cup (100 gr) of Sliced Carrots
1 Cup (130 gr) of Sliced Zucchini
2 Cups (220 gr) of Chopped Cabbage
1 Cup (185 gr) of Cooked Chickpeas
2 Teaspoons (6 gr) of Hawaiij Spice
3 Teaspoons (18 gr) of Sea Salt
6 Cups (1200 ml) of Water
3 Tomatoes (210 gr)
1 Package of Whole Wheat Couscous
Instructions
1. Cut the tomatoes into quarters then either blend them with an electric blender or in a food processor, and set aside.
2. Heat a pot on medium heat. Roughly chop the onion, and leek, then add it to the pot along with the olive oil, and give it all a quick mix.
3. Crush the garlic, peel and cut the potato, carrot, and pumpkin into cubes, and roughly chop the cabbage. When the onion starts to brown add the veggies to the pot along with the chickpeas. Occasionally stir for a couple of minutes, then add the sliced zucchini, water, blended tomatoes, hawaiij, and sea salt.
4. Bring to a boil, then lower the heat and cook until the veggies are nice and soft. When your veggie soup is ready, taste and adjust seasoning accordingly.
5. Place the couscous in a bowl with boiling water according to the package instructions, add a drizzle of olive oil and a pinch of sea salt, then mix and cover with a clean towel for 5 minutes. Gently mix with a spoon, to separate the couscous, then cover for an extra 5 minutes.
6. Serve the veggie soup over your vegan couscous and in order to enjoy the full couscous experience, eat it with a spoon! 🙂
So, there you have it. I can't wait to hear what you all think. If you make this be sure to tag me on Instagram @lets_brighten_up I'd love to see how stunning yours turned out.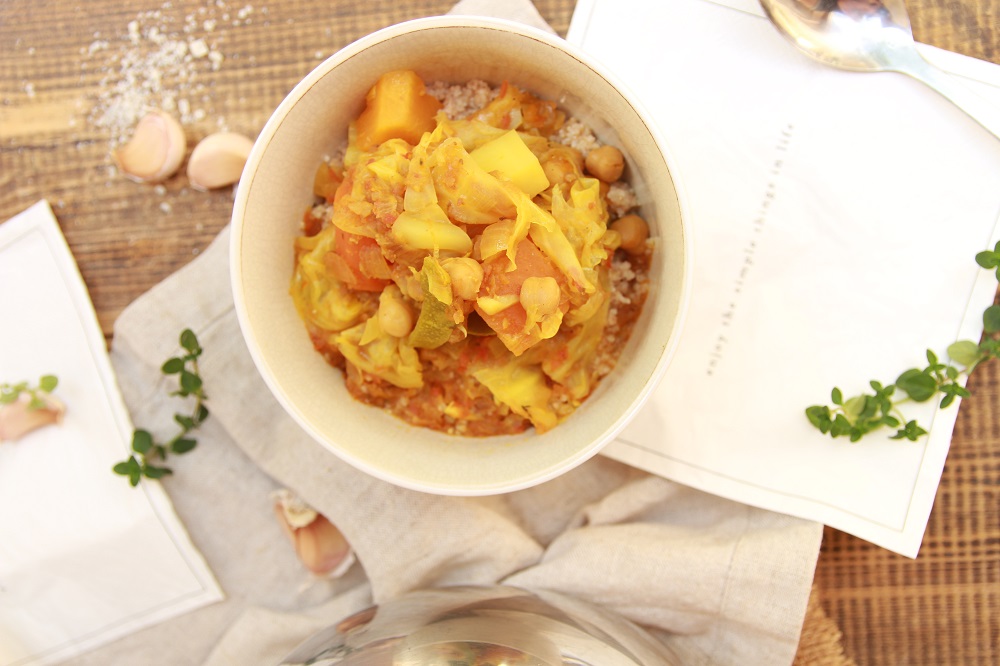 What's For Dessert?
I've got you covered with my moist, fluffy, comforting Vegan Maple Cake.
Until next time,
Have A Bright Day xx