What do you do when you're missing Italy? Cook one of their signature dishes. It was exactly a year ago when the hubby and I returned from our fantastic trip in Italy. What a beautiful country. The warm people, the delicious Italian food, wine, and breath-taking views. Everything about the country makes me wish I could be back again sooner. But for now, I think I'll settle cuddled up on the coach with a hot bowl of minestrone soup.
It's really one of the easiest soup recipes I've made. The only trick is to cut all the vegetables into small cubes. Then simply fry the vegetables, add water and pureed tomatoes, add spices to taste and wait for the vegetables to soften. Finally, when they're nice and soft, add the pasta and cook until they're Al Dante, almost ready, and enjoy!
Now off to my next adventure. Japan! Can't wait to try all the delicious vegan Japanese food, walk through as many temple sights as possible, and get inspired to create a few Japanese recipes when I return. Have you been to Japan? Any place in particular that you recommend? I'd love to know in the comments below. 🙂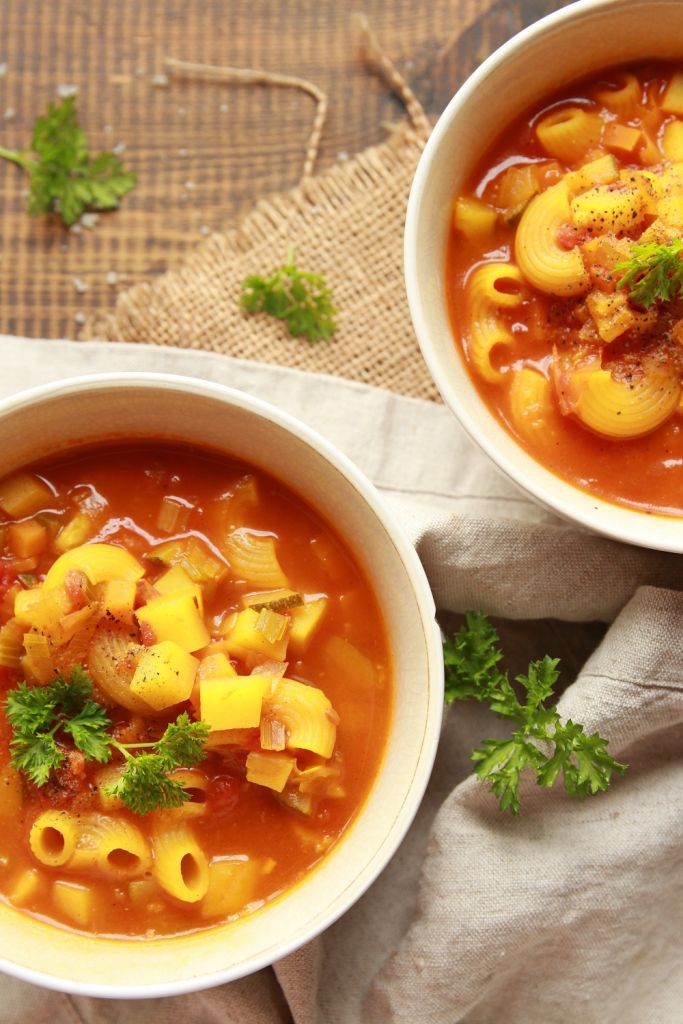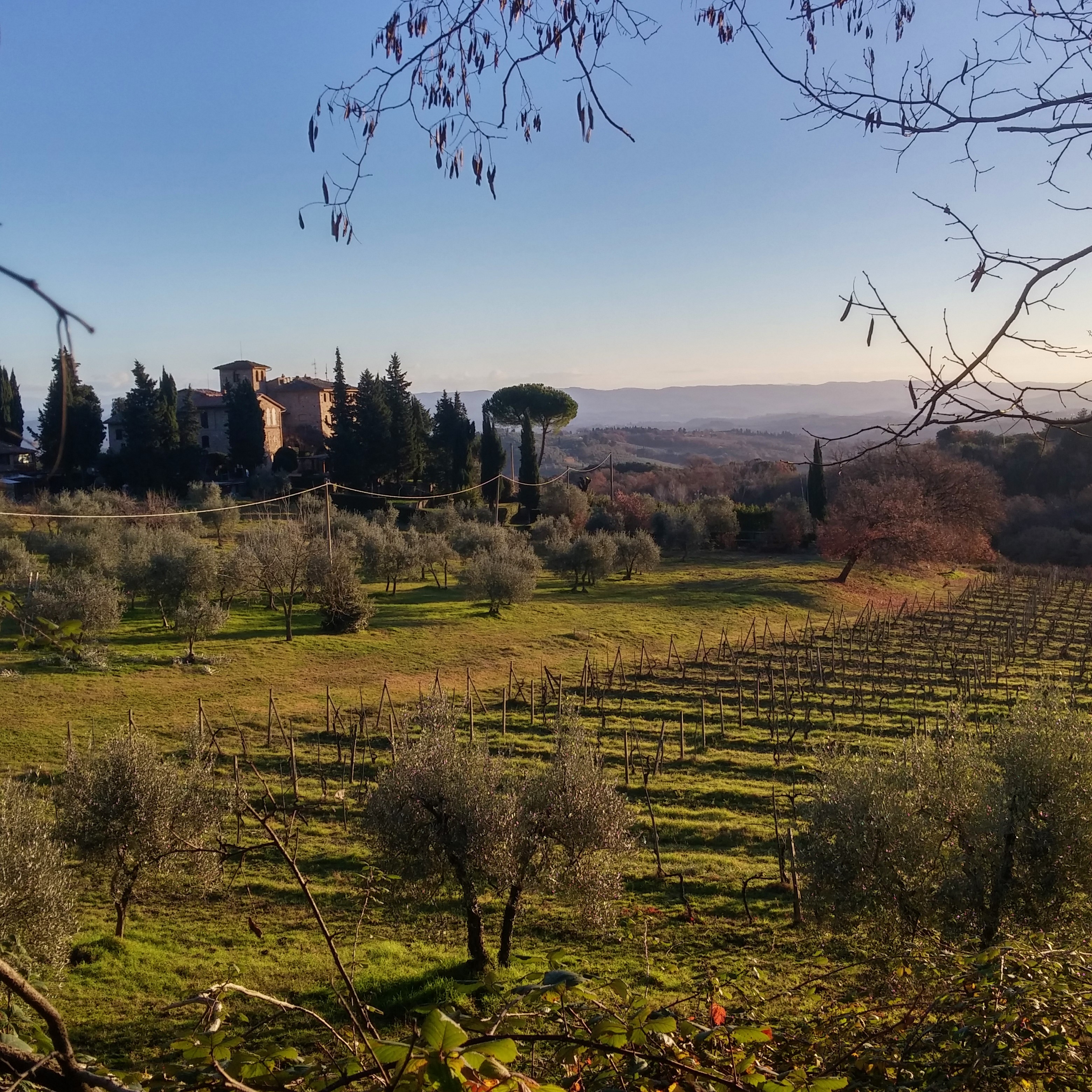 What You'll Need
Serves 4
1 Tablespoon (10 gr) of Olive Oil
3/4 Cup (105 gr) of Diced Onion
2/3 Cup (65 gr) of Finely Sliced Leek
3 (12 gr) Garlic Cloves
1 Cup (115 gr) of Diced Carrot
1/3 Cup (40 gr) of Finely Sliced Celery
3/4 Cup (105 gr) of Finely Diced Zucchini
1 Cup (160 gr) of Finely Diced Potato
6 Cups (1200 gr) of Water
1 Can (400 gr) of Tomato Puree
1/2 Teaspoon of Cumin or to taste
1 Teaspoon of Turmeric or to taste
Sea Salt and Black Pepper to taste
1 Cup (100 gr) of Small Shaped Pasta
Instructions
1. I always find it easier to have all my veggies diced and sliced before I begin. So, that being said, peel and finely dice the onion, and finely slice the leek, then place them in a pot along with the olive oil.
2. Next, finely dice the celery stalks, carrots, potatoes, and zucchini, and peel and crush the garlic cloves.
3. Heat up the pot on medium heat and fry the onion and leek until they start to lightly brown.
4. Next, add the carrots, celery, and potatoes, and cook for a few minutes.
5. Add the tomato puree, water, spices, and salt and pepper to taste, and cook until the vegetables are ready.
6. Finally, add the pasta, and cook until they're almost ready, Al Dente.
7. Adjust seasoning accordingly, garnish with some fresh parsley, optional nutritional yeast, and enjoy!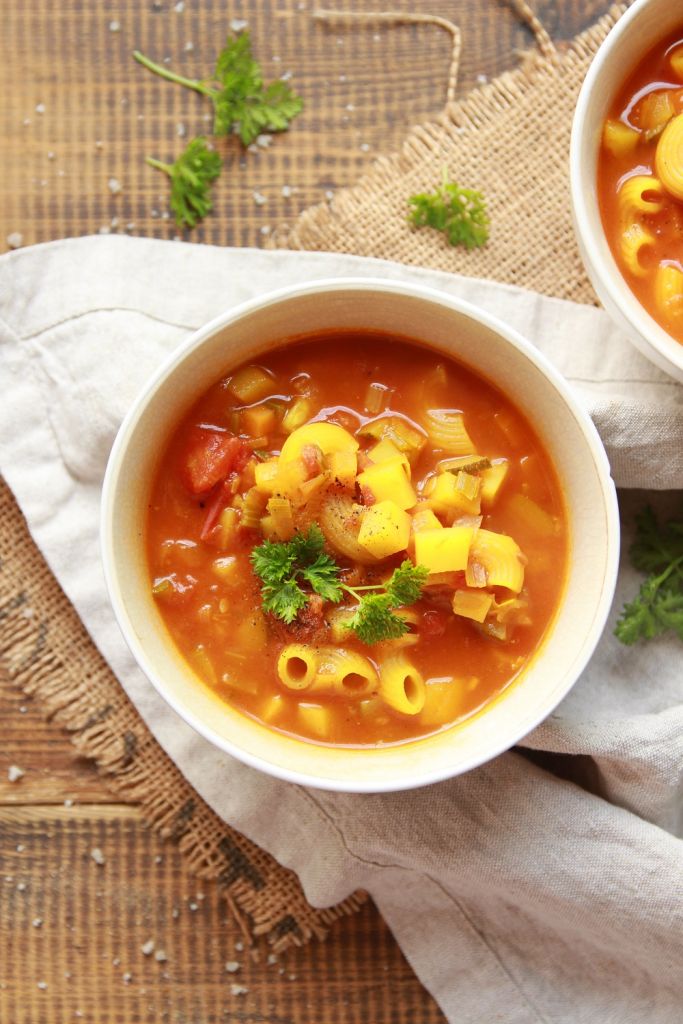 Now that your minestrone soup is ready, how about a sweet treat for dessert? My toasted walnut and date cookies are an easy fix and will satisfy your sweet tooth, the healthier way.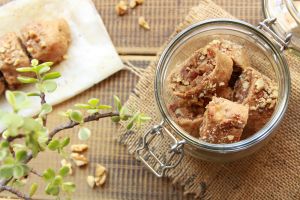 Liked this recipe? Let me know in the comments below or tag me on Instagram @lets_brighten_up I always love seeing your creations and reading your comments.
Until next time, have a bright day xx